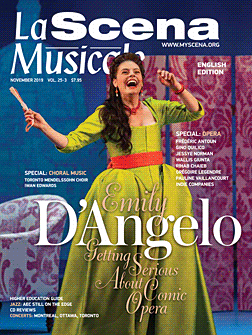 This page is also available in / Cette page est également disponible en:

Francais (French)
Tapestry Opera is turning 40 and is celebrating in part by trying out something rare for this inventive Toronto-based company: a revival.
"Some people have chatted with me about bringing it back so soon," Tapestry artistic director Michael Mori said of Rocking Horse Winner, an opera with words by Anna Chatterton and music by Gareth Williams that returns for six performances from April 23 to May 2. "But this is a special thing. It's a strategic opportunity."
Based on the eponymous short story by D.H. Lawrence, Rocking Horse Winner got good reviews in 2016, plenty of social-media buzz and impressive formal endorsement in the form of nine nominations for Dora Awards and five victories, including wins for Outstanding Production and Outstanding Direction, the latter distinction earned by Mori himself.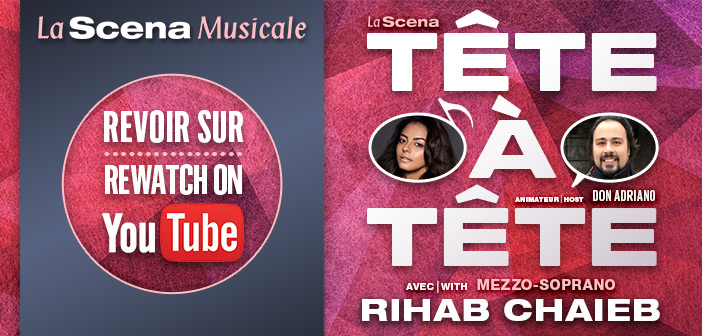 "What resulted is that more people had heard about it than seen it," Mori explained. "It's not so much about bringing it back as a 'greatest hit' as knowing that not nearly as many people saw it as would have liked to see it."
Rest assured that there are also premieres in the 2019-20 Tapestry season, even if the first presentation, TAP:EX Augmented Opera (Nov. 20-23), is not so much a singular piece of work as a high-tech miscellany that "delves into the world of augmenting and forcing us to question reality." To judge by past instalments, punk rock, Persian classical music, physical theatre, turntablism and hip-hop are not necessarily excluded.
Next comes a production (Feb. 19-23) that seems quite the opposite of augmented: Jacqueline, an exploration of the art and life of Jacqueline du Pré set by composer Luna Pearl Woolf and librettist Royce Vavrek for precisely two performers: soprano Marnie Breckenridge and cellist Matt Haimovitz. It is more than a little interesting that Haimovitz, a McGill professor, was friendly with the British cellist and her husband Daniel Barenboim in the 1980s, when she was stricken by MS.
Songbook, the annual retrospective of Tapestry highlights, follows on March 20 and 21, with pianist Christopher Foley and mezzo-soprano Krisztina Szabó as mentors-in-chief. These performances showcase participants in Tapestry's New Opera 101 masterclass program for young artists. "We may not be able to revive operas all the time, but there are some powerful, moving arias and scenes by great Canadian artists," Mori says. "We need to celebrate them."
On July 16, well after the run of Rocking Horse Winner, the company mounts another revival: a concert performance in Koerner Hall of Iron Road, the well-regarded 2001 opera by Chan Ka Nin (music) and Mark Brownell (words) that gathers a cast of 40 singers and dancers and an orchestra of 40, including players of traditional Chinese instruments.
The lineup is characteristically diversified in style and forces, and performances, as usual, happen in various locales, including some distinctly off-off-Broadway-type spaces. "We believe that changing the setting is as important to the experience of opera as finding the right home for the right piece," Mori says.
He cites M'dea Undone, a 2015 update of Euripides by John Harris (music) and Marjorie Chan (words), as a particularly good match of piece and place. This run was in the Evergreen Brick Works, a semi-restored former industrial space discreetly adorned with graffiti and within earshot of the famous Don Valley Parkway. "The sounds of the city that came in through the open wall were really cool," Mori said. "Other shows work better in a black-box setting. We like to be free to let the experience change according to the show."
Tapestry audiences are, likewise, protean. Mori is grateful for his steady base of subscribers, without whom an experimental artistic policy would be too risky to sustain. They are important also in spreading the good word: "To have the subscribers as the evangelists is very helpful. But you can never grow if you rely only on subscribers."
As for single-ticket buyers, they come according to the aesthetic of the show or because of the extra-operatic artistic partners that the company might be working with. "Our audience is composed of theatre people, people who go to opera, and that magical 30 percent of people who are interested in the show, intrigued by the marketing, or have heard by word of mouth that something's good," Mori says.
Sometimes the crowd is young, sometimes not. "We have an incredibly diverse audience. I feel it looks like Toronto."
Despite all this diversity, certain contemporary protocols unite Tapestry productions, including freedom from cultural presuppositions that Mori detects in many standard operas of centuries past. The priority strikes him as not only valid in general terms but suited to the cultural character of Toronto.
"Politics is a big word," he said. "But I certainly think it's our responsibility to be in touch with the conversations that are happening in our city and in our world. We have a slogan this year: 'Tapestry Opera is TO.' Meaning we're really proud of the kind of conversations and leadership that Toronto is showing the world right now.
"We don't have a political policy per se but we are not interested in continuing to repeat the old model of misogyny or the concept of 'othering' that's involved in culturally-dated and exploitative works.
"We are interested in what it means to be a citizen of the world from a Toronto point of view, and how we can make art that reflects this. If you see a special on Vienna and hear the music of Mozart, or see a special about Rome, Milan or Florence and hear the music of the time, the implication is that the music of the time is connected in some way. This is more of a creative philosophy than a political philosophy, but we intend to do the same for Toronto."
Mori is not indifferent to the past. I spoke to him between rehearsals of the Opera McGill production of Mozart's La Clemenza di Tito (Nov. 8, 9, 10), in which he is serving as stage director. "It is exceptional for Mozart because it seems to be politically motivated by a majority point of view, as opposed to the Da Ponte operas, which take a revolutionary point of view," Mori says. "This is, kind of, propaganda paid for by Prague to crown the Holy Roman Emperor as King of Bohemia.
"What interested me, so close the [federal]election, was looking at the piece as propaganda and opening the larger conversation about how we look at the storytelling given us by any government or political party running for office. Most of the time people are telling us to think something, which was one of the original purposes of this opera."
Back to Tapestry. Another manifestation of the company's new interest in the past is a project, supported by the Canada Council's Digital Strategies Fund, to build an online digital archive of Canadian opera, starting with the Tapestry catalogue but expanding to other companies. "All Canadian opera, ever," Mori clarifies. The Canadian Music Centre is also involved in this grand initiative.
None of this means that the company is prepared to abandon its progressive ways. Productions in the planning stage include R.U.R. – A Torrent of Light, a full-length opera by composer Nicole Lizée and librettist Nicolas Billon to be given in partnership with OCAD University; a co-commission with Opera Philadelphia; a partnership with the Luminato festival involving the creators of Iron Road; and a site-specific opera by composer Brian Current and librettist Liza Balkan.
It appears that despite the occasional revival, Tapestry will remain a forward-looking organization that stakes its reputation on presenting new material. "Until there are 10 other companies in Canada commissioning as many works as we are and doing it better," Mori says. "Then we might reconsider!"
This page is also available in / Cette page est également disponible en:

Francais (French)