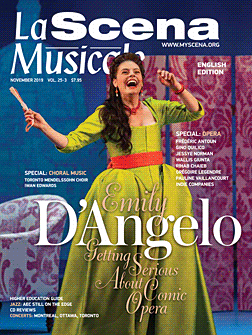 This page is also available in / Cette page est également disponible en:

Francais (French)
The 10-year-old Against the Grain Theatre (AtG) company is flying high, breaking down walls in the world of opera one offbeat performance at a time. In addition to being company-in-residence at the COC, and the appointment of co-founder Joel Ivany as artistic director of opera at the Banff Centre, AtG has reached several milestones in the last two months: they hired their first Executive Director, Robin Whiffen; they embarked on their first cross Canada tour with La Bohème thanks to a Canada Council grant; and became the first opera company to be live-streamed on CBC Gem.
The last part may sound impressive, but the YouTube live stream only reached 340 people during the live portion, although another 2,000 have seen it since. Nevertheless, when it comes to outreach to non-traditional audiences, the English Bohème, set in a 21st century bar, is hitting all the right notes. Touring to small cities (including Medicine Hat, Thunder Bay, Sudbury, Kenora), the company reached many who have never heard or seen an opera.
There is nothing new about transporting an opera's plot to modern day, so the heart of the organization's success was Ivany's visionary idea 10 years ago of translating the libretto to English in today's language. "Existing translations in opera are pretty archaic, so it just made sense to do it myself," said Ivany, who was helped by co-founding soprano Miriam Khalil, who later became his wife. "Miriam made sure the words fit well with the singing line, and the singers also gave feedback. Things got easier with practice." Most of AtG productions have been translated to English and they own the copyright. "We've done six translations so far," said Ivany, who cites Debussy's Pelléas and Mélisande as one of the few operas they performed in the original language.
Setting the opera in bars may seem "innovative," but it's based on practicality. "Bars let us use the venue for free, and they keep the concessions," says Ivany, who has started thinking beyond the 100- to 125-seat performance capacity of such venues. "It's something we have been thinking about but I don't think we'll be performing much in venues bigger than 350.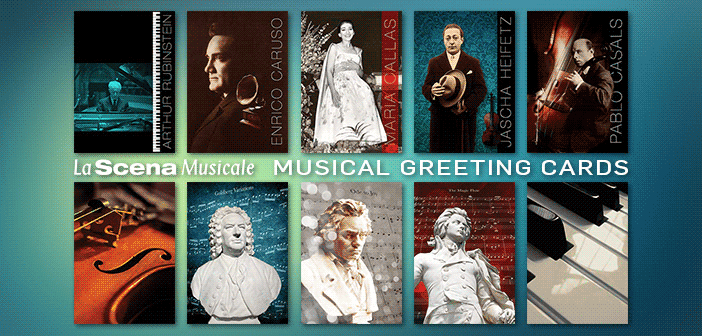 Meanwhile, over the last 10 years, Ivany's personal career as a stage director has taken off outside of AtG. His portfolio includes 20 projects from LA Opera to the COC and includes Jake Heggie's Dead Man Walking. He will be staging the COC production of Hansel and Gretel in February. And the Ivany-Khalil duo has flourished at home with a 5-year-old.
Since giving birth, Khalil has felt her voice blossom. In her return to the December revival of Figaro's Wedding (the AtG's version Mozart's The Marriage of Figaro), she will graduate from Suzanna to the Countess.
When asked about how he manages everything, Ivany says, "I have to juggle being a good husband and being a good dad before everything else."
www.againstthegraintheatre.com
This page is also available in / Cette page est également disponible en:

Francais (French)