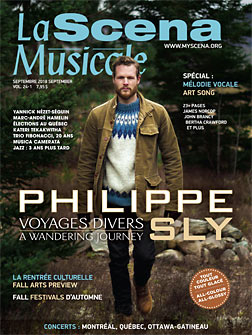 This page is also available in / Cette page est également disponible en:

Francais (French)
I first heard Philippe Sly at the 2012 Concours musical international de Montréal. He was only 23, but that didn't prevent him from winning every prize: First overall, best Quebec artist, best Canadian, best interpretation of an imposed Canadian art song and the Radio-Canada People's Choice Award. I met him more than six years later on a hot summer day at his place in the Hochelaga-Maisonneuve quarter, which has also enjoyed a recent cultural awakening.
Sly reminisces: "The first thing I remember about opera was actually going to an operetta when I was seven years old in Ottawa.  I was always singing at home. I loved Les Misérables and Michael Jackson." Soon he joined a choir and the director suggested that he should take voice lessons. "At first I was a countertenor. At the time that was the only Fach that I felt comfortable singing. Then my boy voice started to change. I switched from soprano to alto, but kept always a really high falsetto."
The following step was to fortify his speaking voice, which, through puberty, was limited in range and often cracked. Sly remembers thinking: "I have no range, there's no repertoire that I can sing!" But he was determined and kept on practising, studying and transposing songs to fit his limited range. At 18 he auditioned for McGill and got a scholarship. "I felt like I fooled the jury panel," he says. "I was very musical and I could make some noises, but I was changing keys constantly and couldn't even sing above middle C."
McGill was challenging in the first year – so much that the school almost decided to take away his scholarship. Happily, he had a great mentor in voice teacher Sanford Sylvan and a great vocal coach in pianist Michael McMahon. By the time he came back from summer break he had resolved many of his technical difficulties.
At the beginning of his second year he felt confident enough and auditioned for Opera McGill. "I was really surprised," he recalls. "I sang Collatinus, my first big opera role, in The Rape of Lucretia." He also furthered his studies in art song by joining McMahon's song interpretation class. "He was one of the main reasons why I went to McGill."
Sly's vocal growth continued. During his last year at McGill he was once of the winners of 2011 Metropolitan Opera National Council Auditions. His victory in the 2012 CMIM followed. In 2013 he was selected to join the prestigious Merola training program and won the San Francisco Opera Adler fellowship,  singing Guglielmo in Cosí fan tutte and Figaro in Le nozze di Figaro.
Now Sly is undoubtedly the new rising baritone of Canada. In 2017 he debuted in Don Giovanni at Aix-en-Provence and has participated in four recording projects with Analekta and is in the midst of a fifth: Schubert's Winterreise with Le Chimera Project.
Winterreise and Le Chimera Project
Last summer this ensemble made its debut in Winterreise arranged for Klezmer quartet (violin, trombone, accordion, clarinet/bass clarinet). Sly was inspired by the work of accordionist Samuel Carrier and fascinated by the theme of an errant traveling artist, which relates both to the klezmer tradition and Schubert's cycle. "In Winterreise there is a feeling of nomadic nation, that home is the road, and there is a definite relationship with Klezmer," Sly explains. During the Middles Ages, the Ashkenazi Jews of Eastern Europe were ostracized because of their religion from the communities they settled.  They were constantly on the move.
From the musical point of view, the members of the band exerted most of their efforts in reducing the material to what was absolute essential about the piece, rather than adding or changing anything. Seldom do more than three instruments play simultaneously. This procedure also allows the listener to be aware of the underlying melodies in the work that can be hard to detect when listening to the original piano and voice arrangement.
"We realized that if we had four instruments going all the time, we would lose the intimacy of Schubert's writing," Sly explained. "The arrangements are about highlighting one instrument and the voice, creating something that was more minimalistic. It forced us to make a decision on what we thought the music meant. If one is going to reduce the music to one line, it means one has to get to the heart of the gesture.
"Also, I definitely have a problem with innovation for innovation's sake. That's not what we wanted to do with this arrangement!" Sly believes that through the process of arranging these songs, he and the musicians where actually re-interpreting them. "It's an investigation on how transcendental this music is, and on how many levels it functions."
Symbolism in Winterreise
The poetic nature of works such as Winterreise forces the interpreter to think in a metaphorical way. That's how almost every artist finds a different meaning to it. Philippe Sly perceives it as a piece of opposition and duality, juxtaposing order and chaos, light and dark, male and female. With Le Chimera Project he wanted to highlight the chiaroscuro aspect of the piece, by playing with the stage lights.
"During the show sometimes you see only a face, or two people at once," Sly explains. "What we see is extremely limited, as in  a Caravaggio painting.  The main character is torn; he finds himself in chaos, so the whole trajectory of the winter journey is how he finds his way from chaos into some sign of order."
Sly believes also that the idea of the border is crucial. To find peace, we must take a stop from chaos to order, just like the character who travels from the city through wilderness to find peace with himself at the border of the town. "The old man sits at the edge, the border of the town, the dogs are growling at him," Sly says of "Der Leiermann," the famous concluding song of Winterreise.  "He just plays his hurdy-gurdy and doesn't react. He is like the Buddha, nothing faces him. And then our character asks him, 'Will you play my songs?
"What does that mean? I think it means that the only way to transcend the tragedy of being is by turning it into art and culture. In this case, he is turning it into music."  Sly finds a more vernacular example in such Montreal neighborhoods as Hochelaga-Maisonneuve, which at one point represented the border of the town. "It used to be extremely poor and rugged. The artist came in and helped to transform a neighborhood that was chaotic into something beautiful and culturally effervescent."
Voice Talk:
"I really feel that when you're close to 30, you have to relearn how to sing." Sly said at the beginning of our conversation about voice. Good singing can feel contradictory to the singer. There has to be a bright portion to the sound but also some darkness and always a sense of connection to the body. As a bass-baritone Sly finds it easier to be muscular and harsh.
"Sometimes you feel like have you give your all and you feel that it was a great show," he says. "However, in my experience the shows during which you feel the most 'empty' are the ones that come off as being really striking to the audience.
"One has to have to be patient and let the art install itself. Sometimes by giving too much, we prevent the listener from digesting one moment at time. Also, when you're calm and 'empty' you know intuitively how much time to give to things. You're extremely aware of the moment, it's a meditative state."
Sly deplores the idolization of youth and the philosophy that opera should be sexy and emulate the world of cinema – even though he was one of those prodigious good-looking talents when he won competitions like the CMIM just a few years back.
"The most important thing is to learn how to sing first," he insists. "It's funny, because I actually didn't learn how to sing first. Sure, I won some competitions, but I know now that I would have had way less stress if I had put more energy into being a better student of singing. Luckily, I learned while I was in the middle of a career and somehow survived, but not everybody does."
Many young singers are reluctant to turn down an offer. "You get told that if you don't say yes, you'll never get hired, that they will not call you back. You must  have enough self-knowledge to know when to say no." Saying yes when the singer is not vocally and musically ready can easily ricochet and cause more harm than good to the reputation and health of a singer.
"The best advice that I would give to a younger singer is not just to try to please people when you're singing," Sly said. "The problem with 'pleasing' is that you can forget who you are and therefore forget to take care of yourself."
One must not only avoid risk but know what challenges are best. A good challenge was the role of Golaud in the 2015 concert version of Debussy's Pelléas et Mélisande with the OSM. It allowed him to perform a mature role in a setting where he wouldn't be tempted to push his voice by becoming too involved in the acting. He also found the role soothing because of the legato nature of Debussy's music and of the French language. A bad risk was performing Don Giovanni last year at Aix-en-Provence. A month before, he had been ill and didn't have  time to recover. He got sick again on opening night.
"I had to be on steroids for a lot of the shows," Sly recalled. "This was horrifying. I winged it and survived but it wasn't satisfied. I should have taken more time."
ART SONGS FOR A DESERT ISLAND?
Sly somewhat reformulated this question. "Wanders Nachtlied" by Schubert has to be one of the songs, because I think the poem is one of the best ever written by Goethe. The symbiosis [of meaning and music]is unbelievable. The singer I like to listen in this work is Robert Holl. Because nobody does things with more love for German diction."
His second choice would also be by Schubert. However, to balance the list he turned to French repertoire and "Phidylé" by Duparc. "It's the most sensual music, it's the anticipation of the sexual encounter. I don't have a recording that I refer to because I actually learned it without listening to it, but I would love to hear Russell Braun singing it, now that I think about it."
For his third song he felt he needed a female voice and chose the late contralto Maureen Forrester singing the last song from Mahler's Das Lied von der Erde.
As for Winterreise, Sly listens to everybody he can because he can learn and appreciate something from each performer: Jonas Kaufmann for accent and his diction; Matthias Goerne with pianist Christoph Eschenbach for the symbiosis of singer and accompanist. "In that case I listen more for the pianist and the interpretation," Sly confesses. "They make the most amazing decisions musically. For example, in "Das Wirtshaus," they do it soooo slooow. Every chord has space to be savored before they move on to the next." 
FUTURE PLANS AND ENGAGEMENTS
"I'm doing my first Leporello next year at Opéra de Paris, then a Figaro in Dallas, but I'm also doing a lot of contemporary operas," Sly says. He will be creating one of the characters in a new opera by British composer George Benjamin in Hamburg. He will also be singing at the COC and make his debut with Opéra de Montréal within the next three years.
Although Sly was a winner of the Met National Council Auditions, he has yet to make his debut at the prestigious house. "They want to hear me again and actually made some offers for smaller roles such as Colline," he says. "But what I really want to do is a new opera or a new production."
Sly worries that rehearsal time can be short for standard productions. "One week of rehearsal – personally, I need more than that to get going, I am not a machine." New productions get more rehearsal.
Recital and concert appearances remain a priority. This fall he tours with pianist Michael McMahon in Winterreise, starting Sept. 9 at Pollack Hall. Sly then heads to western Canada and the United States. He is back in Montreal on Nov. 18 to perform Winterreise again, but in the klezmer version with Le Chimera Project at Bourgie Hall.
This page is also available in / Cette page est également disponible en:

Francais (French)