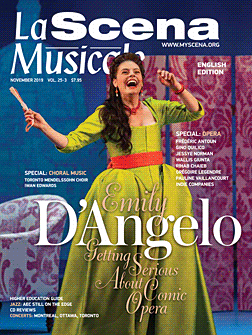 This page is also available in / Cette page est également disponible en:

Francais (French)
by Andréanne Venne & Justin Bernard
NOVA SCOTIA
Maritime Concert Opera
Founded in 2003 by Nina Scott-Stoddart, the Maritime Concert Opera Society aims to present works in concert (without staging, sets and costumes) and in original versions, to offer affordable tickets, to promote passion for opera, operetta and musicals as well as supporting culture and artists in Nova Scotia and the Maritimes. www.maritimeconcertopera.com
QUÉBEC
Maison d'Opéra et de Concerts
Since 2014 Sherbrooke's Maison d'Opéra et de Concerts has been offering high-calibre programming with talented artists with a thriving career in Quebec and abroad, often from the Eastern Townships, but rarely in Sherbrooke. This season features Don Pasquale by Donizetti. www.maisondoperaconcerts.com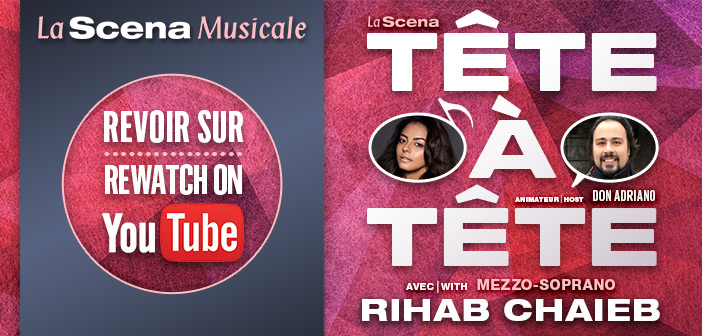 Opera concept M.P.
Opera M.P. productions feature innovative and multidisciplinary opera projects that often combine rock and operatic musical genres to make new works in their own right. Coming up in November will be the Toronto premiere of Another Brick in the Wall: The Opera, featuring the words of Roger Waters and a score by award-winning composer Julien Bilodeau. operaconceptmp.com
Ballet-Opéra-Pantomime
A ballet, opera and pantomime company founded in 2013 by young graduates of the Conservatoire de musique de Montréal, BOP wants to contribute to the discovery of little-known works by the Quebec public while proposing original productions. The young company uses avant-garde artists from different disciplines. To engage the community, shows are often given in unusual places, without neglecting more traditional venues. BOP has presented to date six multidisciplinary productions, in partnership with organizations such as ECM + (Images de Sappho, 2015), the Arte Musica Foundation (The Burning Fiery Furnace, 2015) and the OFFTA Festival (Quartet for the End of Time, 2017). bopbop.ca
Opera 101
A Montreal duo formed by pianist Laurence Lambert-Chan and mezzo-soprano Charlotte Gagnon, Opera 101 combines opera and humour of the clowning tradition. In their shows that are presented as small educational pieces, they make fun of the clichés of the opera by deconstructing them and making them meet in the same concert as the staged production of giants of pop music and monsters of classical music. The company is the recipient of three Coups de pouce at the 23rd edition of Vue sur la relève. www.opera101duo.com
Belle Lurette Productions
Founded in 2004 in Laval by Étienne Cousineau and Pascal Blanchet, Belle Lurette is a comic-opera and musicals troupe featuring works rarely presented in Quebec or not presented for a long time (hence its name). It appeals broadly to the Francophonie and aims to make the operatic arts more accessible to the general public through the humour and originality of its programming. Since its fifth anniversary in 2009, Belle Lurette has presented an operetta by Jacques Offenbach in concert each year. www.bellelurette.org
La Compagnie baroque Mont-Royal
La Compagnie baroque Mont-Royal, founded in 2011 by young performers from the Schulich School of Music at McGill University, is a vocal and instrumental ensemble dedicated to Baroque and Classical opera from Montreal. The company showcases emerging artists and focuses on public education and performance on period instruments. Coming productions are The Elysian Groves, which will be presented on Nov. 24 with the Ponté Trio, and Gluck's Alceste, which takes place on March 7. www.cbmroyal.com
Le Nouvel Opéra
The company founded by soprano Suzie LeBlanc produces baroque and classical operas and rare vocal works. This was the case of Paolo Lorenzani's Nicandro e Fileno, which had not been staged since its creation in 1681 and which the company presented in 2017 in coproduction with Les Boréades de Montréal. Part of the mission of this company is to update the traditional repertoire by combining various forms of arts such as dance, theatre and visual arts to create original shows in tune with contemporary culture. The company also has an educational component and offers professional workshops. www.lenouvelopera.com
1 Opéra 1 Heure
A Montreal-based collective formed in 2014 around emerging Quebec musicians, 1 Opéra 1 Heure focuses on the leading works of the French lyric repertoire. As its name suggests, the abbreviated format is privileged, which creates an intimate and accessible opera that goes to the essence of the work. 1opera.wixsite.com
Opera Voxpopuli
A theater/opera company co-founded in 2006 by Patrick Mathieu and Paul Buissonneau, Voxpopuli works in a more family-oriented niche and is behind the Voxpopuli Young Audience program, which enables thousands of children attending public schools to attend free of charge opera performances for young neophytes every year. Voxpopuli offers series of concerts featuring with humour and the great composers. www.operavoxpopuli.com
Opera Outside the Box
Created by singer Émilie Versailles and theater artist Kim Crofts, this meeting between vocal art and theatre defies the accepted borders between genres and integrates even more forms of art, with the stated aim of renewing the operatic genre and shaking up its conventions. The works, short and intimate, are presented in unusual places to meet an ever new and unexpected audience: park, art gallery, abandoned factory, bar, etc. www.operaoutsidethebox.com
Light Opera of Montreal (LOOM)
LOOM is a Montreal group made up of musicians, singers, composers, actors, dancers, visual artists and filmmakers, all united in their desire to create stage and screen shows that are inclusive of the people by and for whom the productions are created. Works are presented in accessible places such as training centers, pubs, centres for the elderly and neighbourhood cinemas. Rehearsals for the spring 2020 production of The Weill Woman begin in November. www.lightoperaofmontreal.org
ONTARIO
Bicycle Opera Project
Founded in 2012 by two young singers, Larissa Koniuk and Nadia Chana, Bicycle Opera Bicycle is a company that tours by bicycle and presents contemporary operas to audiences living in remote municipalities. www.bicycleopera.com
Essential Opera
Founded by co-artistic directors Erin Bardua and Maureen Batt, Essential Opera produces vibrant, accessible opera concerts in Ontario and the Maritimes. This management duo creates opportunities for performers and composers, promotes the role of women in all aspects of opera, while providing audiences with a good time. www.essentialopera.com
Pellegrini Opera
Since 2004, the mission of Pellegrini Opera has not changed: to make great opera music accessible to everyone, regardless of age, income, social background or musical education. Pellegrini Opera was founded by soprano Maria Pellegrini, who is committed to sharing the opera with people who otherwise would not have the chance to live this experience. Last October, the company presented Gounod's Roméo et Juliette at Centerpointe Studio in Ottawa. www.pellegriniopera.org
Vera Causa Opera
Vera Causa Opera aims to offer its audience an affordable and entertaining experience by combining acting, comedy, singing, music and dance. In short, be faithful to this total form of art that is opera. Next show: Ravel's L'enfant et les sortilèges (Nov. 15, 16 and 17). www.vcopera.ca
Loose Tea Music Theatre
Founded in 2013 by Alaina Viau, Loose Tea Music Theatre revitalizes classical music and opera by associating them with current social issues. The company seeks to highlight the timeless character of the works it presents. Raising public awareness of social causes through music is its other vocation. This fall, there will be two creations on the program, Singing Only Softly (Nov. 2 and 4) and Carmen #YesAllWomen (Dec. 3 and 5) and a workshop on an Aboriginal opera to be presented in the spring. www.looseteamusictheatre.com
 Amplified Opera
Co-founded by director Aria Umezawa and creator Teiya Kasahara, Toronto-based Amplified Opera is involved with various communities. It seeks to offer artists the opportunity to tell their story as they see fit and to open the public to new cultural experiences. www.amplifiedopera.com
My Opera
MyOpera is aptly named. It is intended for young emerging artists in all sectors related to the world of opera: singers, directors, musical directors, lighting designers, scenographers, etc. www.myopera.ca
FAWN Chamber Creative
FAWN seeks to raise awareness of contemporary repertoire, offering new operas and multidisciplinary works on stage. Its main goal is to commission and promote chamber music written by Canadian composers. fawnchambercreative.com
Opera Atelier
Opera Atelier is a Toronto-based company whose mission is to rediscover and revitalize early music through operas and ballet, particularly works from the Baroque period. From Oct. 31 to Nov. 9, Opera Atelier will make a detour to Mozartian repertoire with Don Giovanni. www.operaatelier.com
Toronto Operetta Theatre
Established in 1985, the Toronto Operetta Theatre is the only professional Canadian company specializing in the repertoire of comic operas. During the holidays, the TOT will present The Gypsy Baron by Johann Strauss II. www.torontooperetta.com
Voicebox: Opera in Concert
Founded in 1974, Opera in Concert seeks to offer an ever-renewed experience of opera and its power to unleashing the expressive power of music. Next production: Kátya Kabanová by Leoš Janáček in English (Dec. 1). www.operainconcert.com
Opera 5
Opera 5, born in 2011, offers unknown treasures, new Canadian creations, but also more established works. Its mission is to change the way people view opera, to attract new audiences and to showcase women in the various fields of activity, whether in creation, performance or production. In November, the company plans a chamber-music concert honouring Hindemith and Shostakovich. www.opera5.ca
Opera By Request
Opera by Request member artists perform a variety of concert opera styles. Until now, there's been nothing new! However, this is the originality of the project: the repertoire is not chosen by the artistic director, but by the participants themselves. This is an opportunity for singers to learn and play a role for the first time, in a friendly and pleasant atmosphere and for listeners to hear the music they like, at a low cost. Note that in October, a fundraising evening was held for the next major production of Opera By Request in 2020: the complete cycle of Wagner's Ring. www.operabyrequest.ca
MANITOBA
Little Opera Company
Spencer Duncanson, who is still the artistic director, founded the Little Opera Company, based in Winnipeg. This non-profit organization is dedicated to producing high-quality operatic entertainment and making the genre ever more accessible. The company also wants to allow local artists to express their talents and to make themselves known. Last October, an evening was organized with Menotti's The Medium and Mollicone's The Face on the Barroom Floor. www.littleopera.ca
Manitoba Underground Opera
Manitoba Underground Opera's Don Giovanni. Photo: Paul McKeenManitoba Underground Opera was born out of the desire of a group of music students in Winnipeg to address the lack of opportunities for artists in the region and to meet the need for stage experience. Led by general manager Brendan McKeen and artistic director Brenna Corner, it now offers large-scale opera productions as part of an annual festival. Much more than thematic concerts with singers who have been with the company since its beginning! www.manitobaundergroundopera.com
ALBERTA
Calgary Concert Opera Company
The Calgary Concert Opera Company is holding auditions for singers of all types. In February, the company presents, in collaboration with the Calgary Civic Symphony, a program hits from the Italian and German operatic repertoire. On the occasion of the 25oth anniversary of Beethoven's birth, the CCOC will also present excerpts from Fidelio, the composer's only opera. www.calgaryconcertopera.com
BRITISH COLUMBIA
Opera Mariposa
Opera Mariposa is a Vancouver-based company run by young artists for young artists. Already in its eighth season, its mission is to create an accessible and inclusive stage for emerging talent, featuring promising performers from the Vancouver and British Columbia region through concerts, staged operas and musical comedy productions. In November, Opera Mariposa presents Puccini's Gianni Schicchi. www.operamariposa.com
Young People's Opera Society of BC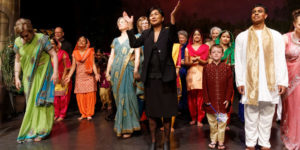 YPOSBC is a charitable organization that provides affordable opportunities for young and old alike to learn about opera and singing. The next event: A Dickens Christmas, a mix of stories and English Christmas carols (Dec. 8, 13 and 14). www.yposbc.org
City Opera Vancouver
City Opera Vancouver is a professional lyric chamber company. Repertoire ranges from early baroque to contemporary. COV also commissions Canadian works. Its presentations seek to maintain a close link with the audience. The next production, in January, is Berlin: The Last Cabaret, a mix of opera, cabaret and jazz. www.cityoperavancouver.com   
This page is also available in / Cette page est également disponible en:

Francais (French)