This page is also available in / Cette page est également disponible en:

Francais (French)
The winner of Gold is Bruce (Xiaoyu) Liu. Read the full story here.
---
Here are the videos of the Finals.
---
Two Canadians, J J Jun Li Bui of Toronto and Bruce (Xiaoyu) Liu of Montreal, have advanced to the finals of the International Chopin Piano Competition in Warsaw.
Twelve hopefuls will perform one of the two Piano Concertos of Chopin in the final round, which takes place on Monday, Tuesday and Wednesday at the Warsaw Philharmonic Concert Hall. Sessions start at 6 p.m. Warsaw time (noon EST). Four contestants are heard each day.
Liu's performance of the Piano Concerto in E Minor Op. 11 Wednesday (Oct. 20) promises to be particularly dramatic since he is the last contestant to appear. Bui opens the second session at 8:30 p.m. Warsaw time on Tuesday (Oct. 19). He also plays Op. 11.
Born in Paris, Liu won the grand prize of the 2012 OSM Standard Life Competition at age 15. He is a student of Richard Raymond and Dang Thai Son.
Bui, at 17, is a veteran of several Canadian and international contests, including the Van Cliburn International Junior Piano Competition. His teachers include Michael Berkovsky and Dang Thai Son.
All Warsaw performances can be seen live online in 4K in a mobile app (iOS, Android), on the competition website Chopin2020.pl (Multimedia tab), Chopin Institute's YouTube channel, in Smart TV app for Sam- sung televisions. They are also broadcast live by TVP Kultura and aired by Polish Radio 2 and Radio Chopin.
If either Bui or Liu make it to the podium, they will join the 2015 silver medalist Charles Richard-Hamelin among Canadians who have enjoyed success in Warsaw.
For more information on the competition: https://chopin2020.pl/en.
Below are two LSM profiles of (Bruce) Xiaoyu Liu focusing on past competition victories:
2012 OSM Standard Life Competition : Xiaoyu Liu
by Marc-Olivier Laramée / Oct. 1, 2013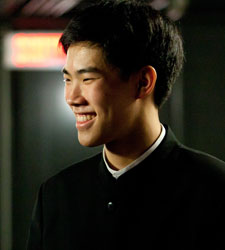 More than three hundred laureates have had the chance to launch their careers thanks to the OSM Standard Life Competition, founded in 1940.  The latest in this series is Xiaoyu Liu, a fifteen-year-old pianist studying at the Montreal Conservatory of Music. After passing through the various rounds held between November 21 and 24, 2012, this young pianist took home more than $12,000 in prize money, not to mention a large offering of concerts, tours and training programs.
Xiaoyu Liu began his piano studies at age seven as a private student.  He has been studying at the Montreal Conservatory for three years and pursues his secondary studies at the Collège de Montréal.  He currently studies at the Conservatory, where Richard Raymond is his teacher. When asked why he chose to play the piano, he replied, laughing, "It's easier than the violin; the piano is nothing but pleasure for me."
Liu decided to take part in the OSM competition (his first!) because he wanted to play before a world-class jury.  For him, such a competition is an opportunity to receive valuable feedback regarding his musical development. "The competition also allows winners to perform in concerts; these are great opportunities," he adds. Liu was also attracted by the division of pianists into two age categories: 17 and under, and 18 and over.  Players therefore have the chance to compete in their own category in a competition of international caliber.
For the final round of the competition, Liu performed Rachmaninoff's Piano Concerto No. 2.  "I chose this work because I love it and also because it really demonstrates my capabilities as a performer," he said.  "I also asked my teacher's advice." His favourite performance of the concerto is that of Vladimir Ashkenazy. His favourite composers include Beethoven, Liszt and Rachmaninoff.
Liu plans to continue his studies at the Conservatory.  Later, he would like to be a soloist and to tour; through traveling, he hopes to observe and learn from different cultures.  His success at the OSM Standard Life Competition gives him the opportunity to start just such a career.  Among the prizes that he received was giving a concert with the OSM at the Maison Symphonique last April, where he again played Rachmaninoff's Second  Concerto.  "Since childhood I've admired this orchestra – it's a dream to play with them." In March he made a recording with Radio Canada. During the summer he played a recital at the Orford Arts Centre, as well as a concert with the YOA Orchestra of Americas in South America.
Liu is currently preparing Saint-Saëns' Fifth Piano Concerto, which he will perform with the Newfoundland Symphony Youth Orchestra in February.
The next edition of the OSM Standard Life Competition, dedicated to strings and harp, takes place November 19-23, 2013. www.osm.ca
 Translation: Rona Nadler 
---
Xiaoyu Liu, Winner of the Prix d'Europe
by Renée Banville / October 1, 2015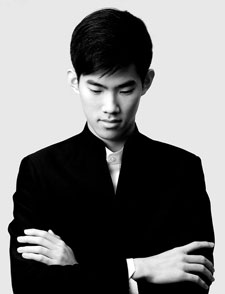 Eighteen-year-old pianist Xiaoyu Liu, winner of the 2015 Prix d'Europe competition, stunned the audience with his musical choices at the grand closing gala. His remarkable musicality was plain to see during his performance of Chopin's posthumous Nocturne Op. 20, and his undeniable virtuosity shone through the Variation Op. 41 by Kapustin, a composer who hails from both the classical piano virtuoso and jazz improvisational traditions.
The Prix d'Europe is yet another notch on the belt of this piano prodigy, who has been collecting accolades from a very young age. In 2012 at the age of 15, Xiaoyu won the Grand Prize at the OSM Standard Life Competition and the silver medal at the Thomas and Evon Cooper International Piano Competition. In 2013 he was awarded first prize at the CFMTA National Piano Competition, and made his debut in April of the same year with the Orchestre symphonique de Montréal under the baton of Jean-François Rivest. When he was 17, Xiaoyu was the youngest participant at the 2014 Concours Musical International de Montréal (CMIM), where he was one of the finalists.
For Xiaoyu, music was an interest that developed gradually. As the son of an artist, he loves to paint and has a passion for swimming, a sport that he enjoys daily. He began studying the piano at the age of 7. At the age of 9 he signed up for the Canadian Music Competition and at the age of 10 he took home the first prize. His performances were so beyond competitors his age that he was placed in more and more advanced categories. In 2011, at the age of 14, he won the first prize against a group of 19-year-old competitors. The same year he began studies at the Conservatoire de musique et d'art dramatique du Québec with Richard Raymond.
Xiaoyu Liu's successes have helped awaken his interest in a career as a pianist. Since 2011, his calendar of recitals and concerts has included collaborations with the Northern Arts and Cultural Centre, the Orford Arts Centre, and the Newfoundland Symphony Orchestra. He performed in El Salvador in 2013 as a part of his prize at the OSM competition, which included a concert tour in Latin America with the YOA Orchestra of the Americas. In 2014 he appeared with the China NCPA Orchestra in Beijing and in Toronto. He is an invited soloist with the Orchestre du Conservatoire and the Orchestre symphonique des jeunes de Montréal this fall, and will perform a recital at the National Arts Centre in Ottawa in April 2016.
Xiaoyu believes he has been very fortunate since his arrival in Canada at the age of 6. He admits that 18-year-olds can be impatient and a bit nonchalant; however, he is convinced that at this stage the crucial elements are to gain experience and to work on his intellectual development by taking an interest in everything. "You have to be able to perform works from a range of styles and you can never stop exploring. I am curious about everything," he explains. The year 2017 is a piano year for the CMIM and we are willing to bet that this ambitious young prodigy will be among the candidates.
Translation: Dayna Lamothe
This page is also available in / Cette page est également disponible en:

Francais (French)