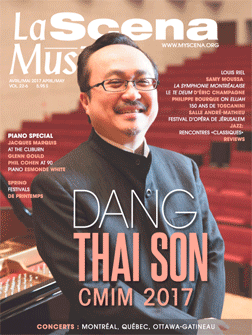 This page is also available in / Cette page est également disponible en:

Francais (French)
Dang Thai Son is a man of discriminating taste. After a swirl and a sniff and a sip, he sent back a glass of red from Burgenland at a midtown Montreal bistro. "It's quite light," he said in his soft and gently accented English. "Maybe something richer." This Hanoi-born pianist and long-time Montrealer is in the business of ­making fine distinctions. Recently recognized with an Opus Prize for a 2016 recital of Chopin and Schumann at Bourgie Hall, Son is perhaps even better known as high-end consultant to young pianists from around the world and a judge on the competition circuit.
Last year Son (Vietnamese practice is to use the given name) ­received 12 invitations to serve on competition juries. He accepted four, in Moscow, Rio de Janeiro, Prague and Sendai, Japan. His most memorable moment as a jurist in 2015 was to serve as vice-chair of the XVII International Chopin Competition in Warsaw, in which ­Canadian Charles Richard-Hamelin took second. It is no coincidence that Son had won this prestigious event 35 years earlier.
From May 2 to 12 Son will walk rather than fly to work when he sits on the jury of the Montreal International Musical Competition, which is devoted this year, of course, to piano. Three hundred and four hopefuls applied. South Korea was far in the lead with 76, followed by the United States with 36, Russia with 35, China with 33 and Canada with 22.
Not a single American made the MIMC cut, and only one ­Canadian, Teo Gheorghiu, a native of Switzerland who made his pubic debut at the Zürich Tonhalle and has a film credit as a piano prodigy. Seven South Koreans are among the 24 starters – again, well in the lead. France and Italy made hearty contributions of three each. There are also three from former Soviet lands. One contestant hails from China, one from Japan.
Son is too aware of the vagaries of the competition process to offer anything resembling odds on who might win. But some characteristics can be ­expected from competitors even of high standing.
One is the occasional case of the young musician who plays well in the solo semifinals, ­advances to the final round, but rapidly deflates in front of an orchestra.
"They think, 'Let's try a competition,' but do not expect to win," Son, 58, says of such novice ­contestants. "They always prepare for the solo round. Suddenly they are in the finals and they are not ready for the concerto."
Son recalls a performance a few years ago in a ­German competition of Chopin's Piano Concerto No. 1 in E Major in which the hapless soloist contrived to play the second theme of the exposition in the tonic rather than the ­relative major, thus skipping over many minutes of music. Somehow the conductor and orchestra made the adjustment and the show went on.
"He did not play the whole concerto," Son recalled with some bemusement. "He played two movements and a half, or maybe not even."
Ready or not, young pianists habitually choose their concerto from a repertoire of scores that are perceived as competition-worthy. The Big Five are probably the First Piano Concerto of Tchaikovsky and the Second and Third Piano Concertos of Prokofiev and Rachmaninoff, with Chopin's two concertos as occasional kickers (and standard items in the Warsaw competition named after this composer).
"Some concertos are good choices for the concert, but not for the competition," Son said in response to my expression of dismay at the virtual nonexistence of Schumann on the international competition playlist or any Beethoven concerto other than the Emperor. "You need something grandiose," he explained. "The concerto has to have 'wow.'"
Ravel's Concerto in G is good example of a non-wow item that is nonetheless solidly in the standard repertoire. Grieg? Judges would judge it too easy. "It seems to be 'brillant'," Son, reverting to French, said of this 150-year-old hit, "but it is not in the category that it needs to be."
There is some good news: Son has noticed a trend away from the inevitable "Rach 3," as pianists for years have called it, in favour of the two piano concertos of Brahms. "This is very positive," Son ­commented. "Because they are grandioso, they are big, and there is so much you can say with this music. But there are difficulties for the ­orchestra, the solos. So it depends also on the orchestral support."
Happily, the MIMC for years has been serviced by the OSM, ­arguably the best supporting squad in the competition business. Claus Peter Flor is the very experienced conductor. No one will shy away from Brahms 1 or 2 for lack of faith in the principal cello or horn.
Memory slips and mistakes have receded in inverse proportion to the rise of technical standards. Still, things happen. Is a memory lapse fatal in the semifinal round?
"It depends on how he or she plays in general," Son said. "If the level was very high, and only suddenly there was this kind of accident, I would think twice, I would be flexible.
"When the pianist plays 'OK,' but is not so special, not exceptional, after such an accident, he or she has no chance."
Demographics are a perpetual source of interest in the competition world, as the participation rates of various nations and their ­pedagogical schools wax and wane. Son is in an usually strong position to assess these trends owing to a personal history that combines East and West in a manner than can be fairly called unique.
Born in Hanoi but raised out of town during the Vietnam War, Son was introduced to the piano and specifically to Chopin – the only composer whose music his mother and teacher had in these straitened circumstances – on an upright piano salvaged from what is now known as the Vietnam National Academy of Music. The young man might have been sadly short on Bach, Beethoven, Schubert and Schumann, but he had plenty of time in the quiet countryside to focus on the composer who was destined to mean the most to him.
Vietnam had diplomatic links with the Soviet Union during and after the war. Isaac Katz, a ­visiting Russian pianist, saw the potential of the sequestered Son and arranged for his entry at age 19 into the Moscow Conservatory.
Vladimir Natanson, the oldest teacher on staff and more of a musicologist than a piano teacher, took over his education and cultivated a vocal style that was perfect for the romantically-inclined young Vietnamese.
All the same, Son made dramatic technical advances, playing Brahms's Paganini Variations at his first-year examinations and the Rach 3 after two years.
Conservatory heavyweight Tatyana Nikolayeva was impressed by his progress and no less a titan than Sviatoslav Richter chose Son to fill in for him in a recital in Japan. All this happened in an institution strong enough on the ground to ­include Mikhail Pletnev and Ivo Pogorelich in the student body.
Strange to say, Son and the latter pianist listened to recordings together in the dormitory. It is a remarkable anecdote given the scandal that erupted at the 1980 Warsaw Competition, which Son won outright but which generated substantial headlines because of the resignation of Martha Argerich from the jury after the elimination of Pogorelich.
Pogorelich soon became better known in the West, where a ­Yugoslav could travel freely. Some Montrealers will recall his 1980 victory in the Montreal International Music Competition – no ­official relation to its successor organization – that had some good years before disbanding in the 1990s.
Son, on the other hand, developed his career in Japan, where he was celebrated not only as the real Warsaw winner but as a highly accomplished young pianist of Asian birth. Such was his success in Japan that he took up residence in this music-loving nation.
In 1989 Son made his OSM debut with the late Sir Neville ­Marriner on the podium. He liked the city and, as a former resident of Moscow, did not mind the cold.
Whether Montreal was the ideal platform from which to build a jet-setting career might be debatable, but its cultured atmosphere and burgeoning population of talented piano students suited Son just fine. Canada's diversity and democratic atmosphere did not hurt. He moved to the city in 1991.
Having adjudicated dozens of competitions and consulted with ­hundreds of young players, Son has informed opinions on the ­international piano bourse of the 21st century.
The surge in piano talent from South Korea can be explained by the presence in that country of exceptional teachers, such as Juilliard alumnus Kim Dae-Jin and Austrian-trained Shin Soo-Jung, the latter the teacher of Cho Seong-Jin, who won first prize in the 2015 Warsaw scrimmage that awarded silver to Charles Richard-Hamelin. It is not necessary, Son says, for a Korean pianist to travel abroad to receive a thorough grounding.
China, in Son's view, remains in this respect more isolated, despite the fame and outstanding ability of Lang Lang, Yuja Wang and Yundi Li. Japan also has its stars, and remains remarkable as a reservoir of cultivated and appreciative audiences. But the emphasis on civility in this culture presents a continuous counterpoint to the soloist's need for self-expression.
Prodigies are still legion. Parents often make the difference to their progress, and not necessarily for the better. They often instill a sense of "You're the best" in an adolescent performer, Son says, that can get in the way of personal development.
Son reckons that 90% of musical phenoms do not reach their full potential because of the undue influence of mama and papa. Here the Russian system (which Son still ­reflexively calls "Soviet") has an advantage: it keeps parents at bay, stresses the teacher, and gives a prodigal talent a better chance at a balanced education.
Participation in competitions across the gender line is hard to gauge. Only six of 24 entrants in the 2017 MIMC are women. Despite the unpopularity of this view, Son wagers that, blindfolded, he could distinguish female pianists from males with a high rate of success, owing to the sensitivity of the ­former and the analytical approach of the latter.
Yes, there can also be a difference in sheer physical force, but such generalities are hard to sustain given the thunder that tiny Yuja Wang regularly summons from her Steinway. Son is also ­prepared to speculate that the great success of homosexual male pianists over the decades is due to a happy cohabitation in one body and mind of both male and female traits. "The gay pianist is in a special position," he says.
Whatever the value of these generalizations – which, in Son's case, are the result of years of teaching and adjudicating – no responsible judge takes a seat in the audition hall with such preconceptions at the fore. The particular always trumps the general in a fair and open contest.
"It is a competition, so of course you pick the best," Son says. "And how different they are! When it comes to who is better than whom, this is case by case."
---
Upcoming Canadian appearances:
Judge at the 2017 CMIM. May 2 to 12, Maison Symphonique, Bourgie Hall, www.concoursmontreal.ca
MPRS Presents Dang Thai Son – A Romantic Jouney. June 2, Southminster United Church, Ottawa, www.dangthaison.net
This page is also available in / Cette page est également disponible en:

Francais (French)