This post is originally from the
source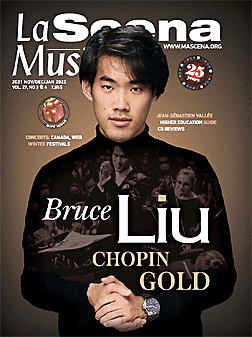 This page is also available in / Cette page est également disponible en:

Francais (French)
Few people talk about the pandemic in ­positive terms, as least with respect to the performing arts, where the devastation has been virtually universal.
Only in one respect did the lockdowns simplify life for Mississauga Symphony Orchestra music ­director Denis Mastromonaco: choosing works to be heard in 2021-22.
"Some of this program is intended to celebrate concerts that were shut down during COVID, concerts we simply did not get the ­opportunity to perform," the conductor said by way of explaining the mix that makes up the MSO's live-public comeback on Nov. 20 in Hammerson Hall: "Autumn" from Vivaldi's The Four Seasons, the finale of Mendelssohn's Symphony No. 5 ("Reformation"), Mozart's Overture to The Marriage of Figaro and Beethoven's Fifth Symphony.
The second concert of the season, A Baroque Christmas, on Dec. 18, is another high-­powered mélange, including "The Trumpet Shall Sound," "I Know That My Redeemer Liveth" and a sing-along "Hallelujah" from Handel's Messiah as well as "Grosses Herr" and other highlights from Bach's Christmas Oratorio. Soprano Lauren Estey, countertenor Daniel Taylor and baritone Christopher ­Dunham are the soloists.
There are also instrumental selections, ­including Corelli's Christmas Concerto, Vivaldi's "Winter" and another Vivaldi violin concerto: "Il riposo per il S.S. Natale" from his Op. 6. MSO concertmaster Corey Gemmell does the honours.
A Star Wars pops program on April 2 is a COVID orphan originally scheduled to be presented in 2020. Before this, on Feb. 12, the MSO celebrates its own operatic recent past with selections from Carmen, La Bohème and La Traviata.
Concluding the season on April 30 is a program called Ole! featuring music from Spain and Latin America. The mix on this occasion includes classics like Albéniz's Asturias, Falla's El Amor Brujo, Ginastera's Estancia as well as tangos and mariachi music.
The MSO, celebrating its 50th anniversary in 2022, prides itself on fielding full orchestras in its acoustically responsive home in Mississauga's Living Arts Centre. Though not back up to the 95 that staffed Mahler and Rachmaninoff performances before the pandemic, the ensemble will number a perfectly respectable 60.
Although capacity restrictions have recently lifted in Ontario, distancing will still be ­required in some sections of the theatre. Masks for everybody, all the time. This goes also for strings and percussion players.
It is hoped, of course, that the loyal MSO ­listeners will return after their forced hiatus. The orchestra receives support from Mississauga and Ontario, but box office and earned revenues make up 50 percent of the budget. It is a proportion of which most orchestras can only dream.
One reliable attraction is A Merry Little Christmas on Dec. 19. To get an idea of how this family event goes, check out an archived concert posted at the MSO site.
This page is also available in / Cette page est également disponible en:

Francais (French)