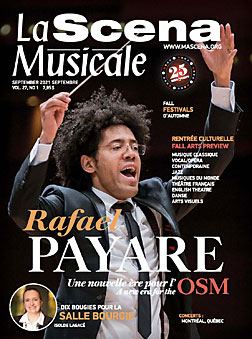 This page is also available in / Cette page est également disponible en:

Francais (French)
"I think 100 is a good number," Isolde Lagacé said, referencing the tally of concerts presented by Bourgie Hall in 2021-2022, up from 53 in its inaugural season 10 years ago. "To have 100 concerts, in every style, and of good quality." A good number? More like astonishing given the array of alternatives that exist in Montreal and the challenges still posed by the pandemic. Not many chamber rooms in Canada can claim such a sum, which rises to 141 when rentals are taken into account.
Or perhaps the numbers are both surprising and predictable at once, given the steady demand for great music in an unusually arts-friendly city and the peculiar virtues of this 467-seat facility, adjacent to and integrated with the Montreal Museum of Fine Arts.
"We don't get complaints, we only get kudos," comments Lagacé, founding general and artistic director of the hall. "It is very good for the soul, I have to say."
Traditional and modern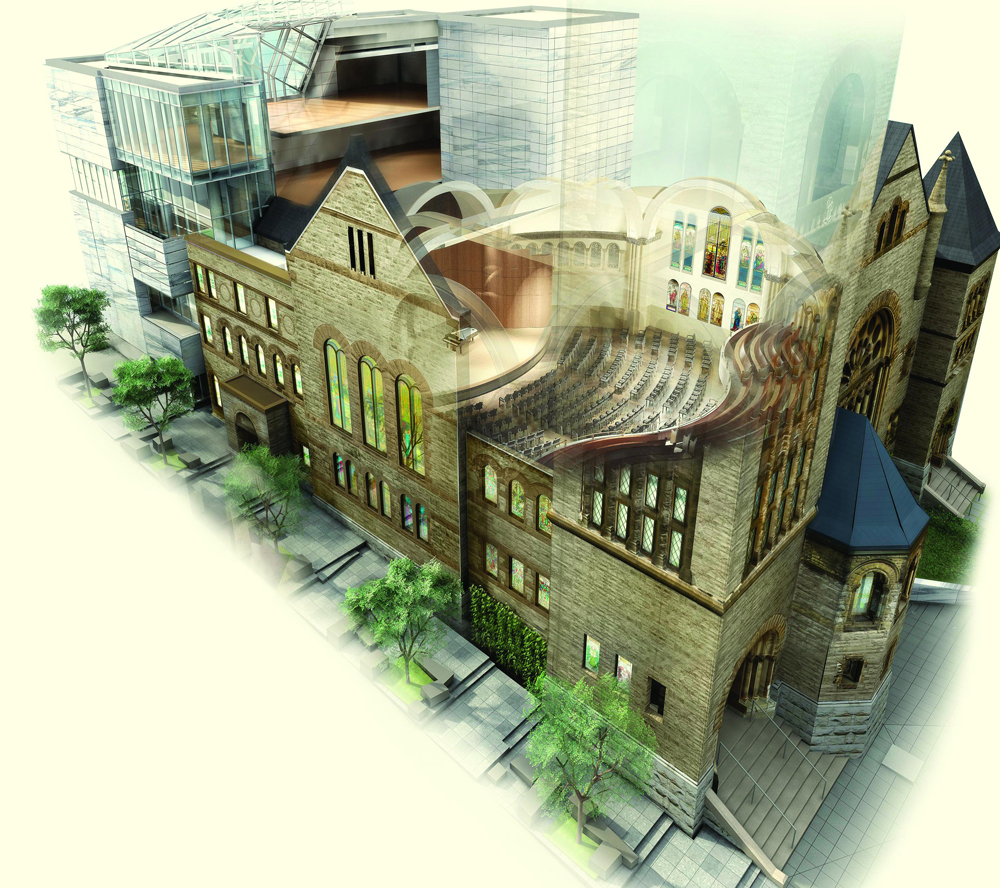 A central location on Sherbrooke Street obviously helps. Not unlike the thoroughfare itself, Bourgie Hall is both traditional and modern, a refit of the 1894 Erskine and American Church that mixes Romanesque arches and stained-glass windows by Louis Comfort Tiffany with modern cherrywood stage panels and a purely functional overhead lighting array.
"There is a battle here between the sacred past and secular present," this writer commented in 2011. "The archangels and apostles seem to peer in from the exterior."
Most concertgoers today would regard the duality as complementary rather than conflicted. There is even a choice of seating: modern moveable chairs on the floor and pews in the balcony. (On both acoustical and doctrinal grounds I prefer the latter.)
The link with the MMFA – Bourgie Hall is formally "in residence" at the museum – creates all-around good karma while presenting ample opportunities to link concerts with exhibitions to the benefit of both. An interesting case was a series of concerts connected to the Marc Chagall blockbuster of 2017. All 12 events – including performances by boutique modernists like the Nouvel Ensemble Moderne and the Quatuor Bozzini – were sold out.
"This is a good example of the strength of our association with the museum," Lagacé said. "It can mean that some people who would not have noticed what you are doing, they notice it through another means."
Joint tribute
Of course the basis of the Bourgie success is a loyal following of music lovers, although this group is not exactly homogeneous. The 10th anniversary concert of Sept. 29 implies a joint tribute to followers of baroque and fans of the romantic mainstream: Les Violons du Roy and the Musiciens de l'OSM – both longtime Bourgie customers – will appear under their respective music directors, Jonathan Cohen and Rafael Payare. No points for guessing who does Bach and Handel and who is responsible for Dvořák and Strauss.
To scroll through the 2021-22 Bourgie brochure is to be guided through the classical cosmos. Early music is well attended to, especially with Les Violons as co-presenters and Arion as core tenants. Equipped with a pair of chamber organs, a troika of harpsichords and a restored Érard piano of 1859, the hall accommodates period-minded groups like Ensemble Caprice, Les Idées heureuses and the Studio de musique ancienne de Montréal. All these ensembles will be involved in the seventh and penultimate season of the Bourgie epic cycle of Bach cantatas.
Another period-practice highlight is the inaugural recital of yet another instrument, this one a six-and-a-half-octave fortepiano of Viennese inspiration by the Maine maker Rodney Regier. The German pianist Andreas Staier performs what Lagacé likens to a baptism on Oct. 24 with a program of Mozart, Haydn and Schubert. On April 12 the Dutchman Ronald Brautigam plays Mendelssohn, Schumann and Schubert.
"Different people playing, that builds a community around an instrument," Lagacé comments.
Beethoven sonata cycle
Rest assured that there is also a hearty modern Steinway grand on which Imogen Cooper, Janina Fialkowska, Gabriela Montero, and Charles Richard-Hamelin will be heard in recital. The dominant pianist in January is Louis Lortie, who gives five recitals to complete the Beethoven sonata cycle he started but for obvious reasons could not finish in 2020. Another postponed celebration of Beethoven's 250th anniversary year (i.e. 2020) involves the symphonies as transcribed for solo piano by Liszt. These concerts pick up where they left off with six different pianists.
Many are the Montrealers. "I'm still impressed today by the quality of music making in Montreal and Quebec," Lagacé says. "I'm so proud of what our musicians do." Harpsichordist Luc Beauséjour and contralto Marie-Nicole Lemieux are examples of well-known locals.
Name-brand imports include German tenor Christoph Prégardien, who appears with two Canadian groups, Pentaèdre and the Quatuor Arthur-Leblanc. Another is the Dover Quartet, based at the Curtis Institute of Music in Philadelphia. Latvian violinist Gidon Kremer appears with his Kremerata Baltica outfit in a Bach-to-Piazzolla evening. The Philip Glass Ensemble pays a visit on March 17 with a program including the Canadian premiere – more than 50 years after the fact – of its namesake's Music in Eight Parts. (Glass is not one of the performers.)
"Classical of all genres"
There are other contemporary concerts, 5 à 7 jazz programs and worldbeat outings. On the evening before the Glass ensemble you can hear the Syrian-born oud player Nazih Borish. Another attraction in the
"Odyssées" series is the New York-based Cameroonian singer and musicologist Gino Sitson, who gives a conference in the Maxwell Cummings Auditorium on Oct. 27 before his Bourgie concert on Oct. 28.
"It's classical of all genres," Lagacé explains. "I don't do pop and I'll never do pop. That has to be clear."
One of the most redoubtably classical offerings this season is a series of four programs, organized with the Centre de musique romantique française in Venice, honouring the bicentennial of the birth of César Franck, 1822-90. This Belgian-born composer is not often viewed as an audience favourite.
"If 17 people discover César Franck, I'm happy and proud," Lagacé says. "I'll think I did something good. It doesn't need to be a million people."
Nor could it be, but Bourgie Hall does sell tens of thousands of tickets every season. "People are attached to the venue and keep coming back. You talk to any marketing person, they'll tell you that five times a year is considered a high-volume consumer. Three to five – I have many of those. But I also have lots who come 20, 25, 30 times. It's amazing."
Bryan Campbell, a retired Concordia professor, is what might be called a moderate fanatic who attends about 15 Bourgie concerts a season. "Even so, the enticing and varied array of offerings entails some difficult choices," he says. "The listening experience is intimate, the hall a jewel. And the Tiffany stained glass certainly adds to the pleasure."
The wide bandwidth of Bourgie Hall programming clearly corelates to the high concert count and aggregate attendance of about 75 percent. This might look like a good business strategy but it exactly mirrors Lagacé's upbringing and personal taste. Her father Bernard Lagacé and mother Mireille Lagacé are noted organists. (The latter, interestingly, was an organist at Erskine and American Church when there was an active congregation.)
"When I was 14 I loved Renaissance music and contemporary and romantic and big ensembles and chamber," Lagacé says. "I was an omnivore. I would go to everything. And I have never changed my mind."
She has no use for webcasts, a format that neither appeals to her personally nor makes economic sense. "I make an effort to listen to a webcast and I end up cooking," she says. "I just cannot sit in front of a screen listening to a concert. It does not bring me joy. I want to be there, to hear the vibrations of the instrument."
Not many music managers can claim Lagacé's comprehensive knowledge of the repertoire and on-the-ground sense of the Montreal music scene. Which makes it a little unnerving to report that she plans to retire by the end of 2022.
The short term is solid. The Arte Musica Foundation supports Bourgie Hall salaries and fixed expenses, making artist fees a matter of box-office mathematics. While audience behaviour as the COVID threat subsides is hard to predict, multiple sellouts seem likely in a hall accommodating a temporary maximum of about 250.
The longer term? More of the same seems the safest course. Lagacé is even giving thought to restarting her beloved Bach cantata cycle when it winds up in 2022.
"I hope Bourgie Hall will be there in 100 years, honestly," she says. "A place where people go three, four generations from now. That's what I hope."
Bourgie Hall Special
This page is also available in / Cette page est également disponible en:

Francais (French)