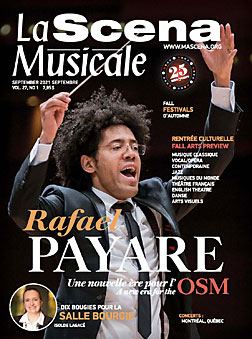 This page is also available in / Cette page est également disponible en:

Francais (French)
Jean-Efflam Bavouzet
I have always had the greatest pleasure playing in Bourgie Hall. I like the size of the room, the friendliness of the audience and this rapport that lets you present music directly. I remember in particular a concert of Beethoven trios with McGill University students. It was a moment of communication and sharing. I wish Bourgie Hall many years of success and a big thank you to Isolde for the wonderful programming. Bravo!
Angèle Dubeau
When Bourgie Hall was finished, I was curious to try out its acoustics. From the first notes, I felt that my violin could sing with ease and that this hall would be an exceptional place in Montreal for chamber music. Thanks, Pierre Bourgie and Isolde Lagacé, for what you do for music in Montreal and long live Bourgie Hall!
Elinor Frey
Bourgie Hall has made a huge impact on our community because of its adventurous, daring, brave and incredible programming: local musicians, international musicians, old music, new music, well-known, new discoveries… Thanks to Isolde Lagacé, the Arte Musica team and, of course, to all the audience members who put their trust in the programming and come to hear great concerts.
Charles Richard-Hamelin
Bourgie Hall for me is the temple of music in Montreal. I made my debut here as a professional musician and it is the venue in which I have given the most concerts. It's a very important place for me, both in my career and on a personal level. Thank you for everything, Isolde, and long live Bourgie Hall.
Mari Kodama
Bourgie Hall is a place we simply want to be. Everything is inspiring. The light is beautiful, the acoustics are inspiring, the audience is attentive and the programming is interesting and fascinating. Thank you, Isolde, for creating a magical place in Montreal.
Mathieu Lussier
I would like to say thank you to Isolde for 10 years of wonderful chamber music, orchestral music, intimacy, beauty. We are lucky in Montreal to have a venue like this, led with a spirit of creativity – and also a bit of madness – that brings our musical community even more to life. Let us hope for many more happy years on the stage at Bourgie Hall.
Valerie Millot
Salle Bourgie is a unique room because it allows great intimacy between the performer and the spectators. Despite the spaciousness of the room and high ceilings, one has the impression of being seated next to the artist performing on stage. I have often had stage fright backstage, but once I'm on stage, it's like I'm in my studio. And there is as much comfort when sitting in the hall as when performing on stage, and a warmth that I have never found in any other venue.
Jean Guihen Queyras
Bourgie Hall, for me, is the essence of Montreal, the city of my birth. It is such an inspiring room, partly because it is integrated into a museum, an artistic place where there are other sources of inspiration. So thanks to Bourgie Hall, Isolde and the wonderful team. We always feel at home here, for all these reasons. I can't wait to see you again.
Laurent Patenaude
We were there from the first Bourgie Hall season and have been there every season since. It's really a perfect venue for any chamber-scale concert. It's warm both acoustically and in the human sense, onstage and in the hall. We play for an audience that also patronizes the Montreal Museum of Fine Arts – an audience very fond of culture and music. We feel an enlightened welcome from these listeners.
Philippe Sly
One of the first times I performed at Bourgie Hall was during the 2012 Concours musical international de Montréal. I was very nervous when I saw the jury. When I sang the first notes, I remember feeling that this hall, with this amazing acoustic and general feel, was going to save me and that I would be guided through this with no problem. I'd like to thank Isolde Lagacé for her leadership, creativity and sense of inclusivity of classical and non-conformist projects.
Stéphane Tétreault
Bourgie Hall has played a major role in my career until now. I had the pleasure of giving a concert in its first season, when I was 17 or 18. I remember the warm welcome, but also the trust that was placed in me. That trust – by Isolde Lagacé – is something I will never forget. For this reason alone, I will always return to Bourgie Hall.
Andrew Wan
Bourgie Hall is what a world-class city like Montreal deserves. I feel very fortunate that we have a world-class symphonic hall that seats 2,000 people. But in a city with such a huge public that is so educated and loves music so much, we need a hall that can support intimate concerts. It is always a highlight of my season to be here. And I'm always proud when we have out-of-town guests who ask, 'Where do you make chamber music?' This is the place where we create some beautiful experiences.
Bourgie Hall Special
This page is also available in / Cette page est également disponible en:

Francais (French)