Advertisement / Publicité
This page is also available in / Cette page est également disponible en:

Francais (French)
We cannot speak of our mezzo-sopranos and contraltos without starting with Maureen Forrester, considered to be one of the 20th century's greatest contraltos. Born in 1930 in Montreal and deceased in 2010 in Toronto, she starred on the world's most famous stages. She was well known to the Canadian public, since there was once a time when our national radio and television paid attention to our classical artists. As the story goes, she first met Bruno Walter in 1956, launching between the lyrical artist and the conductor one of the century's most famous relationships.
Maureen Forrester's voice was a rare ­phenomenon, a contralto with a rich tone, a powerfully rich middle register, and a vibrato that always demanded control to keep the voice harmonious and expressive throughout its range. An outstanding example of her voice and sensitivity is her 1970 live performance of Mahler's Das Lied von der Erde with tenor Jon Vickers, conducted by William Steinberg. (It's available on YouTube). She sings with an unmatched power and majesty while paying great attention to the text.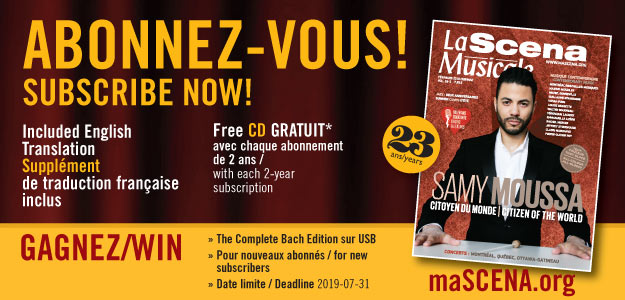 Forrester had the deep voice and grandeur of the contralto, a voice that seems to come from the earth, yet can give itself over to ­humour and high dramatics, as in her rendition of the countess in Tchaikovsky's Queen of Spades. She was a celebrated performer of Bach, Handel, Brahms, Mahler and several others, and she sang the works of such ­contemporary Canadian composers as Oskar Morawetz and Srul Irving Glick.
The career of Marie-Nicole Lemieux, born 1975 in Dolbeau-Mistassini in the Lac-Saint-Jean region, has continued to evolve. The ­catalyst for her international career was her first prize at the 2000 Queen Elisabeth Competition for international music in ­Belgium, doubled by the Special Lied Prize. Since then, she has ­appeared on many of the world's great opera stages and famous ­concert halls. From a ­contralto voice, especially in baroque music, her voice has evolved, becoming almost mezzo. It is notably quite comfort­able in French music, both melodies and operas.
Lemieux's disc of French opera arias, with Fabien Gabel conducting, shows a well-rounded voice, supple, agile and ­gentle in the high range, effortless. She projects a high degree of refinement, a melodic-dramatic quality in which ­expression is mostly created by phrasing and attention to dynamic nuances. Her "letter scene" from Massenet's Werther is noble and dramatic; everything is nuanced with no sharpness.
Lemieux's career is rising as she is offered more and more roles, particularly the great Verdi roles such as Azucena in Il Trovatore and Ulrica in A Masked Ball, both of which draw on her deep notes and require a strong dramatic presence.
Judith Forst, born 1943 in New Westminster, British Columbia, is of a special type of opera singer — the Italian lyrical bel canto mezzo-soprano who prefers to sing coloratura from the first half of the 19th century. Of course she has sung many other types of music, from Bizet and Verdi to Poulenc and Janáček. She even sang Elvira in Mozart's Don Giovanni, a soprano role, which showed her ease in the high range and in high dramatic passages.
Forst's most memorable performance was at the Metropolitan Opera. It was enhanced by her relationship with the great soprano Joan Sutherland, of which we have a memory on film of Donizetti's Anna Bolena. Indeed, it was her success at the Metropolitan Opera's ­National Council Auditions in 1968 that launched her career in that opera house.
She has specialized in the type of Italian bel canto, from Rossini to Donizetti, that ­demands a very wide range from a mezzo. She has had to manage both its long melodic and melancholic phrases, in which the voice is stark, and the coloratura vocalizations that are quick and clipped and require full expression. It is customary in bel canto to reveal the ­tension in a dramatic situation by vocal ­acrobatics. Forst mastered this technique of dramatic expression early on, not an easy feat in the mezzo-soprano range.
My fourth choice is Catherine Robbin, born 1950 in Toronto, a mezzo-soprano whose name and art are linked to performances of baroque music on period instruments, which reached a peak during the 1970s. It was not only a matter of being able to handle the ­instruments, but also one of aesthetics and personalities. Performers had to be ­capable of giving over their musicality to performances that ­encouraged rhythmic liveliness, short tones with little vibrato in strings, and controlled vibrato voices.
Robbin gave her voice to this genre. She is famous for her collaboration with such ­eminent orchestra conductors as John Eliot Gardiner, Christopher Hogwood and Trevor Pinnock. She sang the deep female voice in Gardiner's recording of Handel's Messiah, considered to be the epitome of early music performance of this great work. Her voice has such resonance that she has also sung 19th and 20th century music with success, notably in her remarkable performances of Berlioz, as well as recordings of Brahms and Elgar.
As critics have long appreciated, Robbin's voice conveys intimacy and delicacy of style. She sings with a warm tone and a lovely evenness across her wide range. She does not ­emphasize chest voice in low passages nor does she prolong the melodic line. Thus it is the elegance of her phrasing which brings about emotion, rendered in complete ­partnership with the orchestra. There is less the sense of a great soloist with an orchestral background than a symbiosis of voice and ­instrument.
translated by Karine Poznanski
This page is also available in / Cette page est également disponible en:

Francais (French)