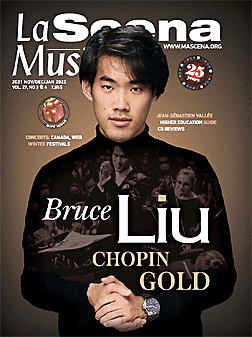 This page is also available in / Cette page est également disponible en:

Francais (French)
A version of this article appeared in 2011.
An enthralling wealth of sound that serves Brahms beautifully, a crystalline touch that conveys Mozart as if improvising, a virtuosity that remains subservient to the intelligence of musical speech: Emanuel Ax enchants audiences and critics alike. Whether performing with an orchestra or his long-time chamber music companions, including Yo-Yo Ma and Itzhak Perlman; or in tandem with his fellow pianist Yefim Bronfman; or solo, as he will on Dec. 7 for the Montreal Chamber Music Festival; he succeeds in surprising. Whether you hear him for the first time or discovered him years ago, you feel close to him, as you would to a friend you know simply as … Manny.
Born to a Polish family in the Ukrainian city of Lviv and raised in Winnipeg, Ax became a citizen of the world early, studying music and French literature in New York and marrying the Japanese pianist Yoko Nozaki. He thinks an artist must assimilate a variety of backgrounds, cultures and experiences and be able to pass on the results of this comingling to the public.
"I think piano music is the most exciting thing in the world," Ax said on the telephone. "There is a special challenge and a special kind of terrible fear combined with the jolt of being out there all by yourself. Of course, we are used to practising by ourselves. But with an orchestra, you are on stage with a lot of friends, there is a conversation going on between you and your colleagues."
He admits to feeling nervous, an indefinite feeling that sometimes persists even when he is enfolded in music. "Of course, practising matters, but you also need to get rest, arrange your schedule so that at eight o'clock in the evening on any given day, you're at your best.
"When I play I never take things lightly. … Ideally, the reaction from the public should be: 'This is incredibly beautiful, meaningful music that we heard tonight; this composer really meant a lot to me tonight.' If an audience feels that, then I think I've done a good job."
At 73, Ax shows no sign of having reached his peak. "I think one can always improve. … We are very lucky to be dealing with material that is deep and interesting from so many points of views that you never really get to see it all. With whatever music you're working on, you never feel you've explored every side of it, which makes it exciting to be a pianist. If you've been playing something like Beethoven's Fourth Piano Concerto, which I have been for [45] years now, I've never felt I finally understood every point of view on this piece.
"We're lucky we get to work on things that are never-ending. The piece actually only exists when you play it. Of course, there is a paper version, but it's not really the piece. The piece is when you put it into sound. Therefore, each particular performance can be – and should be – different. And people who go to a lot of concerts and hear the great masterpieces react differently every time they hear that music."
While he considers recordings essential, he sees them as incentives for seeking out live music in the concert hall: "Live performance is a fantastic thing both for the performer and the audience." He draws a parallel with rock bands or sports events that continue to draw crowds. "If I can hear a great pianist on record – there are so many, but say Beethoven Sonatas by Murray Perahia – this does not necessarily imply that I will not go somewhere to listen to this pianist. It is rather a matter of thinking: I have the recording, and I can't wait to hear what he or she sounds like in the concert hall."
Aware of the pessimism pervading the classical music scene, Ax refuses to admit defeat. "I think there are many people who like the kind of music that we do, but that everything is being splintered. You may remember the time when we had only three television channels and now, there are 500. … There are now many more ways of enjoying yourself, of learning about things, and we have to accept the fact that classical is not going to be able to compete with the latest blockbuster.
"[Appreciation of classical music] has nothing to do with socioeconomic status, except possibly the price of tickets. If tickets are very expensive, it's normal that older people are the ones able to afford them. If we figure out ways to make it accessible, financially speaking, I think more young people will come.
"Some performers today are helping tremendously to bridge the gap between popular impulse and a kind of ivory-tower thinking, people like Yo-Yo Ma, Simon Rattle and Lang Lang. A lot of schools and conservatories are realizing that just to teach someone to play brilliantly is not enough for a modern-day artist and they are exploring different talents of people who are funny, charismatic. I think the new generation will make this world better for all of us, and it fills me with optimism."
Emanuel Ax plays Chopin for the Montreal Chamber Music Festival at Bourgie Hall on Dec. 7, 2021 at 7:30 p.m. 
Go to www.festivalmontreal.org.
This page is also available in / Cette page est également disponible en:

Francais (French)