This page is also available in / Cette page est également disponible en:

Francais (French)
Meet Hugo Laporte, baritone (Canada), singer for Corona serenades

---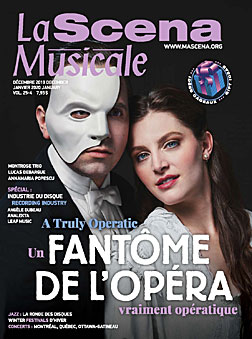 Acclaimed for his velvety timbre and outstanding stage presence, Hugo Laporte has won prizes at the Belvedere Competition, OSM Manuvie Competition, Canadian Music Competition, Prix d'Europe and Marmande competition and earned many grants and engagements through the Jeunes Ambassadeurs Lyriques. In January he sang the title role of The Phantom of the Opera in its official French version in Montreal and Quebec City. Hugo will return to the Opéra de Montréal in the role of Count Almaviva (Le nozze di Figaro) and Opéra de Québec in a main role to be announced. Recent appearances include Albert (Werther), Mercutio (Roméo et Juliette) and Schaunard (La Bohème). Hugo also returned to the OSM for Mozart's Mass in C and to the Choeur classique de Montréal for Bach's St. Matthew's Passion, both in Montreal's Maison Symphonique. He has appeared as Figaro (The Barber of Seville) and Escamillo (Carmen) and sung for the Société d'Art Lyrique de Royaume, at the Theater Regensburg and for the OSM, Deutsche Radio Philharmonie, Staatsphilharmonie Nürnberg, Moscow's Helikon-Opera, Minsk National Opera Orchestra, the Teatro Comunale di Bologna, the Festival de Lanaudière, OSM Classical Spree and the Montreal Bach Festival. Hugo holds a master's degree from the Université Laval. He will make his La Scala debut in 2023.
How has the crisis affected you?
Professionally, I've had most of my contracts cancelled through the end of the summer and this could very well be extended. I even had an opera production in early 2021 postponed to 2022. I believe there will be a major impact on the 2020-21 season. Concert hall closures were one of the first steps to prevent the spread of the virus, and thus will be one of the last to be reopened. Of course, I wish the best outcome for everyone and understand that health is the priority. The classical music scene will have a hard time recovering, but it will.
Concerning my personal life, it hasn't changed much other than the fact that I am home much more than usual. I am very happy to be home with my wife and my daughter. I still have plenty of things to do at home and friends and family to talk to via the internet. I am very lucky and I know the situation is harder to bear for a lot of people.
What are your five favourite operas?
I couldn't say which are my five favourites, but these are some of my favourites: Rigoletto, Werther, Carmen, La Bohème, Pagliacci, Eugene Onegin. Not the most original choices, but these works are famous for a reason, aren't they?
What are some of your favourite songs?
I love all Duparc's mélodies, Schumann's Dichterliebe and Liederkreis Op. 39, Brahms's Liebeslieder-Walzer (for four singers and two pianists!), many of Tosti's canzoni, Mahler's Kindertotenlieder. There are too many to name but this gives a good idea of what I like. I also admire several pop/folk songwriters including Félix Leclerc, Jacques Brel and George Brassens – among others.
What movies, television shows and books do you recommend?
I would suggest making good use of all the concert recordings made available for free online by numerous opera houses, ensembles and festivals around the world. Anything that you like, I'm sure you will find it. Also, visit the Facebook pages and YouTube channels of your favorite artists (and new ones, why not!). Many of them are performing live or recording from home for their audiences.
You have been asked to sing Félix Leclerc songs. Why do you think that is?
Leclerc celebrates nature, the beauty in small things, and the joy of living an honest and simple life – which are values that I also share. Most of his songs really speak to me in a way that is hard to describe. I like the humour in some of his poems, the nostalgia in others. Some of my favourites are Contumace, Sur le bouleau, Mac Pherson, Le tour de l'île, La chanson du pharmacien, Notre sentier, Les 100 000 façons de tuer un homme.  Also, he was a bass-baritone, which makes his songs a good fit for me!
Why did you join CORONA Serenades?
I love singing for an audience, but since the concert season is cancelled until further notice, I couldn't really sing for anyone except my family or my teacher via Skype. I was slowly thinking of ways to spread joy through singing while staying at home but didn't really know how to proceed. CORONA Serenades came at the right time for me. I'm pretty picky about what I post on my social media, so I like the fact that serenades are sent directly to the receiver. This makes things more comfortable for me – I don't feel the need to be "perfect." I am just myself and sing as I would if we were face to face. I will still share music from time to time on my Facebook page, but I do enjoy sending my daily a cappella serenades to brighten up people's days.
Links:
This page is also available in / Cette page est également disponible en:

Francais (French)