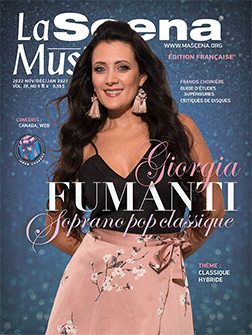 This page is also available in / Cette page est également disponible en:

Francais (French)
There are recitalists, and then there is Joyce DiDonato. While there are many singers with equally beautiful voices, exemplary musicality, communicative power, and charismatic stage presence, very few have her desire—and ability—to give to her audience something extra-musical, a vital and timely message that we all need to hear.
Such is her current recital project, Eden, which the American mezzo is bringing to her audiences on a global tour of 45 cities on five continents. It started in the fall of 2021 and continues until 2024. Through music, song text and evocative staging, her show celebrates the power and beauty of nature, while underscoring the ills of humanity in its destruction of the environment through human exploitation and societal discord. This show serves as DiDonato's personal and musical rallying cry.
For voice fans familiar with song recitals, the DiDonato show is a breath of fresh air. Such themed classical recitals are fairly frequently encountered in Europe and the U.K., but very rare in North America. Something as elaborate as Eden? Almost never. This genre of "concert with a message" defines the mezzo, as evidenced in her "In War and Peace" program a few years ago. A "musical activist," DiDonato utilizes her artistry to promote a cause.
A CD of this show was released on Erato a few months ago, and there are education programs involving young people and multiple partnerships at every stop of her tour. It was rapturously received at the Barbican Centre in London, in Chicago and at Carnegie Hall, and now it's coming to Montreal and Quebec City in January.
I had the great good fortune to have caught DiDonato's show at Koerner Hall in Toronto last April. It was unlike anything I have seen. It opened on a darkened stage, with her disembodied voice permeating the auditorium. Then she was revealed in the middle of a circular platform surrounded by curved metallic pieces. She proceeded to sing an intriguing selection of songs, from Charles Ives to Mahler, all chosen for the relevance of the text to nature, personal and environmental renewal. The stage action was all highly choreographed and enhanced by effective lighting.
A big part of this stunning show was the baroque ensemble, Il Pomo d'Oro, led by conductor Maxim Emelyanychev. He led his forces with elan and in total support of the soloist. DiDonato sang a good 70 minutes of demanding repertoire, punctuated by a couple of orchestral selections. Later in the program, DiDonato spoke directly to the audience about the raison d'être of her program. Joining her were young schoolchildren and a local choir. Together they sang "Seeds of Hope," a newly composed song for the occasion.
Throughout the concert, there were huge ovations. At the end, DiDonato and the other artists were given thunderous applause and standing ovations—I could tell that the audience was genuinely moved by what they saw. As a parting gift, everyone was given a memento as they left the audience: a disc of plant seeds.
The "Seeds of Hope" are growing very nicely by my window…
Montreal, Place des Arts, Salle Wilfrid-Pelletier
Sunday, Jan. 29, 2023, 4 p.m. (presented by Traquen'Art)

Quebec, Palais Montcalm
Monday, Jan. 30, 2023, 7:30 p.m.
(co-presented by Club musical de Québec and Palais Montcalm)

DiDonato appears on Met Live in HD: Kevin Puts's The Hours,
12:55 p.m. ET, Dec. 10, at selected Cineplex theatres.
This page is also available in / Cette page est également disponible en:

Francais (French)