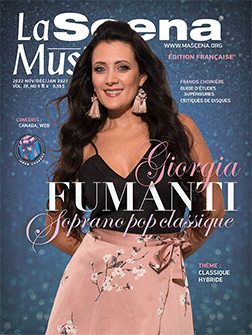 This page is also available in / Cette page est également disponible en:

Francais (French)
On Oct. 19, Eleanor Friedland, president of the venerable International Resource Centre for Performing Artists (IRCPA), announced in a press release that it will bid farewell to the music world in a month's time: "After 40 years as a charitable service organization for Canada's musicians, the IRCPA will cease operation on Nov. 30."
For many Canadian artists—a number totalling close to 600—the IRCPA has played an invaluable role in helping them establish their careers, especially during the transition from being an aspiring young artist to that of a full-fledged professional. The driving force behind this organization from the very beginning has been Ann Summers Dossena, a well-known Canadian arts administrator, artist manager, consultant, and impresario for over half a century.
When I heard that IRCPA was concluding its mission, I met with Ann, a longtime friend, for a leisurely two-hour chat. Though small in stature and increasingly frail given the passage of time, Ann Summers Dossena's mind remains razor sharp, especially in her understanding of the life of an opera artist, and what it takes to become one. Now that she has reached the 10th decade of her life, she could look back on her long career with a certain sense of satisfaction—it's a time to remember and to celebrate.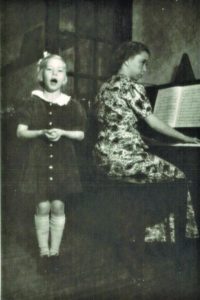 Ann was born to Thomas and Gertrude Suthons of Toronto in 1931. Her earliest memory of singing was when she was all of three, on a transatlantic ship going back to the U.K. to visit her mom's relatives. Someone casually said to her mother that "your daughter should take singing lessons…" Well, that started it all! Ann studied voice at the Royal Conservatory of Music and performed in public in her formative years, as revealed in the never-before-seen photos included here.
But her true calling was in arts administration, given her innate ability to look for "the big picture." Ann relocated to New York and worked for the Actor's Equity Council, and for the well-known Herbert Barrett Management, an artist agency. In 1960, Ann founded her own artists management, and took it international in 1967 as Ann Summers -International. During her New York tenure, Ann was instrumental in establishing Carnegie Hall's own concert series—before her initiative, this august venue was only a rental space. Ann changed it by creating a Visiting Orchestra series and one on Haydn and Mozart, among other initiatives.
Ann was a pioneer as one of the first North American born women arts managers. While there were a few women in arts management in those early days, they were all from Europe. When her career and her personal life – she married Armando Dossena – took her to Italy, she started doing artist consulting and organizing work in Italy for different organizations, including the American and Canadian Embassies in Rome. She also organized conductor workshops and lectures in Italy, New York, San Francisco, Santa Fe, Graz (Austria), Vancouver, Victoria, and Toronto.
The story of the IRCPA's origins and programs can be found on its website, which will remain available. Reading the many comments from well-established Canadian artists like Adrianne Pieczonka and Colin Ainsworth will give you a good idea of IRCPA's importance. When Ann retired as an artist manager in 2013, she devoted the bulk of her time to IRCPA. Particularly memorable was her organizing "Encounters" with international mentors, workshops and other life-skills programs that give young artists the skills to manage their careers. Also hugely enjoyable were those "Singing Stars of Tomorrow."

When I asked Ann about the void created with the closure of IRCPA, she told me that there are other organizations now doing similar work in Canada. The Association for Opera in Canada (opera.ca) has been awarded $434,000 of government funding to start short-term training programs, and to help young artists develop life and career skills. It's called the Opera Artist Resilience (OAR) Program, to be carried out between November 2022 and March 2023.
Ann can look back with satisfaction that her trailblazing efforts are now being continued by others. Her thoughts on the future of the performing arts in Canada? Ann expresses optimism, as she feels young artists are now more resourceful and proactive in managing their careers, no longer passively waiting for breaks to come their way. The future is bright.
This video of the 2018 Singing Stars of Tomorrow shows how IRCPA has nurtured the talented Canadian singers by giving them opportunities to shine.
For more information about Ann Summers Dossena and the organizations that help guide young artists, go to www.prabook.com/web/ann.summers-dossena/3344460, www.ircpa.net and www.opera.ca.


This page is also available in / Cette page est également disponible en:

Francais (French)