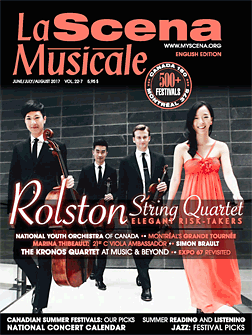 This page is also available in / Cette page est également disponible en:

English (Anglais)

Akoka: Reframing Olivier Messiaen's Quartet for the End of Time (Akoka : une réinvention du Quatuor pour la fin du temps de Messiaen)
David Krakauer, Akoka; Olivier Messiaen, Quatuor pour la fin du temps; Socalled, Meanwhile…
David Krakauer, clarinette; Matt Haimovitz, violoncelle; Jonathan Crow, violon; Geoffrey Burleson, piano; Socalled, DJ électro.
Pentatone Oxingale Series 2017. PTC 5186 560. 63 min 45 s.
« Enregistré en direct, AKOKA attire l'attention sur le sérieux et la portée du Quatuor pour la fin du temps de Messiaen et fait valoir toute sa pertinence en ce XXIe siècle, affirme le violoncelliste Matt Haimovitz. De nos jours, avec la montée en charge du fondamentalisme, de l'intolérance et de la violence, la prophétie de Messiaen semble plus actuelle que jamais. » Composé par Messiaen dans un camp de travail allemand pendant la Seconde Guerre mondiale, le Quatuor pour la fin du temps a été interprété pour la première fois avec les instruments qu'un officier allemand mélomane avait précieusement conservés. Haimovitz et ses amis, le clarinettiste David Krakauer, le violoniste Jonathan Crow et le pianiste Geoffrey Burleson, unissent leurs talents pour rendre hommage à cette œuvre emblématique en y ajoutant deux pièces contemporaines inspirées de cette bouleversante histoire.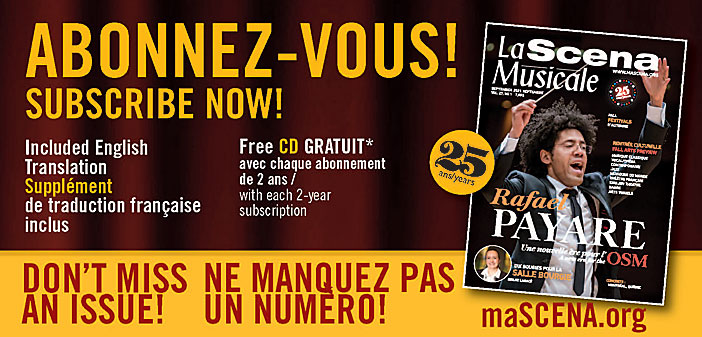 Le prologue a été nommé Akoka en l'honneur d'Henri Akoka, le clarinettiste qui, le premier, a interprété le Quatuor. L'œuvre s'inspire du point de vue particulier d'Akoka – ce musicien juif interprétant une œuvre puisant à même un passage de l'Apocalypse lors des terribles événements de l'Holocauste. Akoka est une improvisation qui reprend les éléments phares du Quatuor. Cette pièce s'ouvre avec une clarinette plaintive empreinte d'échos de musique klezmer qui émet des glissandos et des trilles. Le solo de Krakauer exprime une douloureuse lamentation sur fond sonore rythmé. Puis, un interlude ample et lugubre s'enchaîne en fluidité à la mélodie d'ouverture du Quatuor interprétée à la clarinette, comme s'il faisait partie de la même pièce.
Akoka est une pièce fondamentale au génie de cet album. La montée en puissance de l'intensité à la fois nous attire et nous prépare mentalement aux éléments de l'œuvre marqués par la foi. Il y a plus important, ce prologue prépare notre oreille aux éléments porteurs du Quatuor. Les trilles inspirés de la musique klezmer reviennent pour annoncer de façon déclamatoire la Vocalise pour l'ange qui annonce la fin du temps et encore dans l'unique mouvement solo pour clarinette seule, l'Abîme des oiseaux. L'œuvre se déploie progressivement, l'univers sonore s'intensifiant par paliers successifs. Les cantilènes s'élèvent et alternent en vain avec des passages déclamatoires d'une grande rigueur rythmique, ponctués par des glissandos et des trilles, comme si des accès de poignante mélancolie alternaient sans fin avec des élans d'angoisse et de panique. Enfin, dans le septième mouvement, Fouillis d'arcs en ciel, deux masses de glissandos et de trilles présagent la transfiguration de l'œuvre vers son apogée. D'une beauté surnaturelle, ce mouvement s'achève sur un dernier sursaut de trilles d'inspiration Klezmer.
Après l'atteinte du point culminant, le dernier mouvement, Louange à l'immortalité de Jésus, évoque une vision romantique, empreinte de chaleur. Ainsi s'achève le voyage initiatique, comme une lumière au bout du tunnel. Un bref silence s'ensuit avant que surgissent tout à coup, comme si nous sortions d'un rêve, des bruits de train, des chants plaintifs de cantor juif, des cloches d'église et un chronomètre. Socalled est surtout connu pour ses albums hip-hop Ghettoblaster et Peoplewatching. La dernière pièce électro, Meanwhile…, un remixage de l'artiste montréalais, marie des sons inspirés des éléments du Quatuor avec des sons issus du riche langage musical du DJ et les improvisations des quatre musiciens sur différents extraits du Quatuor. Le tout est un véritable kaléidoscope musical qui met en évidence l'actualité du Quatuor.
C'est peu dire que Krakaeur, Crow, Haimovitz et Burleson livrent une prestation magistrale du Quatuor. La virtuosité technique qu'ils déploient est toujours au service de leurs visées musicales. Cet ensemble brille par la vision commune de ses membres qui font preuve d'une cohésion remarquable. La magie opère en ce qu'elle réside dans l'enchaînement des mouvements. Le Quatuor pour la fin du temps, vous l'aurez deviné, n'est pas à la portée de toutes les oreilles. On ne peut en dire autant du prologue Akoka et de l'épilogue Meanwhile… qui permettent d'aborder l'œuvre de Messiaen et d'en orienter l'écoute; ces pièces, brillantes compositions en soi, enrichissent notre compréhension du Quatuor. AKOKA est un album qu'il convient de découvrir en une même séance, du début jusqu'à la fin. Je peux vous assurer que cet album concept changera à jamais votre façon d'écouter le Quatuor.
Traduction : Lina Scarpellini
This page is also available in / Cette page est également disponible en:

English (Anglais)