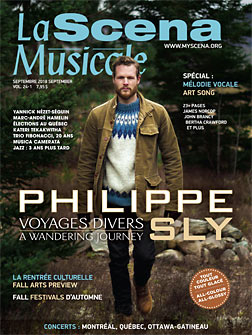 This page is also available in / Cette page est également disponible en:

Francais (French)
One pleasure every autumn is selecting the shows to see. Here is a list of the most interesting productions. Passion, jealousy, drama, comedy, politics: the choice is yours!
September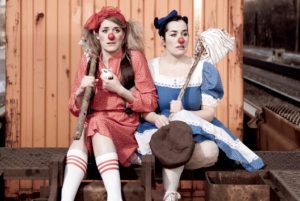 For its third edition, the Montreal Clown Festival gathers 11 professional clown acts. Clown sisters Morro and Jasp (Heather Marie Annis and Amy Lee) offer Of Mice, a funky interactive show suggested by John Steinbeck's Of Mice and Men. Lost & Found Puppet Co. (Maggie Winston) brings us Beaver Dreams, a bilingual tale about a family of beavers and a family of humans living peacefully in a deep Quebec forest. Toronto-based The Grand Salto Theatre (Zita Nyarady, Myque Franz) presents The Philip & Lucinda Show, an off-kilter vaudeville as well as Ralph, a short solo. From Chilean Patagonia, Iván Pavel Eterovic Díaz comes with Rosa y Lucho. There are two free happenings: the Opening Gala, hosted by Dôlôrèze Léonard, and the ever-popular Soirée du Grand Imbécile. Connoisseurs can register to a two-day workshop with the world-renowned U.K. clown master Jon Davison and (of course!) attend the Closing Party. Sept. 12 to 16, at MainLine Theatre. www.mainlinetheatre.ca or www.mtlclownfest.com
October
Toronto emcee, performer and playwright Donna-Michelle St. Bernard offers Sound of the Beast, a solo performance. Her name sounds familiar? St. Bernard's Gas Girls was a Governor General's Literary Award finalist in 2011. A Theatre Passe Muraille collaboration with Black Theatre Workshop, this runs Oct 3 to 14 at MAI (Montreal, arts interculturels). Go to www.m-a-i.qc.ca
An Irish musician and a Czech immigrant are drawn together by music. Their friendship transforms into a passionate love story. Inspired by the book by Enda Walsh and based on the motion picture written and directed by John Carney, the eight-time Tony Award-winning musical ONCE will be staged by Andrew Shaver. Joyous and heartening, ONCE has music and lyrics by Glen Hansard and Markéta Irglovà. Oct. 7 to 28 at the Segal Centre (www.segalcentre.org).
Proudly celebrating its 50th season, the Centaur opens its season with award-winning author Tarell Alvin McCraney's vivid and moving Choir Boy. Pharus is predestined to sing Gospel music but can the strict Charles R. Drew Prep School for Boys accept who he really is? Sustained by the inspiring harmonies of a cappella gospel and R&B, Choir Boy is a touching portrait of young Black men. Oct 9 to 28 (www.centaurtheatre.com).
Director and choreographer Amy Blackmore revisits The Rocky Horror Show, Richard O'Brien's parody tribute to sci-fi and glam-rock horror with a full cast, band and dancers. Get your ticket early and put the MainLine Theatre Halloween party down on your agenda! For ages 18 plus. At the MainLine Theatre Oct. 18 to 31 (www.mainlinetheatre.ca).
The always-relevant Imago Theatre presents Other People's Children, a play by Hannah Moscovitch, directed by Micheline Chevrier. To help pamper their newborn, a well-off Canadian couple hires a nanny from Sri Lanka. The play explores the nature of privilege and the dynamics involved in the export of migrant caregivers as well as the expectations of motherhood. Promising. At Centaur Theatre Oct. 25 to Nov. 4. www.centaurtheatre.com
November
Teesri Duniya Theatre presents Birthmark, a political thriller and dark comedy that describes the cultural division between Canada's Jewish and Palestinian diasporas. Written by Stephen Orlov, directed by Liz Valdez and Michelle Soicher, Birthmark challenges mainstream representations of the Israeli-Palestinian conflict and youth radicalization in Canada. Nov. 3 to 18 at the MAI. www.m-a-i.qc.ca
Centaur artistic and executive director Eda Holmes will direct Lucy Kirkwood's play The Children, which was recently nominated for a 2018 Tony Award. Following a nuclear disaster in the plant where they used to work, two engineers live in a cottage. Unexpectedly, after 38 years, a former colleague drops by, apparently to catch up. But the wicked proposal she has could affect their lives and the lives of generations to come. At the Centaur Nov. 6 to 25 (www.centaurtheatre.com).
Montreal documentary theatre company Porte Parole invites you to The Assembly, featured during off-CINARS. As political polarization reaches a boiling point, Porte Parole organizes meetings between people of various ideological tendencies. Directed by Chris Abraham, actors will enact them and address hot topics (immigration, freedom of speech) to demonstrate the need to debate face to face, away from social media. Text by Alex Ivanovici, Annabel Soutar and Brett Watson. At Espace Go Nov. 10 to 17 (www.espacego.com).
Written by Lucas Hnath, directed by Caitlin Murphy, the bold new Tony-nominated play A Doll's House, Part 2 is a continuation of Ibsen's exploration of traditional gender roles and a clever reading of human relationships. At the Segal Centre Nov. 18 to Dec. 9 (www.segalcentre.org).
Kate and Sam have been best friends forever. But a tragic misuse of social media betrays them. Written by Rhiannon Collett, directed by Michel Lefebvre, The Kissing Game was developed as part of Toronto's Young People's Theatre 2017-18 season. For teenagers. At Théâtre Rouge du Conservatoire Nov. 27 to 30. www.youngpeoplestheatre.ca
December
Written by Hannah Moscovitch and directed by Christian Barry, 2b Theatre Company and the National Arts Centre present Old Stock: A Refugee Love Story. Songs by Ben Caplan and Christian Barry. Inspired by the true stories of two Jewish Romanian refugees coming to Canada in 1908, this klezmer-folk music-theatre hybrid stars the unique Ben Caplan. Presented in association with Montreal Fringe at the Segal Centre Studio Dec. 4 to 16. www.segalcentre.org
Urbi et Orbi's Urban Tales defies seasonal conventions and traditions. Written and narrated by Montreal artists and directed by Harry Standjofski, the show this year concentrates on the 12 Days of Christmas. At the Centaur Dec. 5 to 15. www.centaurtheatre.com
This page is also available in / Cette page est également disponible en:

Francais (French)