This page is also available in / Cette page est également disponible en:

Francais (French)
Unreleased
Cecilia Bartoli, mezzo-soprano, Maxim Vengerov, violin; Basel's Kammerorchester (Switzerland), Muhai Tang, conductor
Decca Classics, 2021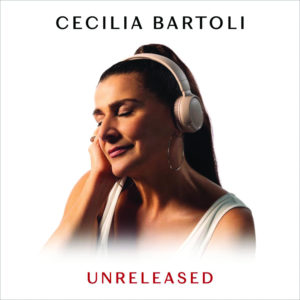 No one in the music world circumvented the pandemic, not even its most celebrated icons. Cecilia Bartoli, for one, spent her time away from the scene to dig into her own archives, the outcome of her searches resulting in the issuing of Unreleased late last year. "Unreleased is the result of many hours spent at home over a period of several months," she explained. "While the restrictions […] have sometimes been difficult to bear, they have also offered us the opportunity to pause, breathe and reflect. During this time, I not only spent happy hours of leisure, but also enjoyed being able to attend to so many things that I had left unfinished, postponed or forgotten. At last I had the chance to rummage through my sound archives in search of hidden gems. Among the numerous long-lost friends that came to light, the recordings on this album are particularly precious to me."
What is offered in this package is simply enchanting, as the singer takes on virtuosic arias, a few penned by a youthful Beethoven, others by Mozart, Mysliveček and Haydn, all contemporaries of each other who also saw their works performed by the same vocalists. Unreleased bears witness to these historical after-thoughts. The chosen arias are definitely better suited for the soprano range than the mezzo, but the diva's mastery of her instrument is such that everything sounds so effortless to her, wherever it is written. Every word is so carefully uttered with razor-sharp attention to the slightest nuance.
No one would ever take Bartoli to task for being too mannered in her renditions, or too prim and proper in her melismas, but we would all surely be better for it if the majority of performers would be so committed to her level of musical expression. Also worth noting is violinist Maxim Vengerov, who guests on two Mozart arias: "L'Amerò, sarò costante" and "Ch'io mi scordi di te?"
This page is also available in / Cette page est également disponible en:

Francais (French)