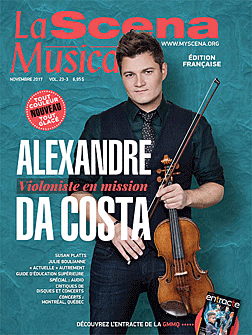 This page is also available in / Cette page est également disponible en:

Francais (French)
Born at Lac-Saint-Jean in northern Quebec, mezzo-soprano Julie Boulianne has forged an acclaimed international opera career. This month she returns to her ­operatic "home", Opéra de Montréal, for her first Quebec performances of a favourite role — the lead in Rossini's Cinderella opera, La Cenerentola. Interviewed on the eve of the production's first rehearsal, Boulianne is ­palpably buoyed by anticipation.
"It's very exciting," she says. "It's a role I've loved, and finally I get to do it at home. I think of it as a big gift."
The excitement also carries certain responsibilities. In February, Boulianne received an Opus Prize, making her an official "ambassador" of Quebec musical culture — an obligation she takes seriously. "Quebec has extraordinary people doing extraordinary things in music," she says. "It's important to let that be known, and encourage these artists to shine everywhere."
Much as Boulianne has shone, receiving worldwide plaudits in repertory by Mozart and Rossini, as well as contemporary work. "I just finished a production of Pinocchio by Philippe Boesmans," she says. "A world premiere, and a big success. I was a drunk cabaret singer in the first part, and a little boy — the 'Bad ­Student' — in the second part." It may seem a stretch for an artist known for discipline, hard work and erudition.
"It was fun!" Boulianne says. "I love doing 'mean' characters. I think they're more ­interesting, with more complicated minds."
Which brings back the subject of Cenerentola, in particular the prospective pitfalls of the lead character in an opera subtitled "Goodness Triumphant."
"Well, all the characters are funny," ­Boulianne says, "and I think Cenerentola has the potential to be funny, too. I love making her a little clumsy, a little maladroit."
Belying any clumsiness, however, the role also features some of the most devilishly ­demanding and relentless coloratura in the ­literature. How does Boulianne approach that?
"If you don't give a meaning to a coloratura passage," Boulianne explains, "it just becomes boring. Look at the duets between Prince Ramiro and Cenerentola. The two are very ­attracted to each other, but they're each very shy. So there are flights — élans — as the voice goes high in excitement, then comes back down, too shy to follow through. You have to find those contrasts."
Boulianne goes on to explicate the role's macroscopic structure. "Rossini gave the role a special shape. In the ensembles, everyone around Cenerentola is screaming. Nobody cares what she is saying. That's how the music is written. But when she really decides to fight — when she wants to go to the ball — the music is 'shinier.' If you follow the musical path, the whole arc, you see an emancipation of the character. She deploys her wings, until at the end she's completely free."
Another challenging dramatic crux comes with the eleventh-hour forgiveness that ­Cenerentola metes out to her stepfather and ­stepsisters, who have abused her for years. How does the artist make sense of such ­seemingly superhuman charity?
"Well, to me it makes complete sense," ­Boulianne offers. "I don't think she does it for them. She does it for herself. Forgiveness is the most powerful thing, the only thing that will make you really happy. It may be a little bit égoïste — selfish — but there's a point in life when you have to let go. Forgiveness is what makes her free."
Boulianne has had occasion to play another operatic version of the Cinderella story, Massenet's Cendrillon, and is asked to ­compare the experiences.
"The Massenet," she says, "is a different ­journey, a different universe. It's definitely more romantic and more dramatic. At one point, she wants to commit suicide! There's less place in the Massenet for fun. The funny parts really belong to the stepmother and sisters."
Still, Boulianne — a highly adaptive and imaginative artist — has explored a range of dramaturgic approaches to Rossini's opera, including those verging on the tragic.
"I did a version where Cenerentola dies," Boulianne recalls. "The whole final aria was about her death. That was in Limoges."
Is it fair, then, to assume that with first ­rehearsal pending, Boulianne isn't yet sure which direction maestro José Miguel Pérez-Sierra and director Joan Font may ask her to take the role this time?
"Absolutely," Boulianne concedes, then adds, with a twinkle, "but I have, as we say in French, plusieurs cordes á mon arc — many strings to my bow. I come with a lot of ideas."
Boulianne's intellectual precocity, analytic skills, and willingness to experiment are ­illuminated by the discovery that she pursued science in college before committing to a ­career in music. "I have a strong belief that music and science are really close," she says. "Two things that require a lot of focus, ­concentration. If you're going to play a ­concerto, you need to be focused. It's the same with science: you need to concentrate and be in the moment."
Opéra de Montréal artistic director Michel Beaulac has said the upcoming production boasts "an ideal cast." Boulianne agrees. "It's a very high-level cast! I'm very happy." Then, with recourse to a bit of scientific argot, she remarks that "I've done Cenerentola with [tenor]Juan José de Léon before, so we already have the chemistry."
For Boulianne, one poignancy shades the joy of this Cenerentola. "My schedule for the next year is much more romantic French repertoire — Werther and Les contes d'Hoffmann and La damnation de Faust. So this is not only a homecoming, it may also be the last time I do this role."
She pauses, then continues zestfully: "So I'm looking forward to tomorrow's first rehearsal. I'm going to try to enjoy every moment!"
La Cenerentola will be performed at Opéra de Montréal. November 11, 14, 16 and 18, 7:30 pm. www.operademontreal.com
This page is also available in / Cette page est également disponible en:

Francais (French)