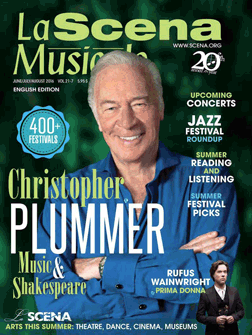 This page is also available in / Cette page est également disponible en:

Francais (French)
Better late than never: Rufus Wainwright's first opera, which premiered in 2009, will at last be performed in Montreal this summer in a concert version as part of the Montreal International Jazz Festival.
Born into a family of musicians, Rufus Wainwright was surely destined to follow in the footsteps of his parents, folk singer Kate McGarrigle and singer Loudon Wainwright III. At the age of 13 he was already touring alongside his mother, aunt Anna McGarrigle, and sister Martha, as part of The McGarrigle Sisters and Family, an expanded version of the famous Kate and Anna duo. Nothing in this world of folk music indicated that he would one day compose operas. Well, it was love at first sound:
"My family loved tenors like Pavarotti and Domingo, but we weren't great opera buffs," he says. "One day, when I was about thirteen, my mother brought home a recording of Verdi's Requiem, with Jussi Björling and Leontyne Price [played by the Vienna Philharmonic Orchestra conducted by Fritz Reiner, Decca, 1960]. We listened to the whole thing and by the end I was smitten with opera. After that, I listened to and read everything I could about it."
The first opera the young Rufus went to was Verdi's Luisa Miller at the Metropolitan Opera. "It was an interesting experience, because in the first half of the performance, one very old tenor was literally losing his voice in front of us. His difficulties were audible. At one point, he sang a really high note and you could hear his voice breaking. After the interval, another singer replaced him, a handsome young man with a magnificent voice. Well, this event made me fall deeper in love with opera because it made me see that there was an athletic side to singing, that it wasn't just musical."
As the family divided its time between Montreal and New York, the singer grew up regularly attending performances at the Met and the Opéra de Montréal. Today he is still an assiduous opera-goer, and since he lives mainly in New York, often attends the Met.
"As a teenager, one of the first operas I saw was La Bohème with Lyne Fortin. She must have been at the start of her career. So having her in the part of Régine Saint-Laurent in Prima Donna this summer is like coming full circle."
Wainwright spent one-and-a-half years studying music at McGill, after which he enrolled in an arts program at Concordia, but quit that too.
"I can't really say I had a great deal of success with my studies," he explains. "I just felt I needed to be on the road and performing, I wanted to begin my career right away. But I studied piano for twenty years and I took private lessons. I even studied with a descendant of Nadia Boulanger," he laughs.
Despite his unfinished academic training, he orchestrates his operas himself with the aid of software.
"With my career I spend most of my time giving shows, writing songs, and working in the studio. I concentrated on two things: drama and orchestration. I worked very hard on the orchestration, because I'd never done it for something that long. Technology helps me do everything I want, which is very exciting. It was a big test for me, and I'm really happy with the results. The fact that I've done recordings with the BBC Philharmonic Orchestra and Deutsche Grammophon is proof of that. It's been a great honour for me to work with them."
Prima Donna tells of one day in the life of an opera singer who is in love with a journalist. "I was inspired by an interview with Maria Callas, but it's not an opera about her. It's a mixture of several singers from the past, such as Régine Crespin and Jessye Norman. The name of the main character, Régine Saint-Laurent, is a combination of Régine Crespin and Saint Laurent Boulevard."
Prima Donna got off the ground after quite a rocky start. To begin with, it was  commissioned by the Metropolitan Opera as part of an initiative intended to attract new audiences. But things did not go as planned, because Peter Gelb wanted the opera to be in English. So Wainwright split from the Met, and Prima Donna had its premiere in Manchester, England.
"I had a big fight with Peter Gelb, because he didn't want the opera to be in French, but I did, so I quit the Met! You could say I took a bullet for French," he laughs. "So I'm very glad it's finally being staged in Montreal, and also at the Festival d'Avignon this summer. I'm happy that my opera has come to life: It's been performed many times pretty much everywhere, and recorded too. You could hardly do better. Obviously I'd love the critics to love what I'm doing, but when do you see that in the opera world?"
With this first operatic work under his belt, he is now working on a second, entitled Hadrian, commissioned by the Canadian Opera Company. The premiere will be in 2018.
"It's about the Roman emperor Hadrian and his lover Antinous. It's very romantic, with various political shenanigans. I've finished composing the first act and I hope to have it finished by next year. It's opera on a grand scale, with choirs and dancers. I'm not writing the libretto. That's by Daniel MacIvor, a Canadian playwright."
Chronology
1973: Rufus Wainwright is born in Rhinebeck, New York
Age 6: He begins learning piano
Age 13: He begins touring with his mother and his aunt, Kate and Anna McGarrigle, and his younger sister Martha
1988-1990: He appears in the film Tommy Tricker and the Stamp Traveller, produced by Rock Demers as part of the Tales for All series. His song "I'm a-Runnin," which was composed for the film, was nominated for a Genie in 1989 for Best Achievement in Music (Original Song). In 1990, he was nominated for a Juno for Most Promising Male Vocalist of the Year.
1998: First studio album, titled Rufus Wainwright.
2006: He gives two sold-out concerts in homage to Judy Garland at Carnegie Hall
2009: Premier of the opera Prima Donna at the Manchester International Festival in the UK
2010: Death of the singer's mother, celebrated folk musician Kate McGarrigle
2010: Canadian premiere of Prima Donna at Toronto's Luminato Festival
2014: The album Prima Donna, recorded with the BBC Symphony Orchestra, comes out on the Deutsche Grammophon label.
2016: The album Take All My Loves: 9 Shakespeare Sonnets comes out on DG in collaboration with Universal Music Canada
Round the world before Montreal
Since its Manchester premiere, Prima Donna has been performed in New York, Toronto, London, Buenos Aires, Melbourne, and even the Acropolis in Athens in a new, condensed version last year. It is this short, one-hour version that will be performed in Montreal. It will be accompanied by film footage of American artist Cindy Sherman by the Italian artist and director Francesco Vezzoli.
"It's a kind of an operatic multi-media fantasy, and a good introduction to opera for people who don't know much about it. It's also a good introduction to Prima Donna itself. In the second part I sing my songs with the orchestra."
The performers will be Lyne Fortin, soprano, Canadian tenor Antonio Figueroa, and American soprano Kathryn Guthrie. The orchestra will be brought together for the occasion under the baton of American conductor Jayce Ogren.
Rufus Wainwright always dreamed of putting on Prima Donna in Montreal in its original version, but unfortunately for him, his wish never came true.
"All I can say is that sadly, Opéra de Montréal didn't really treat me honourably. They missed a good opportunity, because I love opera more than anything. I'm willing to put in the time and energy, and it's been a success so far. Opéra de Montréal missed the boat, but I'm still young. It's my first opera,  I hope to write more, and I hope there'll be other opportunities in the future."
What the critics are saying
The critics are far from unanimous when it comes to Prima Donna.
"Despite the best efforts of those capable singers, a clever director, an impressive set and lighting and a willing orchestra and conductor, Prima Donna is a dramatic wreck."  John Terauds, Toronto Star, 2012

"The Metropolitan Opera in New York reportedly turned down Wainwright's opera because he insisted on setting the libretto in French. Yet the more one hears of the score, the more one could imagine that as a tactful exit strategy, preferable to rejecting the work because of its shortcomings. Prima Donna is the work of a man who loves opera and the sensations it delivers, without understanding how it is paced, or how it generates dramatic tension." Andrew Clements, The Guardian, 2010

"But Prima Donna is so busy being a homage that it has forgotten to be an opera. It is a tasteful, well-intentioned, ultimately mystifying failure: mystifying because, after years of development and performances in Manchester, England; London; Melbourne, Australia; and Toronto, no one has seen fit to give it a plot." Zachary Woolfe, The New York Times, 2012. 

"There are inspired touches and disarmingly beautiful passages in this mysterious, stylistically eclectic work. (…) During an agitated orchestral interlude Régine, left alone, contemplates leaping from her balcony. But seeing the Bastille Day fireworks, she decides to go on, watching life from her window. The opera ends with a tender aria for Régine, a long-spun melody with a gentle accompaniment riff: in other words, a Wainwright song. Would that there had been more of them." Anthony Tommasini, The New York Times, 2009.

"There's no shortage of emotion in Prima Donna, as you might expect from the first opera by Rufus Wainwright, who does nothing by half-notes. Strings soar, teeth are gnashed, heroines throw themselves across beds; it's not opera, it's Opera! It makes for a thoroughly entertaining, if slightly barmy, evening." Elizabeth Renzetti, The Globe and Mail, 2009.
» Prima Donna, Montreal International Jazz Festival, Salle Wilfrid-Pelletier, July 2 & 3, 7:30 PM.
www.montrealjazzfest.com
» Rufus Does Judy, June 23 & 24, 8 PM, The Hearn, Luminato Festival, Toronto. www.luminatofestival.com
Translation: Cecilia Grayson
This page is also available in / Cette page est également disponible en:

Francais (French)