This page is also available in / Cette page est également disponible en:

English (Anglais)
Mieux vaut tard que jamais : le premier opéra de Rufus Wainwright, créé en 2009, sera enfin présenté à Montréal cet été, en version concert dans le cadre du Festival international de Jazz de Montréal.
Né au sein d'une famille de musiciens, Rufus Wainwright était certainement destiné à suivre les traces de ses parents, la chanteuse folk Kate McGarrigle et le chanteur Loudon Wainwright III. À treize ans, avec sa mère, sa tante Anna McGarrigle et sa sœur Martha, il faisait déjà des tournées au sein de leur petit ensemble alors baptisé The McGarrigle Sisters and Family, une version élargie du célèbre duo déjà formé par les sœurs Kate et Anna. Rien dans cet univers de musique folk ne laissait présager qu'il s'aventurerait un jour à composer des opéras. Il a suffi d'un coup de foudre :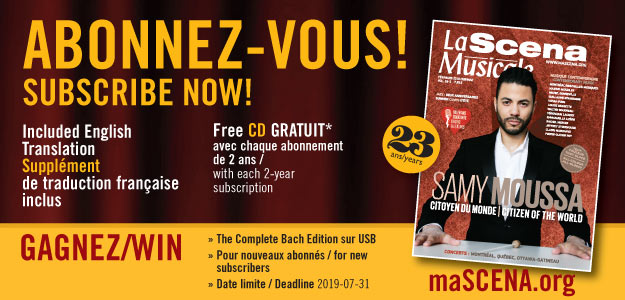 « Ma famille aimait les ténors comme Pavarotti et Domingo, mais nous n'étions pas de grands connaisseurs d'opéra, raconte-t-il. Un jour, quand j'avais environ treize ans, ma mère a ramené à la maison un enregistrement du Requiem de Verdi, avec Jussi Björling et Leontyne Price (NDLR : version de l'Orchestre philharmonique de Vienne sous la direction de Fritz Reiner, Decca, 1960). Nous l'avons écouté en entier. À la fin, j'étais devenu un mordu de l'art vocal. Après cela, j'ai écouté et lu tout ce que je pouvais sur l'opéra. »
La première production d'opéra à laquelle le jeune Rufus a assisté était Luisa Miller, de Verdi, au Metropolitan Opera.
« Ce fut une expérience intéressante, car dans la première moitié de la représentation, un ténor très âgé était littéralement en train de perdre la voix devant nous. Ses difficultés étaient audibles. À un certain moment, il a chanté une note très aiguë et on a entendu sa voix se briser. Après l'entracte, un autre chanteur l'a remplacé, un très beau jeune homme avec une voix magnifique. Cet événement m'a fait tomber encore plus en amour avec l'opéra parce que j'ai compris qu'il y avait un côté sportif aussi bien que musical dans l'acte de chanter. »
La famille partageant son temps entre Montréal et New York, le chanteur a grandi en allant régulièrement au Met et à l'Opéra de Montréal. Il continue aujourd'hui de fréquenter assidûment les maisons d'opéra. Passant la plupart de son temps à New York, il fréquente souvent le Met.
« Un des premiers opéras que j'ai vus, adolescent, était La Bohème, avec Lyne Fortin, dit-il. Elle devait être au début de sa carrière. Le fait de l'avoir cet été pour chanter le rôle de Régine Saint-Laurent dans Prima Donna, c'est comme si une belle boucle était bouclée. »
Rufus Wainwright a déjà entrepris des études en musique à McGill, mais les a abandonnées après un an et demi. Il a ensuite étudié en arts à Concordia, programme qu'il a aussi laissé tomber.
« Je ne peux pas dire que ça s'est très bien passé pour moi avec les études, dit-il. J'ai senti que j'avais besoin d'être sur la route et de chanter en public, de commencer ma carrière tout de suite. Mais j'ai étudié le piano pendant vingt ans et j'ai pris des leçons privées. J'ai même étudié avec un descendant de Nadia Boulanger (rires). »
Malgré cette formation académique incomplète, il réalise lui-même les orchestrations de ses opéras, s'aidant d'outils informatiques.
« Avec ma carrière, je passe la majeure partie de mon temps à donner des spectacles, à écrire des chansons et à travailler en studio. J'ai mis l'accent sur deux choses : le drame et l'orchestration. J'ai travaillé très dur sur l'orchestration, car je n'avais jamais fait cela avant pour quelque chose d'aussi long. La technologie m'aide à faire tout ce que je veux, ce qui est très excitant. Pour moi, c'était un grand test et je suis très heureux des résultats. Le fait d'avoir réalisé un enregistrement avec l'Orchestre philharmonique de la BBC et Deutsche Grammophon en témoigne. C'est un grand honneur pour moi d'avoir travaillé avec eux. »
Prima Donna raconte une journée dans la vie d'une chanteuse d'opéra amoureuse d'un journaliste. « J'ai été inspiré par une interview de Maria Callas, mais ce n'est pas un opéra sur elle. C'est un mélange de plusieurs chanteuses du passé, comme Régine Crespin ou Jessye Norman. Le nom du personnage principal, Régine Saint-Laurent, est une combinaison entre Régine Crespin et le boulevard Saint-Laurent. »
Rappelons les circonstances houleuses dans lesquelles Prima Donna a vu le jour. Au départ, il s'agissait d'une commande du Metropolitan Opera dans le cadre d'une initiative destinée à attirer un nouveau public. Malheureusement, les choses n'ont pas tourné comme prévu, car Peter Gelb exigeait que l'opéra soit en anglais. Wainwright a donc rompu ses liens avec le Met et la première de Prima Donna a eu lieu à Manchester, au Royaume-Uni.
« J'ai eu une grande querelle avec Peter Gelb, parce qu'il ne voulait pas que l'opéra soit en français, et j'y tenais, alors je suis parti du Met ! On peut dire que j'ai pris une balle pour le français (rires). Je suis donc très content qu'il soit enfin présenté à Montréal, et il le sera aussi cet été au Festival d'Avignon. Je suis heureux que mon opéra ait une vraie vie : il a été produit et présenté plusieurs fois un peu partout et enregistré. On peut difficilement faire mieux. Évidemment, j'adorerais que les critiques soient amoureux de ce que je fais, mais quand est-ce qu'on voit ça dans le monde de l'opéra ? »
Fort de cette première expérience, il travaille maintenant à un second opéra, Hadrian, commandé par la Canadian Opera Company. La première aura lieu en 2018.
« L'opéra parle de l'empereur romain Hadrien et de son amant Antinoüs. C'est très romantique, avec des enjeux politiques. J'ai fini de composer le premier acte et j'espère avoir tout terminé d'ici l'an prochain. C'est un opéra d'envergure, avec des chœurs et des danseurs. Je n'écris pas le libretto. C'est Daniel MacIvor, un dramaturge canadien, qui en est l'auteur. »
Chronologie
1973 : naissance de Rufus Wainwright à Rhinebeck (New York).
À 6 ans : il commence le piano.
À 13 ans : il commence à faire des tournées avec sa mère et sa tante, Kate et Anna McGarrigle, et sa sœur cadette Martha.
1988-1990 : il joue dans le film Les Aventuriers du timbre perdu (titre anglais : Tommy Tricker and the Stamp Traveller), produit par Rock Demers dans la série des Contes pour tous. Sa chanson I'm a-Runnin, composée pour le film, reçoit en 1989 une nomination aux prix Génie pour la meilleure chanson originale de film. Il est également en lice pour le Juno de l'artiste le plus prometteur en 1990.
1998 : premier album studio, intitulé Rufus Wainwright.
2006 : il donne à Carnegie Hall deux concerts à guichets fermés en hommage à Judy Garland.
2009 : première de l'opéra Prima Donna au Manchester International Festival, au Royaume-Uni.
2010 : décès de la mère du chanteur, la célèbre musicienne folk Kate McGarrigle.
2010 : première canadienne de Prima Donna au festival Luminato, à Toronto.
2014 : sortie de l'album Prima Donna sous étiquette Deutsche Grammophon avec le BBC Symphony Orchestra.
2016 : sortie de l'album Take all my love : 9 Shakespeare Sonnets sous étiquette Deutsche Grammophon en collaboration avec Universal Music Canada.
Le reste du monde avant Montréal
Depuis sa création à Manchester, Prima Donna a été présenté à New York, Toronto, Londres, Buenos Aires, Melbourne et même à l'Acropole d'Athènes, l'an dernier, dans une nouvelle version condensée. C'est cette version courte de Prima Donna qui sera présentée à Montréal. La version concert, d'une heure, est accompagnée d'une trame cinématographique de l'artiste et réalisateur italien Francesco Vezzoli dans laquelle on peut voir l'artiste américaine Cindy Sherman.
« C'est une sorte de fantaisie multimédia opératique, et une bonne introduction à l'opéra pour ceux qui n'y connaissent pas grand-chose, ainsi qu'une introduction à Prima Donna en tant que tel. En deuxième partie, je chante mes chansons avec l'orchestre », dit Rufus Wainwright.
La distribution sera formée de Lyne Fortin, soprano, du ténor canadien Antonio Figueroa et de la soprano américaine Kathryn Guthrie, avec un orchestre réuni pour l'occasion et dirigé par le chef américain Jayce Ogren.
Rufus Wainwright a toujours rêvé que Prima Donna soit produit à Montréal dans sa version originale. Malheureusement pour lui, son souhait n'a jamais été exaucé.
« Tout ce que je peux dire c'est que, tristement, l'Opéra de Montréal ne m'a pas vraiment traité de façon honorable. Ils ont raté une belle occasion, car j'aime l'opéra plus que tout. Je suis prêt à y mettre le temps et l'énergie, et cela a été un succès jusqu'à maintenant. L'Opéra de Montréal a raté le bateau, mais je suis encore jeune, c'est mon premier opéra, j'espère en composer d'autres et j'espère qu'il y aura d'autres occasions dans l'avenir. »
Ce que les critiques ont dit :
Prima Donna est loin d'avoir fait l'unanimité chez les critiques musicaux. Extraits :
« Malgré les meilleurs efforts de ces chanteurs talentueux, un metteur en scène brillant, un décor et des éclairages impressionnants ainsi qu'un orchestre et un chef convaincus, Prima Donna est un désastreux naufrage. » John Terauds, Toronto Star, 2012

« On dit que le Metropolitan Opera de New York a refusé l'opéra de Wainwright parce qu'il insistait pour que le livret soit en français. En fait, plus on entend l'œuvre, plus on peut imaginer qu'il s'agissait d'une stratégie de sortie élégante, préférable à un refus de l'œuvre en raison de ses lacunes. Prima Donna est l'œuvre d'un homme qui aime l'opéra et les sensations qu'il procure, sans en comprendre le rythme ou comment il crée une tension dramatique. » Andrew Clements, The Guardian, 2010.

« Prima Donna se soucie tellement d'être un hommage qu'il en oublie d'être un opéra. C'est un échec consternant, de bon goût et bien intentionné : consternant parce qu'après des années de développement et de productions à Manchester en Angleterre, à Melbourne en Australie et à Toronto, personne n'a jugé bon de lui donner une intrigue. » Zachary Woolfe, The New York Times, 2012.

« Il y a des touches inspirées et des passages désarmants de beauté dans cette œuvre mystérieuse, stylistiquement éclectique […] Pendant un prélude orchestral agité, Régine, restée seule, songe à sauter du haut de son balcon, mais en voyant les feux d'artifice du Jour de la Bastille, elle décide de s'accrocher, observant la vie de sa fenêtre. L'opéra prend fin avec un tendre aria pour Régine, une mélodie tortueuse accompagnée doucement à la guitare : en d'autres mots, une chanson de Wainwright. Si seulement il y en avait eu plus comme celle-là. » Anthony Tommasini, The New York Times, 2009.

« Les émotions ne manquent pas dans Prima Donna, comme on pouvait s'y attendre d'un premier opéra de Rufus Wainwright, qui ne fait rien à moitié. Les cordes s'emballent, les dents grincent, les héroïnes se jettent sur les lits; ce n'est pas de l'opéra, c'est de l'Opéra ! Tout cela procure une soirée vraiment divertissante, bien qu'un tantinet bizarre. » Elizabeth Renzetti, The Globe and Mail, 2009.
» Rufus Does Judy, 23 et 24 juin, 20h, The Hearn, Festival Luminato, Toronto. www.luminatofestival.com

» Prima Donna : un concert symphonique visuel, 2 et 3 juillet, 19h30, salle Wilfrid-Pelletier. www.montrealjazzfest.com
This page is also available in / Cette page est également disponible en:

English (Anglais)