This page is also available in / Cette page est également disponible en:

Francais (French)
It's hard not to like Quartom. How could you not like these four ­convivial pals, who crack jokes in between melodious harmonies? Wherever they go, they leave smiling listeners behind them. La Scena Musicale met with Quartom at the Rialto Theatre for an ­interview and photo session, punctuated by silly antics and contagious laughter.
A cappella quartet Quartom, formed by baritones Benoit Le Blanc and Julien Patenaude, tenor Gaétan Sauvageau, and bass Philippe Martel, is on a hot roll with the release of their third album, Acte III, on ATMA Classique, as well as a series of shows that will take them from La Tuque to Europe, via Outremont.
All four members of Quartom have a solid background in ­classical singing and plenty of experience. They also met as musicians. Benoit Le Blanc and Julien Patenaude were both members of the Petits Chanteurs du Mont-Royal. They've known each other for thirty years. They met Gaétan Sauvageau during their musical studies at the Université de ­Montréal at the end of the 1990s, and Philippe Martel as part of a singing contract. In January 2008, the four friends decided to form a vocal quartet, and gave their first concert at the Cégep Saint-Laurent a few months later.
Shortly thereafter, Julien wrote the script for their first show, Good News According to Quartom (La Bonne Nouvelle in French). This show, in which each member played a character, made space for a little of everything in the a cappella repertoire: doo-wop, barbershop quartets, classical, and French chanson. This program was featured on their first album, simply titled Quartom.
"From the start, we knew that we had something unique to offer: four classical singers with a comedic side. Audience response has always been excellent." —Benoit Le Blanc
"Our mission has always been to introduce classical music to those who aren't necessarily music lovers, by offering them quality content with a ­humorous side," says Benoit Le Blanc. "We want to make music for everyone, and it doesn't bother us to go beyond the boundaries of classical music. From the start, we knew that we had something unique to offer: four classical singers with a comedic side. Audience responses have always been excellent. So we found an agent to help us promote what we do."
Over time, humour, camaraderie, goodwill, and the joy of being an ensemble have remained necessary ingredients for their musical life.
"For a solo musician, touring life includes a lot of solitude," says Julien Patenaude. "After the concert, you find yourself alone. For us, it's the opposite: all of our adventures, we experience as a quartet, and we were already friends to start with. It's rare that you get to sing with friends, as we've been lucky enough to do. We have a lot of fun."
During the first years of Quartom's existence, the four singers ­continued to devote a lot of time to their respective careers, each filling various professional mandates in opera productions, choirs, or as soloists with orchestras.
For the past two years, they have decided to commit themselves ­primarily to the quartet and to consult one another before accepting other contracts. Quartom has become a priority and has the wind in its sails, thanks largely to their sound intuitions and open minds. The four musicians know how to seize a good opportunity when one presents itself, whether it is in a classical or a popular milieu.
"A few years ago, we went to Ottawa to appear in a show to save CBC Radio-Canada when the Harper government wanted to make more cuts," remembers Gaétan Sauvageau. "We went to sing as ­volunteers. There, we met actor Marie-Thérèse Fortin and singer-songwriters Yann Perreau and Lisa LeBlanc, who invited us to sing with her. These connections allowed us to be part of the collective show Piaf a cent ans. Vive la môme! which was presented at the FrancoFolies before we went on tour with it."
They also sang in between awards at the Prix d'Opus Gala in 2015, earning them even more engagements. Then, last year, they were seen and heard by millions of people and viewers singing the national anthems before a Montreal Canadiens match at the Bell Centre, propelling them into star status. They'll be back again at the game this December 20.
Acte III
After their first two albums, Quartom and Le Noël de Quartom, the quartet signed on for a first album with ATMA Classique. This third opus, Acte III, was launched this autumn and has also been the object of a touring show. The program includes arrangements of well-known operatic arias by Handel, Rameau, Verdi, Offenbach, Gounod, Bizet, Gershwin, Mozart, and even Wagner.
"We've all sung in operas, even if our musical background is mostly choral music," says Gaétan Sauvageau. "We've all been in choirs since we were children and Quartom is a bit of a continuation of what we've ­always done since childhood. Pretty late in my career, I realized that I was making music to be with people. That's also why I love opera, ­because it's a group adventure. Recitals are less interesting to me. The fact of always being in a group fulfills an important function of music for me, which is to share something with others and to experience emotions together. Music is above all something that brings people together."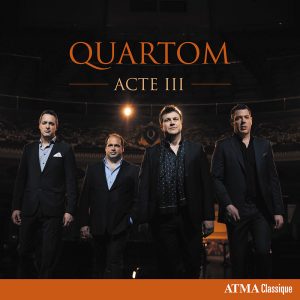 For audiences, Quartom offers highly accessible versions of the great classics, which has the pleasure of pleasing even neophytes.
"We noticed it during our tour of western Canada," says Gaétan Sauvageau. "We were singing in very small towns and often for people who had never, or rarely, heard classical in their lives. In many cases, some of the people in the hall were hesitant at first. The comments we would get during the entr'acte were that they loved the show and that they didn't regret coming at all.
Quartom is even a hit with kids.
"Little boys are often reluctant to come to a classical music concert," says Julien Patenaude. "When they see that it's four guys singing and making jokes, they're pleasantly surprised."
It must be said that the four singers are masters of the art of presenting their songs alongside charming anecdotes and comments. "We put each piece into context," says Philippe Martel. "With Acte III, we put together a skit inspired by operatic dramas, with themes that often come back to opera."
At the time of their meeting with La Scena Musicale, the quartet was returning from their tour of western Canada and preparing for a Christmas tour of Quebec over the coming weeks. The show Acte III, directed by Benoit Brière, premieres at the Théâtre Outremont on February 14.
"This show should continue for at least a year," forecasts Philippe Martel, "but without a doubt two or three years, alongside Good News, which continues for those who haven't had the chance to see it yet. We also want to bring Acte III to Europe, probably in 2018. We'll also try to get to the United States."
There are no limits to Quartom's ambitions. They hope to sing throughout the world.
"In classical music, it's not easy to fill halls, but we've noticed a real interest for what we do and up to now, our halls have been filled," says Gaétan Sauvageau. "With operatic arias, we're getting into a more ­international repertoire. Moreover, as we're singing in various ­languages, our show can be adapted for various markets."
Translation: Rebecca Anne Clark
---
Quartom Discography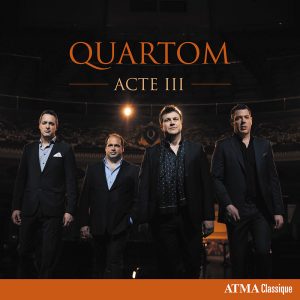 Acte III — ATMA Classique, 2016, ACD22735
Opera arias arranged for four voices from Carmen, Rigoletto, Hyppolite et Aricie, Les Contes d'Hoffman, Les Pêcheurs de perles, Lohengrin, and more..
Le Noël de Quartom — Independent production
Christmas songs from around the world in various languages.
Quartom — Independent production
A varied repertoire of classical arias and popular songs, such as Félix Leclerc's "Attends-moi ti-gars" or 1960s hits "Duke of Earl" and "My Girl."
---
Upcoming Concerts
Le Noël de Quartom
December 11, 3PM, Théâtre du Vieux-Terrebonne
December 14–15, 5:30PM, part of the Série Apéro with Les Violons du Roy, salle d'Youville, Palais Montcalm
December 16, 8PM, Église de la Purification, Repentigny
December 17, 2PM, La Tuque
December 18, 3PM, with the Petits Chanteurs du Mont Royal, Église Saint-Esprit-de-Rosemont, Montreal
Acte III
Premier February 14, Petit Outremont, Montreal
February 24–25, 8PM, Petit Outremont
March 12, 3PM, Église St-Andrews, Châteauguay
March 19, 3PM, salle Albert-Dumouchel, Valleyfield
April 25, 8PM, salle Pauline-Julien, Sainte-Geneviève
April 29, 8PM, salle du Moulinet, Vieux-Terrebonne
April 30, 3PM salle Jean-Louis Millette, Longueuil
Piaf a cent ans. Vive la môme!  
March 4-5, salle Maisonneuve, Place des Arts
March 8, Grand Théâtre de Québec
For more information, www.quartom.com
This page is also available in / Cette page est également disponible en:

Francais (French)