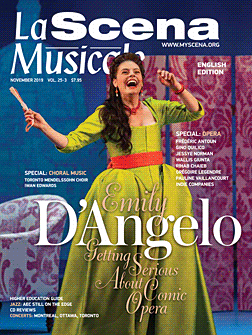 This page is also available in / Cette page est également disponible en:

Francais (French)
Since 1976 and its foundation by Alain Nonat, Théâtre Lyrichorégra 20 has been helping young Canadian opera artists pursue their careers. It took time, energy and a lot of travel to build trust between different directors of opera companies and actors. In 1994, a program specifically dedicated to the professional integration of young emerging Canadian singers was set up. This is the Jeunes Ambassadeurs Lyriques (JAL), whose goal is also to build bridges with partners from around the world. This is a great source of pride to Alain Nonat. The general and artistic director of Théâtre Lyrichorégra 20 was just coming from a special event, held on Oct. 12 at the Regensburg Opera in Germany, to mark the 30th anniversary of relations between Quebec and Bavaria. "Three Quebec singers who were laureates of our program were with us: Geneviève Lévesque, Cécile Muhire and Jean-Philippe McClish, joined on stage by Bavarian singers," Nonat said. "And our partnership with Bavaria does not stop there! This year, on the occasion of three concerts and the gala, we will be able to count on the presence of several directors Bavarian lyric theaters, coming from Regensburg, Augsburg, Würzburg and Nuremberg." 
Three opera evenings and the annual gala
This year, the agenda of the Théâtre Lyrichorégra 20 announces, once again, a full slate. The opening opera evening will be organized on Nov. 20, in the presence of the Consul General of China in Montreal. Accompanied on the piano, the selected candidates will have the chance to be heard individually in a series of operatic arias in front of more than 15 directors of opera companies invited for the occasion. Nov. 21 marks the second opera evening, this time chaired by the director of the delegation of Bavaria in Montreal. On the program: excerpts from German operas and a selection of Lieder. On Nov. 22, it is the turn of Italy and the Italian arias to be put in the spotlight. Chaired by the director of the Italian Cultural Institute, this third evening will give young artists one last opportunity to make their individual voices heard before approaching the 26th edition of the JAL's benefit gala at Montreal's Rencontres lyriques internationales. Indeed, as specified by Nonat, the program of the gala, organized on Nov. 23, will be exclusively composed of duets, trios and other ensembles. For this new edition, Nonat will be able to count on the participation of the Ensemble Sinfonia de Montréal under the direction of Louis Lavigueur, and on the consul general of Mexico as dean of the consular corps and honorary president of the evening.
Selection process
Each spring, auditions are held in Montreal, Toronto and Vancouver. In the fall, successful candidates have the unique opportunity to be heard by directors of opera houses around the world. Some singers, such as mezzo-soprano Caroline Gélinas, baritone Jean-Philippe Mc Clish and Geoffroy Salvas or tenor Marcel d'Entremont have tried their luck more than once. It was an opportunity for them to become known professionals in the field, hoping to get an international contract.
In November, Théâtre Lyrichorégra 20 will give a chance to 19 emerging Canadian opera singers. There are also 11 foreign singers from Germany, China, South Korea, France, Italy, Japan, Mexico, Slovakia and Switzerland. In total, 30 artists will compete.
A program for young artists
The JAL program has several components: participation in auditions, masterclasses, advanced training courses in foreign opera institutions, direct entries in the semifinals of international competitions, engagements for concerts as well as for opera productions in Europe, Russia, Asia and Mexico. Since 2004, this program has enabled the creation of various projects, including auditions in China, a co-production of Bizet's Carmen in China and a masterclass program followed by a production at Opera Brasov. Also noteworthy in 2018 is a co-production of concerts with the Helikon Opera of Moscow.
Through the Théâtre Lyrichorégra 20, this program supports the laureates by offering them travel grants and, if possible, part of the living expenses. It is, moreover, an international program of lyrical exchange which allows the annual arrival of nearly a dozen opera artists from various countries.
Achievements and projects
With its network of nearly 200 partners in 26 countries, the program has allowed many Canadian winners to perform in front of a hundred or so opera house directors. In 25 years, the program has offered its laureates nearly 300 commitments worldwide. These services have also allowed several winners to stand out and obtain other commitments in lyrical theatres that partner with the program. For example, Suzanne Taffot recently appeared at the Minsk Opera in Belarus, at the San Miguel de Allende Opera House in Mexico, and at the Gärtnerplatz in Munich, where she was engaged for 11 performances as Mimì in La Bohème. In October she also participated, along with baritone Hugo Laporte, mezzo-soprano Rachel Tremblay and pianist Maxime Dubé-Malenfant, in two concerts in China. "We are currently seeking to develop our relationship, especially with a partner in Beijing and another at the Shenzhen Opera," Nonat says. "Following the audition tour we conducted, we are also thinking of exporting the JAL program to China, which would open doors to other cities. It would still be very positive for our program and the Canadian singers we support."
Nonat is proud that hundreds of laureates who were supported in their early careers by the JAL program continue to shine on stages around the world. This is particularly the case of mezzo-sopranos Michèle Losier and Julie Boulianne. An additional source of motivation for the creator of this program!
Théâtre Lyrichorégra 20 presents the 26th Gala des Jeunes Ambassadeurs Lyriques on Nov. 23 at 7:30 p.m. in Salle Claude-Champagne.
This page is also available in / Cette page est également disponible en:

Francais (French)