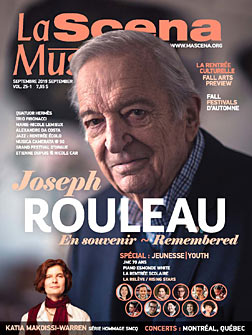 This page is also available in / Cette page est également disponible en:

Francais (French)
Then 16-year-old Australian pianist Shuan Hern Lee won the 2019 Cliburn Junior Competition, he was already preparing repertoire for his next competition. In August, Lee was preparing to fly from his hometown, Perth, to the Ferruccio Busoni International Piano Competition in Bolzano, Italy. He is one of the youngest candidates.
Lee's hyperactive competition schedule is the typical experience of many young musicians today. They readily crisscross the globe. Competition participation is not only seen as a necessary and natural career strategy but as an opportunity to meet fellow musicians and peers. It is also viewed as a means of globalizing their profiles. During his Cliburn experience in Dallas, Lee said, "the jury members gave me a lot of very helpful advice. Digital broadcasts also give participants a chance to establish connections."
Lee is a precocious and intelligent talent. At an age when most teenagers are in high school, Lee is fast-tracking his education at the University of Western Australia, where he is pursuing his BA, majoring in piano. Also a student of Ingrid Fliter at the International Piano Academy Incontri col Meastro (Italy), Lee started the piano with his father, Yoon Sen Lee. Singapore-born Sen Lee is a piano lecturer at the same university, and his Hong Kong-born mother is also a pianist.
Lee won the Cliburn Junior with Rachmaninoff's Third Piano Concerto. His passion for this score began a year earlier through an invitation to perform it with the local City of Fremantle Symphony Orchestra. He is "attracted to the internal conflict of the piece." One day, he says, he dreams of performing it with one of his idols: Valery Gergiev, Simon Rattle or Vladimir Ashkenazy.
Lee's repertoire interests also extend to contemporary composition. "I love Marc-André Hamelin's works, especially his transcriptions, and Carl Vine's Bagatelles and Sonatas. I am also a huge fan of Lowell Lieberman's The Gargoyles."
In addition to the piano, Lee is studying Italian and is a keen table-tennis player. He has just finished assembling a new table – the "205," a deluxe model. "I love playing, as it is a form of relaxation and also a very good sport for improving fast reaction."
Lee's competition and performance calendar is as lightning-fast as his ambition. He is a thoughtful musician who considers the metaphor of music beyond its aesthetic qualities.
"The year is not yet over, and I have many more things to learn, but so far, I have learnt another fascinating explanation of music as a great symbol and representation of life. Everyone in music has their own opinions, and many things are subjective, as in life, but through this diversity we must strive to live in harmony and unity, and accept each other's ideals and opinions, even while holding our own."
This page is also available in / Cette page est également disponible en:

Francais (French)