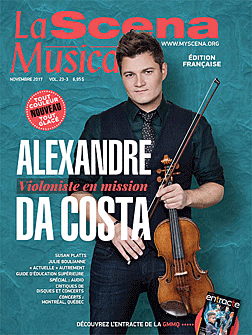 This page is also available in / Cette page est également disponible en:

Francais (French)
The Montreal Bach Festival opens on November 17 at the Maison Symphonique with a performance of Bach's ­monumental Mass in B Minor by Collegium 1704, an acclaimed early-music group based in Prague. The Mass summons a month of ­performances devoted to Bach and his ­catalogue, his contemporaries, and his ­influence on the composers of our time.
Collegium 1704's Montreal ­appearance — the Canadian debut of this élite fifty-member choir and instrumental ensemble — is ­intended in part as a celebration of the 500th anniversary of the start of the Protestant Reformation. This Canadian performance, which has been years in the making, speaks to the tenacity of the festival's founding Artistic Director, German-born musicologist Dr. Alexandra Scheibler. Thanks to Scheibler's tireless work, the festival has grown from its first iteration in 2005 with ten concerts to its presence today as an annual ­festival offering over 30 concerts of every kind.
In 2017, the festival program ­includes some of the most influential interpreters of Bach today. Leipzig's famous Boys Choir of the Church of St. Thomas, whose ­history dates back to 1212, ­returns after the success of their 2013 visit to give a prelude concert on ­November 8 at the Basilica Notre-Dame; British pianist Nick van Bloss, noted for his poetic style, will perform the popular Goldberg Variations. Much-in-demand ­German tenor Julius Prégardien will give two concerts, and several of the world's leading choirs, including Gramophone Award-winning Vox Luminis and Ensemble Jacques Moderne, will offer choral programs that include ­Monteverdi, Scarlatti and Schütz.
Scheibler received her doctorate from the University of Hamburg, focusing her dissertation on the masses of Leonard Bernstein. The impetus to initiate a festival of Bach was seeded when she arrived in Montreal in 2003. Growing up in Hamburg, Scheibler recalls that during every Christmas period she could choose from "at least thirty performances of Bach's Christmas Oratorio." In Montreal she could not count one. This revelation began Scheibler's personal ­crusade. She believes that "Bach is the basis of music today." She says, "All the composers who succeeded Bach ­follow to some extent his compositional style and his ability to pair emotional connection with mathematical technique. There is always a connection to Bach."
Scheibler is enthusiastic about bringing Bach's "highest form of art" to a wide audience. In 2017 the festival collaborates with Société Pro Musica and the ­Jeunesses ­Musicales Canada for the Mélodî[email protected] Bach Montreal project. The alliance will offer twelve lunchtime ­concerts of forty minutes duration. The concerts, all at Place des Arts, feature young Quebec ­musicians and ensembles. Scheibler's festival also celebrates the recent and youngest-ever ­winner of the Canadian International Organ Competition, 25-year old American organist Alcée Chriss. As the laureate of the competition's Bach prize, Chriss will give a recital at Saint Joseph's Oratory of Mount Royal on November 26.
As well as organizing the logistics and the artistic decisions behind this year's festival, Scheibler is already programming the 2018 and 2019 festivals — all in addition to juggling the demands of securing private and corporate sponsors to achieve her ambitions. However, Scheibler makes certain that her Hamburg memories of Bach's Christmas ­Oratorio are always fulfilled. The 25-year-old Montreal-based ­Ensemble Caprice has the honour of performing Bach's seasonally ­inspired work on December 3 at the Church of Saint-Jean-Baptiste.
This page is also available in / Cette page est également disponible en:

Francais (French)