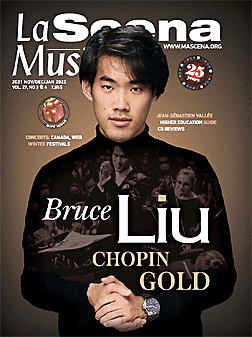 This page is also available in / Cette page est également disponible en:

Francais (French)
In Osaka every December there is a performance of Beethoven's Ninth with a chorus of 10,000?
No, that's not a misprint. 10,000 singers! They audition, train for months in small groups, then assemble for the performances, which have been an ongoing tradition since 1982. Even COVID-19 could not stop Beethoven's Ninth. Last year, instead assembling 10,000 singers under the roof of gigantic Osaka Castle Hall, each singer sent in a video of his or her individual contribution. Using the technological wizardry for which Japan is famous, they were assembled into a single video using a click track with live orchestra conducted by Leonard Bernstein protégé Yutaka Sato, and with every singer's face posted on a screen. The event will be repeated this year on Dec. 5 and live-streamed to the world (www.mbs.jp). Watch the documentary at youtu.be/xW7WtOMWxbw and an earlier performance at youtu.be/H4PfxmdS_dk.
The most frequently performed piano concerto of the twentieth century is probably Prokofiev's Third?
(Rachmaninoff's Second of 1901 is a close contender.) The first ­performance was given exactly a century ago, on Dec. 16, 1921 in Chicago, with the composer as soloist.
Prokofiev came twice to Canada,
in 1919 and 1930?
On the latter occasion, he played in McGill ­University's Moyse Hall. Long-time Montreal Star music critic Eric McLean, just a boy at the time, was introduced to the composer after the recital. Many years later, he recalled the event, saying that "it is safe to boast that I am the only living music critic who has sat in Prokofiev's lap."
The Vienna Philharmonic never performed Rachmaninoff's Rhapsody on a theme of Paganini until this year?
Rachmaninoff's Rhapsody, one of the most popular works in the repertory for solo piano and orchestra, dates from 1934 – nearly a century ago – yet the Philharmonic never got around to playing it until Daniel Harding conducted it on June 18 with Igor Levit as soloist at the annual Summer Night Concert on the grounds of Schönbrunn Palace.
Daniel Harding is also an airline pilot?
One of the world's most visible conductors, Harding announced in 2019 that he would be leaving the podium for the cockpit as a full-time pilot for Air France. He was scheduled to begin flying in June 2020, but those plans were grounded when COVID-19 changed the world. In an interview for the Financial Times, Harding noted that "so many of the skills required to be a modern-day pilot involve human interaction, so they are similar to those of a musician." ­Harding even had a Boeing flight simulator in his Paris apartment when he lived there.
The great french pianist Alfred Cortot was also a formidable conductor?
Wagner was his specialty. He was an ­assistant at Bayreuth, conducted the Paris premiere of Götterdämmerung (1902),  and reputedly could play all the Wagner operas from memory on the piano.
The first performance of Schubert's Fifth Symphony took place in a living room?
Otto Hatwig, a violinist in the Burgtheater orchestra, offered his home for the occasion, at which he conducted a small ensemble of amateurs in 1816. In our COVID-ridden times, orchestras are routinely scaling back on the number of musicians allowed on stage. But Schubert didn't have COVID to contend with. His symphony requires only seven wind players (one flute and pairs of oboes, bassoons and horns) in addition to a few strings. Even just a string quintet will do. The first public performance waited until 1841, 13 years after Schubert's death.
Bruckner wrote a Symphony No. 0?
He didn't call it that, but it is a fully laid-out, four-movement ­symphony composed in 1869 between Nos. 1 and 2. Late in life ­Bruckner rediscovered the manuscript and decided to keep, but not publish it. (It was published in 1924, years after the composer's death.) In German the symphony is known as Die Nullte, but English lacks the equivalent chronological identifier (the Naught? the "Nothinged"? the "Zeroth"?) so it's just "Ø."
Bruckner wasn't the only composer to write a symphony NO. 0?
There is also a student work by Alfred Schnittke, written in 1956-1957, and a "Piano-Symphony" No. 0 by Kaikhosru Sorabji, a work from 1930-1931 originally intended as the piano part only of his "Symphony II for piano, large orchestra, organ, chorus and solo voices," but ­abandoned in this form.
The longest continuous solo for the English horn in the Orchestral Repertory is probably in Shostakovich's Eleventh Symphony?
It occurs midway through the final movement and lasts some four and a half minutes. Even the famous solo in Act III of Tristan und Isolde lasts "only" three minutes.
This page is also available in / Cette page est également disponible en:

Francais (French)