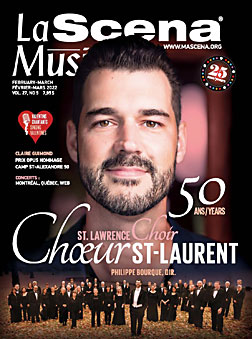 This page is also available in / Cette page est également disponible en:

Francais (French)
2022 is a big anniversary year for composers?
It marks the 250th of the birth of Domenico Puccini (grandfather of Giacomo) on April 5; the 200th of Franz Strauss on Feb. 26 (father of Richard), Joachim Raff on May 27, and César Franck on Dec. 10; the 150th of Scriabin on Jan. 6, Paul-Henri Büsser on Jan. 16, Hugo Alfvén (one of Sweden's most important early composers) on May 1, Julius Fučik (composer of that famous "circus" march, Entry of the Gladiators) on July 18, and Vaughan Williams on Oct. 12; and the 100th of Iannis Xenakis on May 29 and Lukas Foss on Aug. 15.
Tchaikovsky wrote a Symphony No. 7 subtitled "Quarantine" Symphony?
No, no, not Piotr Ilyich. We're talking about Alexander Tchaikovsky (b. 1946), no relation to the famous one. And yes, the quarantine in question was in 2020. Actually, Piotr Ilyich also wrote a Seventh Symphony. Well, sort of. It is a four-movement concoction of material that came from or eventually went into other works, all cobbled together by Semyon Bogatyrev in the 1950s. Tchaikovsky began this symphony before he wrote the Sixth ("Pathétique").
The double concerto for violin and cello barely existed until Brahms wrote his?
There were a few composed in the 18th century (Vivaldi, J.C. Bach, Josef Reicha, etc.), but virtually none in the 19th until Brahms completed his in 1887. Since then there have been dozens more, including by Delius, Pärt, Glass and Previn. One of the most recent is by the Russian-born Canadian composer Airat Ichmouratov, premiered in Odessa last June.
Father and son composer pairs are well known, but what about mother and daughter pairs?
You know about the Scarlattis, the Mozarts, the Bachs, the Strausses (both the German and Viennese families), and perhaps also the Bendas, the Gabrielis, the Vitalis, the Crumbs (George and David) and the Canadians Rodolphe and André Mathieu. But can you name a single mother-daughter pair? The only one I have found is Canadian: Elizabeth and Erika Raum, both living in Ottawa. 
The longest-serving musician to hold a position in a single orchestra was Jane Little?
She began her career in February 1945 at the age of 16 as a double bass player in the Atlanta Youth Symphony, which became the Atlanta Symphony in 1948. Seventy-one years later, Little, now age 87, collapsed near the end of a Pops concert while performing the Irving Berlin song "There's No Business Like Show Business." There sure isn't!
Music has charms to soothe?
You probably know how the line continues. But are you sure? Does music soothe the savage breast or the savage beast? Actually, both! "Music has charms to soothe the savage breast" comes from William Congreve's play The Mourning Bride (1697). "Music has charms to soothe the savage beast" comes from James Bramston's poem The Man of Taste (1733).
Respighi died of the same disease that killed Mahler (subacute endocarditis)?
Moreover, both died in their 50s, and both men's wives were also composers who outlived their famous husbands by many decades – Alma Mahler by 53 years, and Elsa Respighi by a whopping 60, dying in 1996 just five days short of her 102nd birthday. Incidentally, the Respighis met Alma during a visit to Vienna in 1920.
Prokofiev very nearly became a Hollywood composer?
He was ardently wooed by the big studios, one of which (unidentified) in 1938 offered him $2,500 a week — about $50,000 today — to write for it. Disney wanted him for Fantasia. He was entertained by the likes of Marlene Dietrich and Gloria Swanson. But Prokofiev decided to stay in Russia instead (he returned permanently in 1936), where he wrote scores for films like Lieutenant Kijé Alexander Nevsky, and Ivan the Terrible, among others.
Ralph Vaughan Williams, like Beethoven, composed nine symphonies?
Also like Beethoven, Vaughan Williams was 30 when he first turned to the genre, and both composers brought out their respective Ninths shortly before they died. Each wrote a 70-minute choral symphony with vocal soloists, though in one case (Vaughan Williams) it was his first, and the other his last.
The Polish pianist Ignacy Jan Paderewski (1860-1941) was such a commercial success that he earned an estimated $10 million in the course of his career?
In one three-month period he made $300,000. Girls and woman went crazy over him, much as they did the Beatles in the 1960s. 
In addition to a Symphony No. 0, Bruckner also wrote a Symphony No. 00?
This double-barreled composition predates James Bond and his license to do anything he pleases by nearly a century. It is a student composition in F minor, written in 1863. Bruckner was 39 at the time (obviously a late starter). It is a fully written-out work in four movements lasting about 35 minutes — Bruckner's shortest symphony. It received its chronological number from modern musicologists.
This page is also available in / Cette page est également disponible en:

Francais (French)