This page is also available in / Cette page est également disponible en:

Francais (French)
James Feddeck will lead OSM
On February 9 and 12, Chef James Feddeck, who is 32, will take the lead of the OSM. He will replace Jeffrey Tate, absent for reasons of health. The program, the Britten Concerto with the soloist Mdori still be the same. Solti is a young talent, winner of the Solti laureate in 2013. He will be the youngest chief of the history of OSM to lead a « Great Concert ».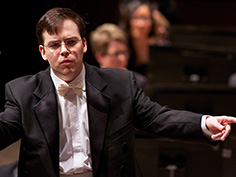 Concert to celebrate Afro-american and South-African roots
The Quebec Symphony Orchestra will give a special concert calls « Héritage de la musique Afro-américaine » on February 23, to celebrate the great composers who have Afro-American and South-african roots. The program will contain a diversity of works from Chevalier de Saint-George, Samuel Coleridge-Taylor and Duke Ellington.
24th edition of the Victoires de la musique classique
Yesterday was the 24th edition of the Victoire de la musique classique. This year, the famous German tenor Jonas Kaufmann was invited to sign on stage with the Radio France Philharmonic Orchestra.
This page is also available in / Cette page est également disponible en:

Francais (French)