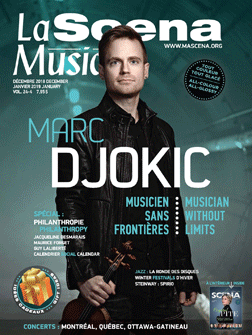 This page is also available in / Cette page est également disponible en:

Francais (French)
Salon des métiers d'art
6 au 16 décembre 2018
Réunissant 400 artisans et créateurs du Québec, le Salon des métiers d'art de Montréal se tiendra du 6 au 16 décembre à la Place Bonaventure. C'est l'occasion rêvée pour dénicher de parfaits cadeaux de Noël qui sauront plaire à vos êtres chers tout en soutenant les créateurs d'ici. www.metiersdart.ca
21C Music Festival
Jan. 16 to 20, 2019
Toronto's Royal Conservatory of Music (RCM) has moved its 21C Music Festival from May to January. "The new time-period allows us to fill a space in Toronto's cultural calendar and allows the students of The Glenn Gould School to participate more fully than ever before," says Mervon Mehta, executive director of performing arts at the RCM.
The sixth edition celebrates the American minimalist Terry Riley in three concerts, including one that he will headline, titled Terry Riley: Live at 85! "Riley has been a seminal composer and player in the contemporary music scene for decades and has influenced countless composers across many genres of music," says Mehta.
Other highlights include the Toronto Symphony Orchestra debut at the 21C Music Festival in a program that includes two world premieres (by Emilie LeBel and Stewart Goodyear), one Canadian premiere (Riley), and three Ontario premieres (Dorothy Chang, Dinuk Wijeratne, Jocelyn Morlock), conducted by Canadian conductors Tania Miller and Simon Rivard. Pianist Goodyear appears first with the TSO in the world premiere of his own piano concerto, titled Ur-, and then as a singer and pianist in a program of his own compositions and covers of rock songs. The percussion quartet Sō Percussion performs a program titled Amid the Noise consisting of Canadian premieres by celebrated jazz pianist Vijay Iyer as well as Caroline Shaw, Donnacha Dennehy, and Jason Treuting.
The festival welcomes back Continuum with a 21C AfterHours concert, featuring Wesley Shen on harpsichord and piano with the renowned Continuum Ensemble, performing one world (Monica Pearce) and two Canadian premieres (Carolyn Chen and Kati Agócs). The Esprit Orchestra Presents Constellations, which includes a world premiere (Christopher Goddard) and a Canadian premiere (Toshio Hosokawa), conducted by Alex Pauk and featuring virtuoso saxophonist Wallace Hallady. www.rcmusic.ca
Brahms and the Art of Film
Feb. 7 to 10, 2019
Kent Nagano leads the OSM in a cycle of Brahms Symphonies with a twist: four silent films and four commission works to accompany them. "That whole technology, and using the light bulb in an artistic way, was developing during the mature years of Brahms's life," Nagano has explained. The cycle, running over four days from Feb. 7 to 10 at Maison symphonique, also offers classical concertos, including Veronika Eberle in Dvořák's Violin Concerto and Rudolf Buchminder in Beethoven's Piano Conceto No. 4. www.osm.ca
Festival Art Souterrain
2 au 24 mars 2019
Le Festival Art Souterrain présentera sa 11e édition dans le réseau piétonnier souterrain de Montréal sous le thème Le vrai du faux. Le festival propose un parcours gratuit et éclectique allant de la vidéo à la sculpture, en passant par la photographie et l'art performatif. C'est un événement unique en Amérique du Nord qui permet de découvrir Montréal sous un angle nouveau; le thème de cette édition questionnera le sens du travail dans nos vies. www.artsouterrain.com
This page is also available in / Cette page est également disponible en:

Francais (French)