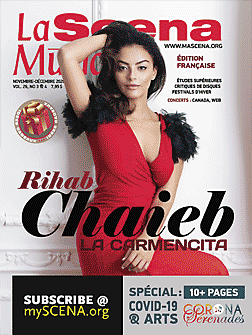 This page is also available in / Cette page est également disponible en:

Francais (French)
While most of the musical world has been at a standstill since March, Marc Boucher has not been short of projects.
On the musical scene for more than 25 years and with several recordings to his credit, he founded Festival Classica in Saint-Lambert nearly 10 years ago. Hailed by the international press, the festival has quickly become one of Quebec's staple musical events of the year. 
Advertisement / Publicité
Now he is tackling a new project: leconcertbleu.com. This new digital platform, put forward by Festival Classica, will be developed in collaboration with the Quebec digital transformation firm ellicom/LCI LX.
"We have been thinking about this project for two or three years now, however it was definitely propelled by the pandemic," Boucher says. "Within six months we developed it by exploring all the aspects of a platform like this one and by studying other existing platforms. Ours is a social economy project for the classical music community. The aim is to create wealth and income for artists and organizations in Quebec."
The concept is simple: musicians subscribe to the platform for an annual fee, which is expected to be around $100, create a channel where they upload their content – a recital, for example – which they are responsible for producing themselves. Once the content is uploaded, it is made available to its users who can enjoy it in the comfort of their own homes. Seventy percent of the monetization of the content, calculated by the number of views, will go directly to the artists. 
"We have to find a way to go back to concerts, of course while respecting public health guidelines, and above all put content online," Boucher says. "It will become a new way of consuming music which will be complementary to live concerts. What we need to do right now is stop dumping our content on platforms that devalue artistic products."
Today, streaming services do not allow artists to make a living. Last year, Geneviève Côté, SOCAN's head of Quebec affairs and visual arts, revealed that for every 1 million streams on Spotify, only $5,000 was generated as revenue to be shared between the distributor, the record company and the artists. As streams in classical music aren't counted in millions, this new concept will allow Quebec musicians to enjoy a new way to gain exposure while providing them with a new source of income. 
The platform will also give people in remote regions access to high-quality artistic products while also allowing them to discover Quebec artists from all around the province. Le Concert Bleu also plans to partner with different regions to offer, for example, a gourmet basket of local products coupled with a musical offering online.
Boucher is also behind another project made possible, or at least facilitated, by the pandemic: a complete recording of Jules Massenet's songs. The composer, best known for his grand operas, is the author of at least 317 mélodies, which makes him the most prolific composer of the genre. Marie-Nicole Lemieux, Karina Gauvin, Michèle Losier, Julie Boulianne, Magali Simard-Galdès, Anna-Sophie Neher, Florence Bourget, Frédéric Antoun, Étienne Dupuis, Philippe Sly, Antonio Figueroa, Joé Lampron-Dandonneau and Boucher himself will share the duties, accompanied by Olivier Godin, playing on an Érard concert grand piano dating from 1854. 
"This is another opportunity that the pandemic is offering us because most of the artists involved in the project would otherwise have been abroad," Boucher observes. "The current situation will allow us to record about 200 mélodies by December and we expect to finish the recording in the spring."
Despite his enthusiasm for the projects he is currently developing, Marc Boucher hopes that the pandemic will have the effect of reforming the field of classical music in Quebec. 
"The pandemic has shown us just how fragile our field is," Boucher says. "The classical music industry was not prepared to face this kind of crisis, just like many other industries. In Canada, nearly all musicians are freelancers. This pandemic reveals how there really is no protection system, no safety net for self-employed workers. The entire artistic community in Quebec is at risk of having to find another job, unrelated to its field of study and profession.
"This is a great tragedy because the government invests large sums of money in education to train musicians. In France and Germany there are systems in place to protect them. There needs to be a reform of the status of artists, especially in situations of crisis."
The 2020 edition of Festival Classica, initially scheduled for last spring, will be held in December. Despite the 35 cancelled concerts, Marc Boucher was adamant about offering a virtual version of the festival. Fifteen concerts will be broadcast from Dec. 10 to 20 on leconcertbleu.com, which will inaugurate the new platform.
For more information, please visit www.festivalclassica.com.
This page is also available in / Cette page est également disponible en:

Francais (French)