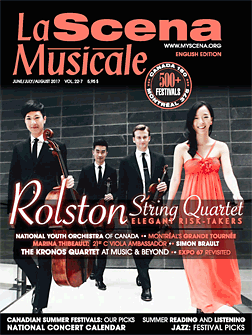 This page is also available in / Cette page est également disponible en:

Francais (French)
Montrealers have almost certainly heard of the Grande tournée, brainchild of Cirque Éloize. This innovative, festive project celebrating Montreal's boroughs is free and aimed at all ages. For 19 weekends, the Grande Tournée brings Montreal's parks and alleyways alive with circus performers, ­magicians and local artists. Jean-Philippe LaCouture, event director and producer for Cirque Éloize and Maxim Bonin of Les Chats de Ruelle ("alley cats") tell us how it all came together.
"The commission in charge of Montreal's 375th anniversary celebrations has a mandate to highlight Montreal talent, and they suggested a project that wasn't the one we submitted, but one that was far more ambitious; they wanted us to provide artistic direction and make sure everything ran smoothly," explains LaCouture. Cirque Éloize had already coordinated large-scale projects abroad and was waiting for a chance to showcase their skills in Quebec. LaCouture mentions a launch in Dubai and a Christmas show for 20,000 people that was a great success at the Tignes ski resort in the Maritime Alps. He continues, "The key is versatility. Cirque Éloize is versatile enough to adapt to small and large spaces." The Montreal company is careful to preserve the poetry of street performance, which has become their hallmark. Each weekend, the Grande Tournée will visit a different park, so that, as LaCouture points out, Cirque Éloize will be on a sort of mini-tour, showcasing what its artists have been perfecting over the years. He adds, "I know it's not literally street theatre with a hat being passed round, but it's like a village fair for modern times, and it captures the essence of the circus, which is what we love about it." Each weekend, the park will host storytellers, musicians and performers with games and activities.
Advertisement / Publicité
Love letters to the future
Cirque Éloize's evening show The Magic Hour takes place Saturdays at sundown. Dressed in ordinary clothes, the performers seem like passers-by, while the music recalls well-known Montreal songs to create a feeling of warmth and familiarity. It's also a chance to see the Cyr wheel, which was invented by Daniel Cyr and helped make Cirque Éloize famous throughout the world. Eight artists will dance and perform different circus acts including trapeze, hula-hoop and juggling. They'll perform a play ­involving letters of love and friendship. Finally, a postcard lands at the main character's feet, a moving love letter written in Montreal 25 years hence. As the play continues, other letters from Montreal mysteriously emerge, expressing ­affection in different ways and providing the impetus for a touching acrobatic performance. www.cirque-eloize.com
In a similar vein, the interdisciplinary ­organization Comptoir public, which mingles performance art, visual arts and installation design, contributed the idea of Les Postes du futur, a sort of mail service for the future, whereby 38 Montreal artists design postcards intended for delivery in 25 years, in time for the city's 400th. Dressed by internationally-renowned Montreal couturier Rad Hourani, the post office workers of the future meet ­audiences each weekend in a quiet corner of the park. The participants write a message on a postcard addressed to the person or institution of their choice. The cards will be kept at the Pointe-à-Callière museum until 2042. Les Postes du futur is a playful project with an all-ages appeal. It celebrates humanity and encourages those chance meetings that are part of Montreal's DNA. www.comptoirpublic.com
Up and down the alleys
The Grande Tournée encourages Montrealers to retake possession of their city and their neighbourhoods. So the cooperative Le Comité seized the opportunity to give us Chats de ruelle, which aims to showcase the urban heritage of the alleys. Founding member Maxim Bonin explains that the initiative was largely drawn from Instant City, the best-known project by Archigram, a London architects' collective of the 1960s avant-garde. The idea was to create the event and then disappear, giving the project an immediacy and a temporal aspect. Bonin, who is also is also ­inspired by the alley cats that prowl the back streets, explains: "It's all about looking to the future and keeping the lanes alive, nurturing the positive initiatives that already exist and getting more people involved, especially those who seem a bit hesitant."
Le Comité talks of the cultural and urban heritage of the alleys. They're a place of transit that become a place of meeting, where locals can talk, play, celebrate – and make plans! Urban agriculture workshops are offered each weekend, promoting biodiversity, enhancing what's already there and improving the urban environment. There'll also be science workshops given in collaboration with the Eureka! Festival, and wandering musicians will create a festive vibe. "The alleys aren't unique to Montreal, but the local residents' appropriation of them certainly is," says Bonin cheerfully.
The Grande Tournée has a multitude of events to choose from, including an exhibition of historical photographs by the McCord ­Museum, short films by Wapikoni Mobile, and a huge selection of gastronomic delights provided by local restauranteurs. However, since everything takes place outdoors, audiences are asked to be flexible, because events might be cancelled due to rain. It depends how much it rains, but the safety of both artists and ­spectators is paramount, say Bonin and LaCouture. So enjoy the summer and long live the Grande Tournée! www.375mtl.com 
Translation: Cecilia Grayson
This page is also available in / Cette page est également disponible en:

Francais (French)