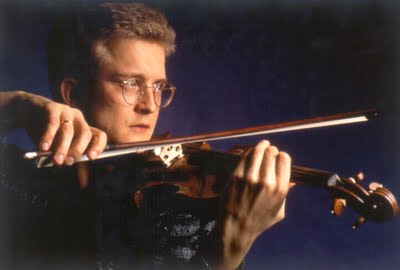 The prodigious German violinist Christian Tetzlaff makes his debut with the OSM on March 15 and 16 in a performance of Tchaikovsky's
Violin Concerto
. This concert will feature the renowned conducting skills of Sir Andrew Davis, who will also lead the orchestra in performances of Debussy's
Prélude à l'après-midi d'un faune
and Elgar's first symphony. (www.osm.ca, 514-842-2112) – Hannah Rahimi
The Molinari Quartet celebrates the Russian composer Alfred Schnittke with a series of lectures and performances at the Conservatoire de musique de Montréal. On March 17, 18, and 19, audiences can attend free lectures at 5 p.m. Each evening at 8 p.m. various Schnittke quartets will be performed (tickets are $5). The series culminates in a marathon concert on March 20 with performances of all four string quartets,
In memoriam Igor Stravinsky for quartet
, and the piano quintet with guest Louise Bessette. (www.quatuormolinari.qc.ca, 514-527-5515) – Hannah Rahimi
Pour clore la saison de leur 40e anniversaire, l'ensemble de musique de chambre Musica Camerata de Montréal présente Les Russes et le klezmer, comprenant deux œuvres pour clarinette, violoncelle et piano : le
Trio Pathétique
de Glinka et
Les Noces du Klezmer
de Srul I. Glick. Une première canadienne terminera le programme: un
Quintette pour piano et quatuor à cordes
de Sergey Taneyev. Le concert aura lieu le 20 mars à 20 h – et
non en avril, comme indiqué au dépliant – à la salle Redpath de l'Université McGill. (514-489-8713, www.camerata.ca) – Renée Banville
Polyphonie européenne et musique traditionnelle latine, c'est ce métissage unique que présente le samedi 20 mars à 20 h l'Ensemble Caprice dans la Salsa baroque sous l'habile direction du flûtiste Matthias Maute. Reconnu sur la scène internationale, l'ensemble instrumental est récipiendaire avec le SMAM du prix Opus
« Concert de l'année – Musiques médiévale, de la renaissance, baroque » et d'un prix Juno « Meilleur album de musique classique – Catégorie musique vocale ou chorale ». (Chapelle Notre-Dame-de-
Le dimanche 21 mars à 19 h 30, le Studio de musique ancienne de Montréal (SMAM), aussi lauréat aux prix
Opus, présente un concert avec les Voix Humaines. Intitulé
La Traversée de la Manche
, le programme comprend des oœuvres pour voix et violes signées Gibbons, Jenkins, du Caurroy, Lejeune et Bouzignac. Les oeuvres choisies démontreront ce qui se faisait de mieux autour de 1600 des deux côtés de la Manche, dans le domaine tant sacré que profane. (Église Saint-Léon-de-Westmount. 514-861-2626, www.smam-montreal.com) – Renée Banville
Le dimanche 21 mars à 15h30, la Chapelle est heureuse d'accueillir pour la première fois le pianiste belge de réputation internationale Olivier de Spiegeler. Encensé pour son jeu d'une grande clarté au timbre subtil et au toucher délicat, le pianiste interprète des œuvres de Schumann, Frank et Chopin. (Chapelle Historique du Bon-Pasteur, 514-872-5338) – Renée Banville
Jazz
Amateurs de musiques improvisées, prenez

note ! Le mardi 16, la série hebdomadaire Les Mardis Spaghetti met sa main aux pâtes (sic) avec son Marathon Macaroni, soit 14 heures ininterrompues de musiques créatives tous azimuts, et ce, dès 10 h le matin. Plus d'une cinquantaine de prestations défileront sur la petite scène du Cagibi (5490, boulevard Saint-Laurent, angle Saint-Viateur) avec des participants d'ici et d'ailleurs (Canada, É-U. et Europe).
Mar. 16
* Le marathon Macaroni. La série hebdomadaire de musiques improvisées Les mardis Spaghetti f
ê
te ses deux ans au Cagibi de 10 h à minuit. [Programmation en ligne : www.myspace.com/mardispaghetti.]
* Jean-Nicholas Trottier Big Band. Maison de la culture Mercier. [872-8755] 20 h
Mer. 17
* Quartette du tromboniste Jean-Nicholas Trottier. (Lancement du disque sur Étiquette Effendi.) Upstairs Jazz Bar. 20 h 30 (En reprise, le 24 au même endroit.)
Jeu 18
* Quartette du batteur Simon Delage. Jazz Club Restaurant Dièse onze. 20 h 30
Mar. 23
* Le guitariste Larry Coryell et son ensemble. L'Astral. 20 h
Arts visuels / Visual Arts
LE VERRE SELON TIFFANY. LA COULEUR EN FUSION
Musée des beaux-arts de Montréal, jusqu'au 2 mai 2010
Theatre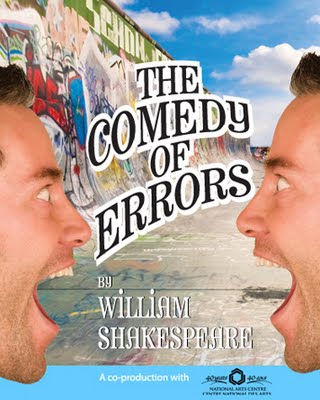 The
Centaur
follows up with
The Comedy of Errors
, a co-production with the National Arts Centre. Inspired by Montreal's crazed festival season, the play provides a modern look at one of Shakespeare's earliest and most comedic plays. It tells the story of a family divided by business. Two sets of twins, separated for 33 years, suddenly find themselves in the bustling city of Ephesus. Needless to say, mass confusion and hilarious accidents ensue, including mistaken identities, infidelities and wrongful beatings. Yet, the family is reunited through love in the end, and establishes a richer and deeper bond than ever before. The Comedy of Errors runs from
March 2nd to the 28th
. – Jessica Hill
Theatre:
In March at the
Segal
, a co-production with Théâtre du Rideau-Vert brings us
Old Wicked Songs
, the story of a young American piano prodigy and his teacher. The young virtuoso, hoping to re-ignite his artistic spark, ventures to Vienna. However, he ends up colliding with his Viennese music teacher instead. Separated by their experiences, their ideas and their generations, it is their mutual love for music that becomes the one bond strong enough to bridge the gap. Robert Schumann's songs are woven throughout the play as past and present confront each other through these two men.
Theatre:
Infinitheatre
presents
Fatherland
during the month of March. It tells the story of a quiet Westmount family that finds its sheltered world shattered one Sunday morning. A young boy is busy writing an essay about Saddam Hussein's two sons and the aftermath of the American invasion, when his uncle lets slip to his father that he owes money to a mobster and that the mobster is on his way over to collect. Outrage, desperation and tumult arise, leading the boy to draw parallels between Saddam's sons and his own father and uncle: brothers trapped in an opulent house while a mortal enemy draws near. Fatherland explores the power of blood ties and the mutual debt owed between sons and fathers
– Jessica Hill

EXCUSE-MOI.
L'auteur de la télésérie
Aveux
n'a plus besoin de prouver sa maïtrise du suspense, son don pour faire vivre avec sensibilité les personnages de gens ordinaires qui cachent de douloureux secrets. Dans cette nouvelle pièce attendue, Serge Boucher ramène le protagoniste de
24 Poses
et
Là
, François, confronté ici à deux épisodes charnières de la vie de ses parents.
Jusqu'au 27 mars, au Théâtre Jean-Duceppe
HUIS CLOS. On n'a plus guère l'occasion, à Montréal, de voir sur scène le théâtre de Jean-Paul Sartre. Quelle résonance aura aujourd'hui l'impitoyable – et la plus célèbre – pièce du philosophe existentialiste, créée en 1944 ? L'infernal trio condamné à passer l'éternité à se faire souffrir prend ici les visages de Pascale Bussières, Patrice Robitaille et Julie Le Breton. Jusqu'au 3 avril, au Théâtre du Nouveau Monde
Danse / Dance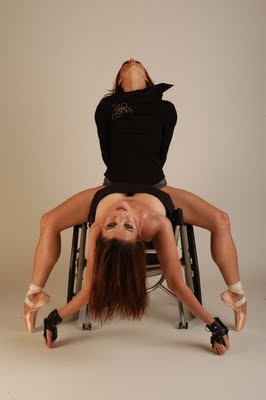 Jusqu'au 21
, Tangente y va d'une
programmation tous azimuts avec, notamment
Caroline Dubois
,
Andrew Turner
et
Isabel Mohn
. Du
5 au 20
,
Paula de Vasconcelos
revient séduire avec sa dansethéâtre en racontant l'histoire de la découverte de la route des Indes dans
Boa Goa
.
La danseuse
tétraplégique
France Geoffroy (voir le photo)
se produit quant à elle au Monument national du
17 au 27
, dans une chorégraphie d'
Estelle Clareton
précédée d'une pièce de hip hop. Du
18 au 27
, les
GBCM
nous offrent un programme triple de pièces de
Jiri Kylian
alors qu'
Harold Rhéaume
se déplace de Québec pour mettre son âme à
Nu
sur la scène de l'Agora.
Organisé par
le Studio 303, le Festival Edgy Women s'invite à Tangente du
20 au 28
pour son volet danse et c'est avec du flamenco contemporain que mars rejoint avril.