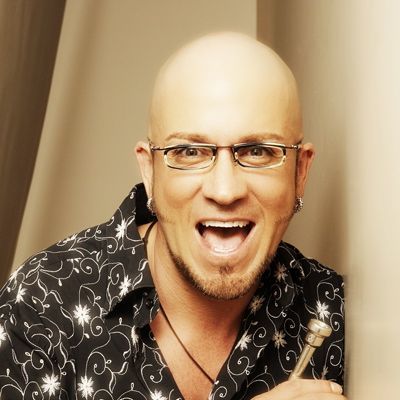 Canadian trumpet virtuoso Guy Few (pictured to the left) joins the Orchestre symphonique de Montréal on April 7 to perform a concerto for trumpet and orchestra by the renowned and recently deceased Jacques Hétu. Under the baton of assistant conductor Nathan Brock, the orchestra performs works that include Mendelssohn's Symphony No. 1 and Smetana's The Moldau. 514-842-2112, www.osm.ca — Hannah Rahimi

The Trio Fibonacci presents its final concert of the season on April 9 at the Chapelle Saint-Louis. Audiences can experience the wide range of compositions for string trio with a varied programme that begins with Haydn and concludes with Beethoven's Archduke Trio. Also included are two contemporary works: Jean Lesage's Chopinade for cello and piano, marking Chopin's 200th anniversary, and the Albertan composer Allan Gordon Bell's Phénomènes. 514-270-7382, www.triofibonacci.com — Hannah Rahimi

Le dernier concert de l'Ensemble Magellan, dans le cadre de sa résidence à la Chapelle, aura lieu le dimanche 11 avril à 15 h 30. Composé du violoniste Olivier Thouin, de l'altiste Yukari Cousineau, du violoncelliste Yégor Dyachkov et du pianiste Jean Saulnier, le quatuor nous propose des œuvres de Mozart, Brahms et Cléo Palacio-Quintin. 514-872-5338 — Renée Banville

The Matsu Také Ensemble, the only ensemble of traditional Japanese chamber music in Montreal, presents Le souffle du bambou at Le Rendez-Vous du Thé on April 15. The ensemble performs Zen Buddhist works on traditional instruments, including founders Michel Dubeau and Bruno Deschênes on the shakuhachi, a bamboo flute. For $36.95, audiences also have the choice of having dinner during the concert. 514-384-5695, www.musis.ca — Hannah Rahimi

L'Ensemble de la Société de musique contemporaine du Québec s'associe au Chœur du Studio de musique ancienne de Montréal pour présenter Les Vêpres de la Vierge de Gilles Tremblay. On entendra en plus une création de Serge Provost en hommage au compositeur. Ces œuvres contemporaines côtoient des œuvres polyphoniques sacrées du XVIe siècle. Avec la soprano Sophie Martin et Jean-Willy Kurtz à l'orgue positif. Sous la direction de Walter Boudreau et Christopher Jackson. Jeudi 15 avril à 18 h. Église de l'Immaculée Conception, 514-843-9305, www.smcq.qc.ca — Renée Banville

Un forum réunira diverses personnalités du milieu musical pour discuter des « musiques du monde ». Le premier volet, le jeudi 15 avril à 19 h 30, est consacré aux définitions de ces musiques variées, des croyances et des préjugés associés, ainsi que des éléments communs que l'on peut en dégager. Y participeront : Yves Bernard, journaliste au Devoir, chroniqueur, auteur, animateur et spécialiste des musiques du monde; Ralf Boncy, chroniqueur et auteur dédié aux musiques du monde et animateur-programmateur à Espace Musique; Patrick Darby, fondateur et directeur artistique de Tracquen'art et de Cross Current Music; Monique Desroches, titulaire d'ethnomusicologie à la faculté de musique de l'Université de Montréal; Liette Gauthier, musicienne, fondatrice/directrice artistique de MMM (1990-2009) et agente culturelle à la maison de la culture Ahuntsic – Cartierville; Sophie Laurent, auteure, ethnomusicologue, productrice et réalisatrice à CBC, Radio 2. Entrée libre.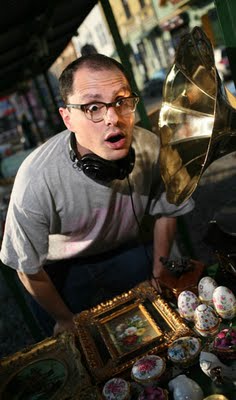 Dans la série d'événements Musiques au bout du monde qui a lieu du 13 au 17 avril, on pourra entendre les groupes suivants : Tradición flamenca, Medjim, Labess et invitées, Cabaret hip-hop Klezmer Socalled (dans le photo à gauche) et invités, Karen Young et Michel Faubert et le Trio Stéphane Tellier. Des laissez-passer sont requis pour ces spectacles. Maison de la culture Ahuntsic-Cartierville, 514-872-8749 — Renée Banville


Ven. 2, sam. 3 » Yves Léveillée (pno) invite Eri Yamamoto (pno) de New York. Jazz club, restaurant Dièse onze. [223-3543] 20 h 30
» Le Lifelines Ensemble de Christine Jensen avec invités de Toronto, Sienna Dahlin (vx.), Dave Restivo (pno), Jim Vivian (cb.) et Alissa Falk. Upstairs Jazz Bar. [931-6808] 20 h 30

Dim. 4 » de Berlin, le Gebhard Ullman Clarinet Trio. Casa del Popolo. [284-0122] 21 h

Lun. 5 » Le trio du guitariste Steve Ragele avec Adrian Vedady (cb) et Thom Gossage (btr.) Casa del Popolo. 21 h

Mar 6 » La série hebdomadaire de musiques improvisées Les mardis Spaghetti, au Cagibi. 21 h 30 [Programmation en ligne : www.myspace.com/mardispaghetti]

Mer. 7 » Trio Antoine Berthiaume (gtr.) Michel Donato (cb.) et Pierre Tanguay (btr.). Maison de la culture du Plateau-Mont-Royal. [872-5266] 20 h
» La série hebdomadaire de musiques improvisées Mercredismusics. La Casa Obscura. [Programmation en ligne : www.casaobscura.org} 21 h

Jeu. 8 » Le trio du contrebassiste Rémi-Jean Leblanc, Upstairs Jazz Bar. [931-6808] 20 h 30
» Normand Guilbeault (Artiste du mois au Dièse onze. 20 h 30 (En rappel les 15 et 22 avec invités différents à chaque semaine.)

Ven. 9 » Le quartette du saxophoniste ténor Al McLean. Dièse onze. 20 h 30

Ven. 9, sam. 10 » De New York, le trio du pianiste John Stetch. Upstairs Jazz Bar. 20 h 30

Sam. 10 » Trio Yannick Rieu, Adrian Vedady et John Fraboni. Dièse onze. 20 h 30

Mar. 13 » Lancement du disque du guitariste Stéfane Carreau (anciennement du duo Bet & Stef). Upstairs Jazz Bar.

Mer. 14, jeu. 15 » Le trio de contrebasses de Jean-Rémi Leblanc. Upstairs Jazz Bar. 20 h 30

Ven 16 » Quartette du contrebassiste Dave Watts, avec Julie Lamontagne (pno), Dave Mossing (trpt.) et Richard Irwin (btr.) Dièse onze. 20 h 30

Ven. 16, sam. 17 » Le quartette du bassiste Fraser Hollins avec Joel Miller (saxo ténor) et invités spéciaux de New York, le batteur Brian Blade et le pianiste John Cowherd. Upstairs Jazz Bar. Spectacles à 19 h 30 et 22 h 30. (Réservations recommandées.)

Sam. 17 » Trio des guitaristes Thomas Carbou, Jocelyn Tellier et Joe Grass. Dièse onze. 20 h 30

— Marc Chénard

Arts visuels / Visual Arts

DHC/ART jusqu'au 9 mai : La cinéaste, photographe et vidéaste finlandaise Eija-Liisa Ahtila, reconnue pour ses récits complexes à écrans multiples, est en vedette au DHC/ART. INT. STAGE-DAY (INT.SCÈNE-JOUR), dont le titre fait directement référence aux indications spatiotemporelles apparaissant en tête de chaque scène d'un scénario, est la plus grande exposition de l'artiste présentée à l'extérieur de l'Europe.

Le Musée d'art contemporain de Montréal expose actuellement trois artistes canadiens : Marcel Dzama, artiste multidisciplinaire originaire de Winnipeg qui vit à New York depuis 2004; l'artiste montréalais Etienne Zack; et Luanne Martineau, née à Saskatoon, professeure adjointe en théorie et dessin à l'Université de Victoria (Colombie-Britannique).

Aux mille tours (Of Many Turns) est la plus grande exposition solo de Marcel Dzama jamais présentée dans un musée. Son plus récent travail mise sur des thèmes qui lui sont chers et qui caractérisent son œuvre : la nostalgie, les débuts du modernisme, les rapports entre l'ironie et le cynisme, la politique et la subjectivité.

Après avoir brièvement fréquenté l'Université Concordia, l'artiste montréalais Etienne Zack a étudié au Emily Carr Institute of Art & Design de Vancouver. Lauréat national du Concours de peinture canadienne RBC en 2005, il a aussi été lauréat du prix Pierre-Ayot en 2008, année où son travail s'est vu présenté au Musée d'art contemporain de Montréal dans le cadre de la Triennale québécoise. L'exposition Etienne Zack rend hommage à son œuvre réalisée au cours des six dernières années. Outre la présentation d'une vingtaine de tableaux, l'exposition présente deux nouvelles œuvres créées spécialement pour cet événement.

Le processus créatif de Luanne Martineau, qui s'inscrit dans la lignée des artistes féminines et féministes des années 1960, s'appuie sur l'utilisation des techniques d'artisanat et l'exploration des matériaux traditionnels, à l'image de ses étonnantes sculptures de feutre et de laine dont la complexité visuelle et matérielle rend impossible une description juste et adéquate.

Musée d'art contemporain, jusqu'au 25 avril 2010.

— Julie Beaulieu


Festival Vue sur la relève. Depuis 15 ans, cet événement propose un panorama d'une composante essentielle de notre culture : la nouvelle génération d'artistes. Plusieurs jeunes créateurs issus de diverses disciplines (chanson, théâtre, cirque, danse) s'y produisent dans une cinquantaine de spectacles. Le festival comporte même un volet international, accueillant des artistes canadiens, français, américains ou originaires des îles de la Réunion et de la Guadeloupe. Du 1er au 17 avril, au Lion d'Or, National, Divan Orange, Cabaret La Tulipe et à la Maison de la culture Frontenac

La Fin. La plus récente création du Nouveau Théâtre Expérimental s'intéresse à un sujet fort actuel dans notre monde en mutation : notre obsession pour l'apocalypse et, plus généralement, la fin des choses. Avec Alexis Martin et Daniel Brière aux commandes de ce spectacle à sketches, l'intelligence et l'humour devraient être au rendez-vous. Du 30 mars au 24 avril, à l'Espace libre

Trans(e). Deux éléments allument notre intérêt ici : le thème de l'œuvre, la transexualité, rarement exploré sur nos scènes, et son créateur, Christian Lapointe (Limbes), qui pratique un théâtre exigeant très remarqué ces dernières années. L'auteur, metteur en scène et interprète qualifie sa pièce de « tragédie "futuriste" sous forme de poème incantatoire ». Intriguant. Du 6 au 10 avril, à la salle Jean-Claude-Germain du Théâtre d'Aujourd'hui

— Marie Labreque


Red Noses, the D.B. Clarke Theatre's offering, has been called the funniest play about the Black Plague ever written. We follow a priest in 14th century France who is convinced that God wants him to help people through laughter rather than through prayers and sermons. He assembles a bizarre troupe of clowns, including a blind juggler, a mute poet, two one-legged dancers and a stand-up comedian with a serious speech impediment, and travels through plague-affected villages attempting to make people laugh. Red Noses runs from April 15th to the 18th.

— Jessica Hill


Le 1er marque le commencement d'un mois très chargé dans les salles du réseau Accès Culture où de nombreux spectacles sont gratuits. Ce jour-là, Mélanie Demers et Laïla Dialo redonnent le percutant Sauver sa peau, Katy Ward et Thea Patterson reviennent avec Man and Mouse, inspiré de Steinbeck, Sonya Stefan et Yves St-Pierre reprennent leur savoureux panorama sur divers styles de danse dans Sonya et Yves (aussi les 26 et 27) et Les Printemps de la danse donnent leur coup d'envoi. On y verra des extraits du drôlissime Duet for one plus digressions d'Andrew Turner, du trio post-féministe humoristique The Shallow End d'Erin Flynn ainsi que Sax Addict où Yaëlle Azoulay ne dévoile que les jambes de ses danseurs de gigue. Ce programme sera représenté aussi les 8, 9, 10 et 21. Élodie Lombardo démystifie la mort les 7, 9 et 10 en réunissant humour et drame dans le remuant Ganas de vivir, Ismaël Mouaraki passe par le hip-hop contemporain le 9 pour évoquer l'évolution de l'humanité dans Futur proche.

Hors réseau, le mois est aussi très riche. Avec El 12, Myriam Allard et Hedi «el moro» Graja actualisent le flamenco avec audace à la Cinquième Salle jusqu'au 13. Le 6, Aline Apostolska poursuit ses grands entretiens avec Hélène Blackburn à l'Agora tandis que Virginie Brunelle y va de Foutrement, une étude sur l'adultère, au Théâtre La Chapelle du 6 au 10. Du 7 au 11, les Brésiliens de Grupo Corpo investissent le Théâtre Maisonneuve avec deux œuvres aussi dynamiques que contrastées et l'Usine C nous donne à découvrir la danse-théâtre du Nature Theater of Oklahoma du 15 au 17.

— Fabienne Cabado