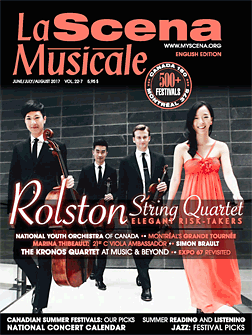 Advertisement / Publicité
This page is also available in / Cette page est également disponible en:

Francais (French)
Wiikondiwin, meaning feasting or feast, is the title of Odawa composer Barbara Croall's latest project, a commission by the Highlands Opera Studio in partnership with the Atelier Lyrique de L'Opera de Montreal. Valerie Kuinka, general director of the Highlands Opera Studio, approached Croall a number of years ago about the possibility of commissioning an opera. With funding from Canadian Heritage and the Canada Council for the Arts: New Chapter associated with Canada's Sesquicentennial, this year was an opportune time to pursue the project. It will be presented for the first time this August in a semi-staged performance.
There is a very strong environmentalist core to the opera. Croall, who studied composition at the University of Toronto, Glenn Gould School, and the Hochschule für Musik in Munich, also works as an outdoor environmental educator rooted in traditional Anishinaabeg teachings. "I'm outside a lot of the time and that's where I get many of my ideas," says Croall.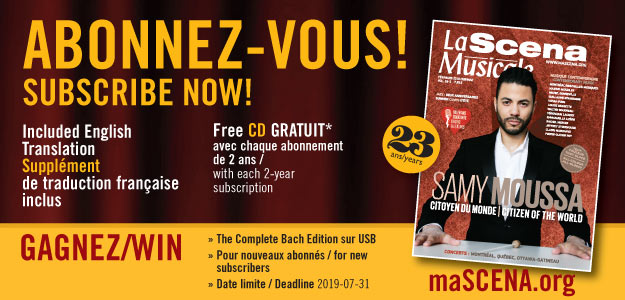 "I wanted to create an opera that was really timely. I think when you work with the environment so closely and witness what's going on, it's really worrying," she explains. "Opera is such a powerful medium for sharing an important message – not in a preachy way – but to make people feel something deeply so that they care about it."
"The underlying theme of this opera is a reminder that all of the creatures out there, everything in creation, was here before you came along. We have a responsibility to take care of it, we depend on it."
The opera, scored for soprano (Adanya Dunn), baritone (Samuel Chan), and three First Nations actors and musicians (Rod Nettagog, Bradley Nettagog, and Croall herself), is in English, Metis French, and Odawa, a dialect of Anishinaabemowin. "Our language is great to work with musically because of the vowel sounds and the types of consonants. It's very sound-meaning based; a lot of the words almost describe what you're saying," says Croall. "I create my own songs, I don't use other people's, and I certainly don't use ceremonial music. Following cultural protocols is always very important to me."
Narratively, Wiikondiwin is heavily influenced by the concept of dreamtime.  "A lot of my works tend to be circular in form and open-ended and a lot of my way of thinking – and I've done this in other theatre projects too – is to create a circularity of time," says Croall. "There are aspects of time-work and time-travel that are really important. And which also, coincidentally, fit the theme of what has happened in Canada over the past 150 years: where are we at now, where did we come from?"
Wiikondiwin will be presented in a semi-staged workshop performance on August 19, 8PM, Northern Lights Performing Arts Pavillion, Haliburton ON. For more information, visit www.highlandsoperastudio.com or www.barbaracroall.ca.
For the full conversation with Barbara Croall on environmentalism, gender, language, creativity, and cultural appropriation, visit www.myscena.ca
This page is also available in / Cette page est également disponible en:

Francais (French)