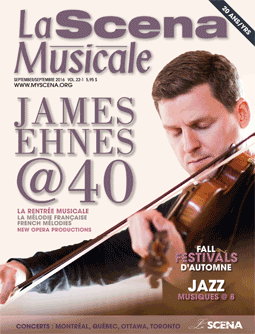 This page is also available in / Cette page est également disponible en:

Francais (French)
The 2017–18 season is shaping up to be a milestone for new opera productions by Canadian companies. In celebration of the country's 150th birthday, several works with Canadian themes will get their world premieres in Calgary, Montreal, and Toronto. Furthermore, Vancouver Opera has a watershed season with the inaugural year of the Vancouver Opera Festival. If you missed its triumphant opening run in Montreal last spring, Opéra de Montreal's production of Les Feluettes (Lilies) travels to Pacific Opera Victoria this April.
---
The Lost Operas of Mozart
City Opera of Vancouver, 27 to 29 October, 2016
It's a little-known fact that Mozart abandoned three operas in his early twenties. In this Canadian premiere, City Opera Vancouver will present the excerpts – 40 minutes of L'Oca del Cairo (1783), 20 minutes of Lo sposo deluso (1783–4), and the first two surviving acts of Zaïde (1780), a German-language Singspiel – recombined into one cohesive story. "[These are] ghosts," explains Artistic Director Charles Barber, "The lost souls that would have come to life 200 years ago if Mozart had finished his work. For two centuries they have been deprived of audiences." The Lost Operas of Mozart gives us the chance to experience Mozart's genius anew. "After all," says Barber, "How often do we get to attend a Mozart premiere?" www.cityoperavancouver.com
Macbeth
Vancouver Opera, January 16 to 21, 2017
Presented in collaboration with Vancouver's PuSh International Performing Arts Festival and IL CENTRO Italian Cultural Centre, Vancouver Opera is proud to bring director Brett Bailey's acclaimed production of Verdi's Macbeth to the Canadian stage. Produced by Bailey's South African company Third World Bunfight, this rendition of Shakespeare's classic set in the Democratic Republic of Congo explores themes of greed and colonialism through the ongoing conflicts between multinational corporations and corrupt governments. With Owen Metsileng as Macbeth and Nobulumko Mngxekeza as Lady Macbeth. www.vancouveropera.ca, www.pushfestival.ca
Filumena
Calgary Opera, February 4 to 10, 2017
For Canada's 150th, Calgary Opera is bringing a piece of Alberta's history to the stage. ­Filumena tells the story of Filumena Costanzo Lassandro, an Italian immigrant who was the last woman to be executed in Alberta for her criminal activity as a bootlegger. Co-commissioned and produced with The Banff Centre in 2003, with this new production, Filumena is now the most frequently produced Canadian grand opera. Starring soprano Lida Szkwarek as the title character and baritone Gregory Dahl as Emilio Picariello. www.calgaryopera.com
Another Brick in the Wall
Opéra de Montréal, March 11 to 24, 2017
By virtue of Montreal's 375th birthday coinciding with Canada's 150th, the city will come alive with various artistic tributes. Opéra de Montréal's March production, Another Brick in the Wall, also corresponds with the 40th anniversary of the 1976 Montreal games, in that Pink Floyd's Roger Water conceived the idea of the opera after a 1977 concert at Montreal's Olympic Stadium.
The conceptual 1979 English rock album and 1982 film The Wall are inspired by Water's life, notably his feelings of isolation post-WWII. The libretto is written in English by Waters, with the music by Quebec composer Julien Bilodeau; Another Brick in the Wall is the first opera for both. This world premiere has a strong Canadian artistic backbone with Stage Director Dominic Champagne and Conductor Alain Trudel. Baritone Étienne Dupuis stars. www.operademontreal.com
Louis Riel
Canadian Opera Company, April 20 to May 13, 2017
A co-production with Canada's National Arts Centre, Harry Somers's Louis Riel returns to the Canadian Opera Company. The work, originally produced by the COC for Canada's Centennial in 1967, is likely Canada's most famous opera and has been enjoyed beyond our borders several times throughout its 50-year history, most notably at the Kennedy Center in Washington D.C. in 1975 as Canada's contribution to the U.S. bicentennial celebrations.
Sung in English, French, and Cree, Louis Riel depicts the struggle of the titular character during the First Nations and Métis Red River (1869–70) and North-West (1884–5) Rebellions, while raising questions about his reputation in Canadian history. The new production boasts a strong Canadian cast, including lyric baritone Russell Braun as Riel, baritone James Westman as Sir John A. Macdonald, soprano Simone Osborne as Marguerite Riel, and mezzo-soprano Allyson McHardy as Julie Riel. Conducted by Johannes Debus and directed by Peter Hinton. www.coc.ca
Vancouver Opera Festival
April 28 to May 18, 2017
This year, Vancouver Opera is trying out a festival model, condensing most of their programming into a three-week period in hopes of appealing to a global audience by taking advantage of Vancouver's status as a destination city. The Festival will feature three new productions spread between the Queen Elizabeth Theatre and the Vancouver Playhouse. The first is a production of Verdi's Otello designed by Erhard Rom. Running simultaneously is Jake Heggie's Dead Man Walking, a contemporary opera based on the Sister Helen Prejean's biographical book about her work ministering to men on death row in Louisiana. This new production, directed by lionized maverick Joel Ivany, will feature Canadian bass-baritone Daniel Okulitch as Joseph De Rocher, American mezzo-soprano J'nai Bridges as Prejean, and Canadian mezzo-soprano Judith Forst as Mrs. Patrick De Rocher. The festival closes with an intimate production Mozart's The Marriage of Figaro directed by Rachel Peake and conducted by Leslie Dala. www.vancouveropera.ca
This page is also available in / Cette page est également disponible en:

Francais (French)