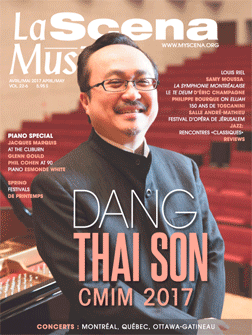 This page is also available in / Cette page est également disponible en:

Francais (French)
"After this, what is left for us to write?"

—Franz Schubert after hearing Beethoven's late String Quartet No. 14, Op. 131
This year at the Montreal Chamber Music Festival, the Dover Quartet will be in residence to play the complete cycle of Beethoven's 16 String Quartets and the Große Fuge Op. 133. Winners of the first prize at the 2013 Banff International String Quartet Competition (BISQC), this youthful US-based quartet recently won Avery Fisher Career Grant, the highest honour for performers at this stage of their career.
The Dover Quartet—comprised of violinists Joel Link and Bryan Lee, violist Milena Pajaro-van de Stadt, and cellist Camden Shaw—first caught the eye of the festival's Founder and Artistic Director Denis Brott at the BISQC. "The year that they won the first prize in the competition, I gave a lecture on Beethoven called 'The Emotional Language of Beethoven,'" says Brott. "I had heard the quartet during the week and I was overwhelmed by their playing." In fact, that year they swept every special prize category as well, including the Schubert, Haydn, and Canadian commission awards.
Brott developed a friendly and collegial ­relationship with the quartet, advocating on their behalf and offering them opportunities to play. He only has the highest words of praise for the group: "They are clearly the leading quartet of their generation. Many people are talking about them in the same breath as the Guarneri and Amadeus Quartets in terms of their refinement."
It was actually Brott who suggested the idea of the group's first Beethoven cycle several years ago, though by the time that they land in Montreal in mid-May, it will already be their third cycle of this red-letter season. "Any quartet that's worth their salt plays the ­complete Beethoven cycle," says Brott. "It's the meat and potatoes of any string quartet because it represents the effigy of quartet writing. No other composer has written as many great works for string quartet as Beethoven."
Straddling the divide between the Classical and Romantic periods of Western Art Music, Beethoven is the archetype for how we understand the act of musical composition as the personal expression of an artist. "He literally indicated in the music how you should feel when you play it, which is what distinguishes Beethoven from all of his predecessors. There are many, many examples of when he included a descriptive emotional quotient in the music," explains Brott. "However, it's not only the writing, but the concept that the music he was writing would be played for generations by different people he would never know."
The development of that idea of personal autonomy is due in part to Beethoven's status as what we might in contemporary parlance call a freelance musician; he was unencumbered by a court system that could have had a restrictive effect on his artistic expression. Unlike Bach, Handel, or Haydn before him, "Beethoven had an idea that his music would be played outside of his purview of control and sought to find ways to transcribe his intentions into his music," explains Brott. This creates a kind of timeless quality to the experience of playing and hearing his works.
Words like Verklempt, literally meaning an anguished, squeezed heart in German, form part of Beethoven's expressive musical lexicon, transmitted to us centuries later. The emotion captured in his pen strokes also continues to resonate with audiences, even though contemporary socio-political contexts are a far cry from those of the turn of the nineteenth century.
Part of the Montreal Chamber Music Festival's Beethoven cycle will explore some of the cultural, political, and anthropological influences around Beethoven in a lecture series before each concert in collaboration with McGill University's Department for Continuing Education. "For example, Beethoven had very mixed feelings about the French Revolution," says Brott. "He was first a champion of Napoleon as the liberator of the underprivileged and neglected. He became very disillusioned when Napoleon declared himself emperor." To understand his disappointment, one need look no further than the story of him angrily crossing out a dedication to Napoleon on the cover of his Symphony No. 3, "Eroica."
If chamber music was known as a social and conversational genre in the eighteenth century, it was not until Beethoven that it became an expression of the private as well. Denis Brott explains that we can understand some of his innovations in terms of his increasing deafness and seclusion from public life. "As he lost his hearing, he became more and more insular and more and more afraid of the public," says Brott. "His was a story of great anguish and great personal turmoil."
Especially for works that he composed within the same genre, such as his 9 Symphonies or 16 String Quartets, there is a tangible arc in Beethoven's compositional aesthetic, periodized into Early, Middle (or "Heroic"), and Late. Frankfurt School philosopher Theodor Adorno wrote at length about Beethoven's late style. Consequently, the idea of "lateness" —a work created by a mature artist in full knowledge of his or her own death—has become a profound way that we understand other composers, from Schubert to Britten, and even Canada's own Claude Vivier, just as the late quartets themselves have had an indelible impact on the genre itself.
Through the awareness of his own mortality, Beethoven was able to create some of the most enduring and sublime works that express the very nature of the human experience. In the hands of the prodigious Dover Quartet, this musical happening is not one to be missed.
---
The Complete Cycle of Beethoven String Quartets with the Dover Quartet at the Montreal Chamber Music Festival, May 26–June 11, Six parts. www.festivalmontreal.org, www.doverquartet.com
This page is also available in / Cette page est également disponible en:

Francais (French)