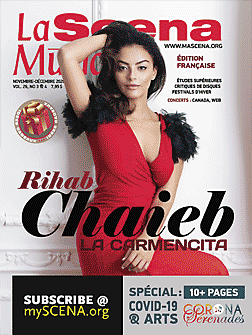 This page is also available in / Cette page est également disponible en:

Francais (French)
The baroque instrumental ensemble Les Boréades is celebrating the 25th anniversary of its founding by flutist Francis Colpron. But this is a celebration unlike any other. In spite of the continuing restrictions and uncertainties caused by the pandemic, Colpron wants to keep in touch with subscribers and fellow musicians while continuing to perform in concert. Digital technologies are a godsend, and the ensemble's members are all set to use them. "For the time being, we're looking closely at any opportunity to perform in front of cameras, so people can share the concert with us on their screens," says the artistic director of Les Boréades.
The ensemble's musicians are both resilient and open to new approaches. They proved this by performing live concerts online for the first time, and also by their choice of repertoire for 2020-21. At their first concert, on Nov. 19, Les Boréades will return to their roots as a small ensemble, with only four musicians – "the heart of Les Boréades," as Colpron puts it – including violinist Olivier Brault, gambist Mélisande Corriveau and Colpron himself. Jean-Willy Kunz, also a Montreal resident, completes the quartet. They will perform works by Carl Philip Emanuel Bach in an intimate setting.
Les Boréades will do something unusual in February by joining forces with the Bozzini Quartet in a program that includes two works by contemporary composers. "We want to offer something fun that can bring together musicians from different horizons," said Colpron. "This is important to us." It's not his first foray into contemporary repertoire. "I've done a lot of it because of my instrument: the recorder and flute are blessed with a tremendous number of modern compositions.
"Les Boréades, however, have less experience with this type of music, although there was one such opportunity a few years ago. I was working with people who wanted us to connect with Canadian and Dutch composers to celebrate the liberation of the Netherlands by Canadian troops during World War II. They thought it would be great to mix early and contemporary music.
"I was elated by this idea. Since then, working with Canadian composers who are living in Europe, such as Thierry Tidrow and Trevor Grahl [whose works are featured in the program of the Feb. 26 concert]has allowed us to keep this initial idea alive and to work with the Bozzini Quartet. We have a lot in common." If everything goes as planned, Les Boréades will perform for the first time at the Montréal/Nouvelles Musiques festival.
The resilient ensemble will have the opportunity to rebound with a concert that was cancelled last season and that will finally take place in April, J.S. Bach's Four Short Masses, in collaboration with the Chœur Saint-Laurent. "We were heartbroken at having to cancel our concerts," said Colpron, "especially for our fellow musicians who play such a vital role in our ensemble. The program will be maintained, whatever happens, but it might go online if there is another lockdown."
The last concert of the season will be dedicated to Mozart, specifically his youthful operas, composed when he was only 14 to 16. This Boréades concert, scheduled for May, features coloratura soprano Marie-Ève Munger and will be recorded for release by ATMA Classique. The ensemble has already 25 recordings spanning its 25 years of existence, so this will be its 26th release.
The past opens up to the future
Colpron reminisces about the history and artistic approach of Les Boréades: "At the very beginning, the four of us toured a lot. We performed with Jeunesses musicales and we travelled to Europe. But I wanted to explore, I had big dreams. I wanted to work with a larger ensemble. Early on we thought of mixing music with theatre or opera, so we worked with artists such as Karina Gauvin, which was a very educational experience for us. I always wanted to stage productions with a large number of performers mixing several modes of artistic expression. I was able to make it happen first in 2010, when we produced Les Tabarinades [music for the Tabarin theater]with actors like Carl Béchard. We also staged other projects with Sophie Faucher. This allowed us to reach a universe that is still very dear to me."
Colpron and his fellow musicians have another project in mind: in partnership with Ballet Opéra Pantomime, they want to perform a reconstruction of the opera Atys by Jean-Baptiste Lully, relying once more on the interdisciplinary approach that is so appealing to Les Boréades. Let's hope the time will soon come when they can celebrate their anniversary properly.
Translation by Anne Stevens
Members of the public who purchase the Coup de Coeur card receive a 25% discount on Les Boréades tickets. For full programming details, visit www.boreades.com
This page is also available in / Cette page est également disponible en:

Francais (French)