This page is also available in / Cette page est également disponible en:

English (Anglais)
Salvador Dalí: A Suite of Prints. Art Gallery of Nova Scotia, Halifax
Ce sont les fantastiques images oniriques de ses œuvres précédentes, comme les horloges en liquéfaction dans La Persistance de la mémoire (1931), que nous associons d'emblée à Salvador Dalí (1904-1989). Adepte du surréalisme, mouvement d'avant-garde du XXe siècle qui cherchait à libérer le pouvoir de l'imagination, Dalí a déclaré : « Le surréalisme est destructeur, mais il ne détruit que ce qui entrave et limite notre vision. »
À partir des années 1940, il a exploré le symbolisme religieux dans son travail. Les onze gravures de la série Notre héritage historique (1975), réalisées au cours des vingt dernières années de sa vie, révèlent le lien entre ses premières œuvres et les thèmes qui sont demeurés tout au long de sa carrière.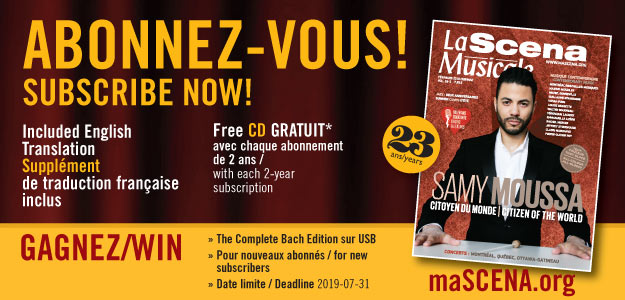 Jusqu'au 27 octobre. www.artgalleryofnovascotia.ca
Miró à Majorque. Un esprit libre. Musée national des beaux-arts du Québec, Québec
La renommée internationale du peintre, sculpteur et céramiste espagnol Joan Miró (1893-1983) n'a cessé de croître au cours des dernières décennies. Cette exposition majeure rassemble 200 de ses peintures, sculptures et œuvres sur papier ainsi que des toiles grand format. Choisies parmi les collections de la famille Miró et de la Fundació Pilar i Joan Miró de Majorque, ces œuvres représentent la période de maturité de l'artiste, de 1956 à 1981, où il a séjourné à Majorque et laissé libre cours à son imagination. Le langage symbolique qu'il a développé a eu une influence durable sur les artistes expressionnistes abstraits américains tels que Motherwell, Calder et Rothko.
Jusqu'au 8 septembre. www.mnbaq.org
Multitude, solitude : Les photographies de Dave Heath. Musée des beaux-arts du Canada, Ottawa
David « Dave » Martin Heath (1931-2016) a été qualifié par le Globe and Mail de « génie tourmenté derrière l'appareil photo ». Abandonné par ses parents et élevé dans des familles d'accueil, il a souffert de dépression toute sa vie. Mais c'est dans un orphelinat, à l'adolescence, que Heath découvre l'appareil photo, grâce à des photographes invités. Ses images fascinantes et profondément touchantes d'enfants, de camarades soldats en Corée ou d'un visage se détachant dans une foule explorent l'expérience de la solitude, de l'isolement et de l'aliénation en milieu urbain.
L'élément central de cette exposition est Dialogue with Solitude (1965), qui a fait connaître Heath pour la première fois.
Jusqu'au 2 septembre. www.gallery.ca
Ladylikeness: Historical Portraits of Women by Women. Glenbow, Calgary
Historiquement, les femmes ont été découragées de devenir des artistes professionnelles. Bien qu'autorisées à pratiquer comme amateures, elles se sont vu refuser une formation adéquate, en partie parce que celle-ci était fondée sur l'étude du nu masculin. Beaucoup de femmes sont néanmoins devenues des peintres accomplis et l'art du portrait constituait une voie vers l'excellence sans nécessiter l'expérience du dessin d'après modèle. Les thèmes concordaient avec ce qui était considéré comme des sujets typiquement féminins, tels que la domesticité. Cette exposition, qui comprend des portraits de Bibliothèque et Archives Canada et du musée Glenbow, présente des artistes professionnelles et des amateures telles que Lilias Torrance Newton, Paraskeva Clark, Lady Henrietta Martha Hamilton et Mary Anne Burges.
Jusqu'au 5 janvier 2020. www.glenbow.org
Alberto Giacometti : une ligne à travers le temps. Vancouver Art Gallery, Vancouver
Le sculpteur, graveur, dessinateur et peintre suisse Alberto Giacometti (1901-1966) fut l'un des plus importants sculpteurs du XXe siècle. Influencé par le cubisme et le surréalisme, l'artiste a commencé à explorer l'art figuratif dans les années 1930. Il a commencé à travailler d'après nature, en utilisant son frère comme modèle.
Cette exposition met en lumière les sources d'inspiration historiques de l'artiste et son approche particulière des matériaux et de la technique. Des artistes influencés par Giacometti sont également présentés : Francis Bacon, César, Lynn Chadwick, Jean Dubuffet, Jean Fautrier, Dame Elisabeth Frink, Henri Michaux, Eduardo Paolozzi, Isabel Rawsthorned, Man Ray, Germaine Richier, Jean-Paul Riopelle et William Turnbull.
16 juin au 29 septembre. www.vanartgallery.bc.c
This page is also available in / Cette page est également disponible en:

English (Anglais)