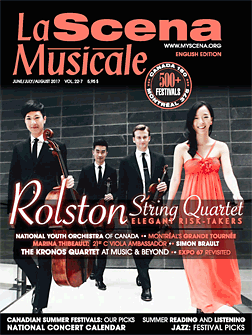 This page is also available in / Cette page est également disponible en:

English (Anglais)

Up in the Morning Early
Ensemble La Cigale
Madeleine Owen, luth, théorbe; Sara Lackie, harpe; Vincent Lauzer, flûtes à bec; Marie-Laurence Primeau, viole de gambe; Sara Tsuji, violon
Leaf Music 2017, LM 211, 73 min 17 s.
La plus récente offrande de l'ensemble La Cigale – un premier album, Tiorba Obbligata pour théorbe solo et accompagnement, fut finaliste aux prix Opus en 2012–13 – fait montre de raffinement dans sa simplicité. Le répertoire celtique baroque illustré dans cet enregistrement, souvent négligé dans les études contemporaines sur cette période, a été en fait une source des airs et des styles cultivés qui ont inspiré des compositeurs européens, de Haendel à Francesco Geminiani. Retournant à des manuscrits largement fragmentés ou grossièrement copiés, l'ensemble n'a certes pas ménagé sa peine. Le résultat, par contre, constitue un ajout bienvenu dans la collection de tout amateur de musique baroque ou celtique.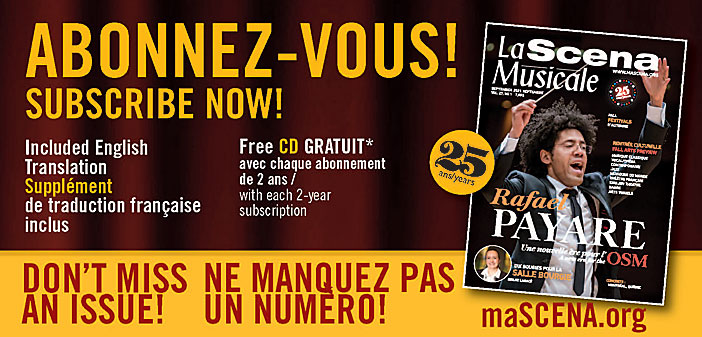 L'album s'ouvre sur un ensemble de variations sur l'air écossais John Come Kiss Me Now arrangé par La Cigale – le solo de luth du thème étant parfait pour se glisser dans le répertoire. Le reste du disque est essentiellement consacré aux œuvres des trois compositeurs écossais James Oswald (1710–69), William McGibbon (1690–1756) et le général John Reid (1721–1807). Des extraits des Airs for the Four Seasons (1755) d'Oswald, un recueil de 96 courtes sonates, parsèment le programme. Chaque morceau est un joyau délicieux, porté par la mélodie et impeccablement raffiné. On peut en fait en dire autant des autres pièces de l'album, de The Rising of the Lark du harpiste gallois Edward Jones (1752–1824) à The Fairy Queen de l'Irlandais aveugle Turlough O'Carolan (1670–1738).
Il y a beaucoup à louer dans ce disque, particulièrement parce qu'il attire l'attention sur le répertoire celtique baroque – bien que ceux d'entre nous qui demeurent culturellement attachés à leurs racines irlandaises ou écossaises ou qui connaissent la longue tradition de violon populaire au Canada pourront se trouver avec Up in the Morning Early en terrain mieux connu.
This page is also available in / Cette page est également disponible en:

English (Anglais)