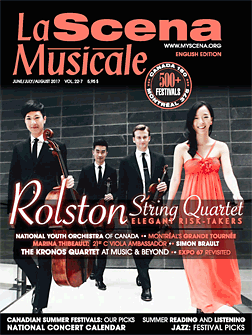 This page is also available in / Cette page est également disponible en:

Francais (French)

Up in the Morning Early
Ensemble La Cigale
Madeleine Owen, lute, theorbo; Sara Lackie, harp; Vincent Lauzer, recorders; Marie-Laurence Primeau, viola da gamba; Sara Tsuji, violin
Leaf Music 2017, LM 211, 73 min 17 s.
Ensemble La Cigale's sophomore offering – their first album, Tiorba Obbligata for solo theorbo and ­accompaniment, was a Prix Opus finalist in 2012–13 – shows ­sophistication in its simplicity. The Celtic Baroque repertoire on this recording, oft-forgotten in contemporary considerations of the period, actually included some of the tunes and cultured styles that inspired continental European composers from George Frideric Handel to Francesco Geminiani. Returning to manuscripts that are largely fragmented or poorly copied, the ensemble clearly had their work cut out for them. The end result, however, would be a welcome addition in any Baroque or Celtic music enthusiast's collection.
The disc opens with a set of variations on the Scottish song "John Come Kiss Me Now" arranged by La Cigale – the lute solo of the theme a perfect way to ease into the repertoire. The rest of the recording is mainly devoted to the works of three Scottish composers James Oswald (1710–69), William McGibbon (1690–1756), and General John Reid (1721–1807). Selections from Oswalds's Airs for the Four Seasons (1755), a set of 96 short sonatas, pepper the the track list. Each is a delightful gem: melody-driven with a refined affect. Indeed, the same could be said for the other pieces on the album, from "The Rising of the Lark" by Welsh harpist Edward Jones (1752–1824) to "The Fairy Queen" by blind Irishman Turlough O'Carolan (1670–1738).
There is much to celebrate in this recording, especially to bring awareness to the Celtic Baroque repertoire – though, those of us culturally connected to our Irish or Scottish roots, or those of us who are familiar with the long fiddling tradition in Canada might find Up in the Morning Early more familiar than not.
This page is also available in / Cette page est également disponible en:

Francais (French)