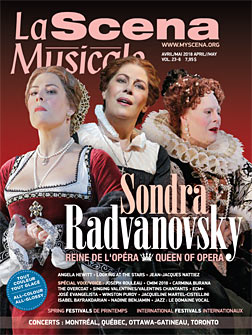 This page is also available in / Cette page est également disponible en:

Francais (French)
Marc Bourgeois : a poignant, colourful world
Montreal-born Marc Bourgeois was unable to study animation, so he chose fine art at UQAM, and painting became his means of expression. After graduating, he turned to commercial photography and completed several advertising campaigns. The works he made for the exhibition Réflexions reveal his interest in the artistic side of photography.
"Advertising means serving someone else's message," he says. "You have to keep things simple. The purpose of art isn't to transmit a simple message but to open doors and leave room for interpretation."
This is what he tries to do in his work, which is 100% digital, a subtle arrangement of photographs – in this case, portraits – and computer-created double exposures. The explosions of bright colours contrast with the intensity of the emotions represented and embody them, from anger to exasperation via indifference.
"The bright colours bring something positive, balancing the darker side. I'm not always aware of how much of myself goes into my work. We tend to repress. We don't live in a society that encourages emotion, so any thoughts or feelings shown are perhaps subconscious."
The works of Bourgeois also have a "cartoonish" side, showing the influence of the Italian graphic designer and illustrator Alberto Seveso, who experimented with ink in water. As well as emotion, form, texture and colour are at the heart of Bourgeois's work.
For his first exhibition, the photographer created around fifteen pieces, the result of about six months' work. The people participating in the project are actors, allowing Bourgeois to express a much wider emotional palette than with models.
He is used to capturing the human, for example when he covers events like the Canadian hip-hop championship, or sports. Before the exhibition was mooted, he had never met Natalija Jeremic, but encountering her work germinated an idea already sown in his mind: the representation of a quest for identity, albeit too fragmented to be autobiographical.
The works are hung so that we are invited to enter the artist's world, poised between reality and imagination.
"I see Réflexions as an end and also as the beginning of something else. I'm miles away from commercial images. The exhibition stimulates me." It is a culmination that will give him a firm footing as an artist and a connection with the public.
The story of Natalija Jeremic
Serbia, France, Italy, Canada. One thing is certain: Natalija Jeremic is well-travelled, and this probably shapes her work, if only subconsciously. Born in Belgrade, she lived in France and Montreal before going to Florence to study fine arts.
There, classical and Renaissance art left their imprint on her, and today her favourite subjects are the human figure and the nude. Her inspirations include the Italian painters and their free drawings of the body, but she is also influenced by the comic and surreal in the vein of Alices's Adventures in Wonderland.
However, during her artistic career, Jeremic has freed herself from the conservative and the academic to explore textures through oil on canvas. She likes to play with her skills: "I try out different things, like applying too much paint, or using pencil or acrylic to see the lightness of the medium, or mixing it with charcoal."
Her experimentation is highlighted in a new series of paintings entitled Mirrors. The works – about fifteen of them – sprang from a canvas in her last exhibition, entitled Do You Want Love or Something Beautiful, and presented in 2015 at the Loft gallery in Old Montreal.
"I explore the mirror of the object, of the other person, how we're reflected in someone's eyes, in a story, in a cup of tea." It's the artistic expression of a quest for identity, of self-representation, of the other. In this sense the series is autobiographical.
Living in many different countries, especially at a young age, affected Jeremic, and she conveys the emotions linked to these sometimes burdensome changes.
"Since I was a child I've been changing countries and languages and I was always being given a nationality different from the country I found myself in. I was always trying to say who I was, always justifying myself.
"But in Montreal I'm accepted for who I am. Nobody asks about my identity, I don't have to explain about my nationality and the languages I speak. I feel I've changed a lot since living in Montreal, and that's influenced me."
When her work isn't inspired by her own experience, it draws on the lives of friends and family. Réflexions is the result of a year-and-a-half's work. This exhibition will close this particular artistic and personal chapter in Jeremic's life.
Exhibition runs from May 10 to 15 at Livart, 3980 St. Denis Street, Montreal. Vernissage May 10 from 5 p.m. to 9 p.m www.queensofart.com/events
Translation by Cecilia Grayson
This page is also available in / Cette page est également disponible en:

Francais (French)