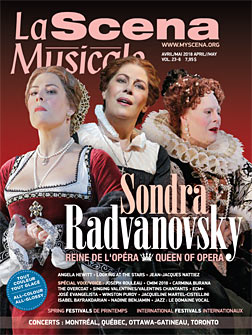 This page is also available in / Cette page est également disponible en:

Francais (French)
Musicologist Jean-Jacques Nattiez recently received the Opus for Book of the Year for Wagner, Antisémite. In February he released a new book on Wagner.
Jean-Jacques Nattiez's arrival on the La Scena Musicale team is therefore an opportunity to become acquainted with the important works of one the pioneers of musical semiology, which is the study of signs and symbols in music. His Fondements d'une sémiologie de la musique (1975) laid the foundations of his discipline and created a new branch of the study of musicology. For this reason and by virtue of his other accomplishments, Nattiez is considered by his academic peers as one of the leading musicologists of his time.
Born in 1945 in Amiens, a city in the north of France, Nattiez is the son of a French literature teacher, musician and music critic who was passionate about Wagner. This passion was inherited and gave birth to a number of works devoted to different facets of the German composer. In 1962, as a teenager, Nattiez worked at the Bayreuth Festival as a machinist. That direct contact with Wagner's work only reaffirmed his obsession with this composer.
During his university studies, Nattiez majored in linguistics and modern literature and wrote his thesis on musical semiotics in Paris. Hired as a musicology professor by the University of Montreal in 1970, he became a naturalized Canadian in the mid-1970s. Retired today, he devotes his free time and energy to the service of music and musicology at large by giving lectures at the University of Montreal and now,collaborating with La Scena Musicale. He remains active as a writer. Proof is Les récits cachés de Richard Wagner – Art poétique, rêve et sexualité, which was launched in February.
Distinctions, titles and awards have spanned the career of this emeritus professor. Those are so numerous that they alone could be the subject of an article. We will name here only the most important. Appointed an Officer of the Order of Canada and promoted to the rank of Officer of the National Order of Quebec in 2016, Nattiez in 2009 was awarded the Medal of the Académie des lettres du Québec and the gold medal from the Social Sciences and Humanities Research Council of Canada. He also received the Molson Prize from the Canada Council in 1990, the Léon Gérin prize of the Government of Québec in 1994 and the Killam Prize from the Canada Council in 2004. France made him a Chevalier of the Ordre des Arts et des Lettres of the French Republic in 2014.
Over the course of his career, this prolific writer, as well as being the editor-in-chief of the journal Circuit, which is dedicated to contemporary music, has been associated with the most prestigious schools. He was guest professor at the Collège de France and the École normale supérieure in Paris, researcher in residence at the University of Oxford and guest lecturer at the Scuola Superiore di Studi Umanistici in Italy. It was at the invitation of Umberto Eco that he presented his research on Wagner's antisemitism. This research gave rise to Wagner antisémite, released in 2016.
Among his essential works we find Musiques – Une encyclopédie pour le XXIe siècle, a five-volume reference book that became a bible for music students and particularly aspiring musicologists. Previously published volumes on the subject of Wagner are Tétralogies (Wagner, Boulez, Chéreau), Wagner androgyne and Les esquisses de Richard Wagner pour "Siegfrieds Tod." His latest book, Les récits cachés de Richard Wagner – Art poétique, rêve et sexualité, is the least academically-oriented of his works and thus the most accessible to an uninitiated readership.
Nattiez has also published an intellectual autobiography, La musique, la recherche et la vie, and a survey, Opera. On top of being a musicologist, Jean-Jacques Nattiez is an ethnomusicologist. He has collected and studied music from the Inuit of Canada, Japan's Ainu people and the Baganda of Uganda. He is currently finishing a book on Inuit music, as well as a broader work titled Traité de musicologie générale.
Translation by Viviane Reid
This page is also available in / Cette page est également disponible en:

Francais (French)