This page is also available in / Cette page est également disponible en:

Francais (French)
Montreal Chamber Music Festival
June 7 to 16
Musical polymath Gregory Charles will ­embark on a journey spanning two and a half centuries of Western music in his solo act L'Air du Temps at McGill's Pollack Hall on ­June 7 at 8 p.m., opening night of the ­Montreal Chamber Music Festival.
The music of Beethoven will resonate at Bourgie Hall, starting on June 11. Piano transcriptions by Franz Liszt of all nine ­symphonies will be performed by various
pianists, including Wonny Song and David Jalbert. James Ehnes and Andrew Armstrong will do the same by playing all of the composer's sonatas for violin and piano. The cream of the crop of the BMO classical artists aged 30 and under will appear at that venue, as will Joseph Kaiser, as special guest of the Ensemble Viva Voce.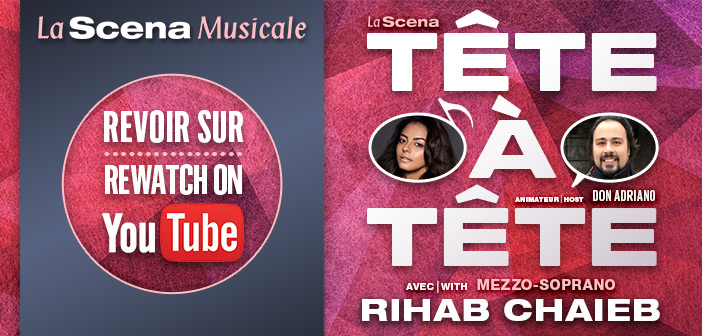 The festival salutes the late actor Albert ­Millaire in its closing concert Tchaïkovski, je vous aime on June 16 at 3:30 pm.
Montreal Baroque Festival
June 20 to 23
The motto for this year's Montreal Baroque Festival is Sprezzatura, an Italian word ­describing a kind of carefree nonchalance. Things get underway on June 20 at 7 p.m. with a concert entitled Sprezzatura Veneziana with the Ensemble Caprice ­performing works by Vivaldi and Heinichen. Also on that bill are the Tenet Vocal Artists and the Ensemble vocal Arts-Québec. The Church of the Madonna della Difesa will play host to an array of instrumental and vocal performances for ensembles and soloists alike, while being the starting line for the event's annual 90-minute procession to Dante Park, beginning at 5 p.m.
True to form, the festival will offer both indoor concerts in intimate surroundings and free outdoor events with sundry entertainment. Beyond its usual yen for Italian music, other world music traditions will be heard, with artists from both near and afar. Among others: the Matsu Take Ensemble, Davide Monti (Italy), Maria Cleary (Ireland), Antoine Malette-Chénier, the Voix humaines Consort, Les Meslanges, Les Jardins chorégraphiques, Elinor Frey and Flûte alors ! For after-hours, ­festival-goers can head to the Conca d'Oro and ­Tricot Principal, two coffee shops in the area.
Festival international du domaine Forget
June 22 to Aug. 18
The Festival international du Domaine Forget is always worth a visit, not only for its varied and stimulating program, but also for its splendid natural setting. Concerts run the gamut from classical to jazz, with educational and social activities galore, like masterclasses, roundtable discussions, Sunday brunches, pre-concert cocktails and more. Classical concerts range from orchestral to chamber to solo recitals featuring both ­special guest performers and student ensembles. Must-sees are the acclaimed Les Violons du Roy and the promising new talents of the Orchestre de la francophonie, who will share the spotlight with soloists as diverse as Marie-Nicole Lemieux, Marc-André Hamelin and Jesse Cook.
CAMMAC Musical Sundays Festival
June 30 to Aug. 11
Musical Sundays at the CAMMAC music centre begin on June 30 at 11 a.m. with the seasoned violin and piano duo of Marc Djokic and Julien Leblanc. With a decade's worth of concertizing under their belts, these musicians spellbind their audiences with bristling energy.
Apart from its classical component, the ­program includes the Grammy Award-winning Brazilian Guitar Quartet on July 14, music from the Réunion Islands on Aug. 4 and an offering of Broadway show tunes on the final evening, Aug. 11. On July 21, members of Les Violons du Roy grace the event with for the first time.
Festival de musique de chambre de Sainte-Pétronille
July 27 to Aug. 22
American pianist Jessica Xylina Osborne opens the 36th edition of the Chamber Music Festival in Sainte-Pétronille on July 27 at 8 p.m. with a concert entitled Histoires sans paroles. For the occasion, this artist with ­considerable musical collaborations to her credit has tailored a program of works ­ranging from Chopin to Ravel, with an added special emphasis on pieces of by women composers.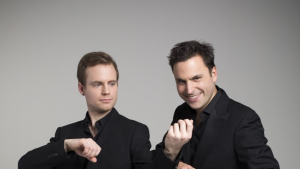 A leader in the field of Baroque music at home, Quebec-based Les Voix humaines figure prominently on this year's bill, likewise for the virtuosic duo of Djokic and Sylvestre, the much-lauded American pianist Jeremy Denk and the talented Cheng2 Duo. The festival closes on an intimate note with Caroline Gélinas and ­Martin Dubé, a voice-piano duo of great ­promise.
Festival de musique de Lachine
July 4 to 20
The Lachine Music Festival offers free admission to many of its concerts. Its season opens on July 4 at 7:30 p.m. at the Église des Saints-Anges with the ­appearance of the Agora Symphony Orchestra and the Atelier lyrique de l'Opéra de Montréal celebrating Mozart under the direction of Nicolas Ellis, currently conductor in residence at the Orchestre symphonique de Québec.
Artistic director Richard Turp will be on hand at l'Entrepôt to give pre-concert talks. There will also be a one-day focus on the guitar at that venue, and a range of other shows as well, with the likes of Les Voix humaines, Stéphane Tétreault, Charles Richard-Hamelin, Andrew Wan and an international trio composed of André Laplante, Mayumi Seiler and Colin Carr. Ensemble Caprice will close the festival on July 20 at 7:30 pm with Gloria, a celebration of Vivaldi's music.
Festival des Hautes-Laurentides
July 4 to 30
The Festival international des Hautes-Laurentides is a free-ticketed event. Violin ­virtuoso and conductor Alexandre Da Costa, the event's artistic director, has put together yet another varied program, in which he will appear with the Ovara Quartet from ­Australia, in a program of works by Brahms and Wagner (July 4, 7:30 p.m. at the ­­Val-David community centre).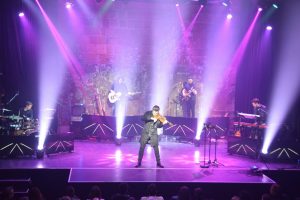 In an evening of music ranging from opera to pop, Baroque to jazz, chamber to symphonic, there will be perfomances by the Matt Herskowitz Trio, the Orchestre ­symphonique de Laval, Gregory Charles, Mario Pelchat and Giorgia Fumanti. The closing concert, staged at the Théâtre le Patriote in Sainte-Agathe, will feature Da Costa at the helm of the Orchestre symphonique de Longueuil, of which he was recently ­appointed conductor, in an evening devoted to works by Vivaldi and Astor Piazzola.
www.concertshautes-laurentides.com
Festival Orford Musique
July to Aug. 17
The theme of this year's Orford Festival is La bella Italia in commemoration of the 500th anniversary of the death of Leonardo da Vinci. Wonny Song has devised a program of both classical and jazz music, with free concerts, culinary experiences and visual arts, all related in some way to that great Italian genius.
In a broader perspective, the music of the romantic era (Brahms, Rachmaninoff, Tchaikovsky) impressionism (Debussy), even modernism (Shostakovich) act as guiding threads in the program, all of which convey something of the ingenuity, sensibility and acuity of that legendary figure. Marc-André Hamelin opens the event on July 5 at 8 p.m. Among other headliners are cellist Stéphane Tétreault, flutist Robert Langevin, the Orchestre national de jazz, the Wan-Hamelin duo, Les Violons du Roy and conductor Nicolas Ellis.
Festival de Lanaudière
July 5 to Aug. 4
The appearance of the OSM and conductor Alain Altinoglu on July 5 at 8 p.m. is as good an opening concert one can hope for. The ­orchestra plays selections from Mendelssohn's music for A Midsummer Night's Dream and his Piano Concerto No. 1 with guest soloist Francesco Piemontesi. Wagner and Strauss complete the program. The following evening will unite star conductor Yannick-Nezet Séguin and the Orchestre Métropolitain with mezzo-soprano Susan Graham in a concert called Berlioz amoureux. Pianists Seong-Jin Cho and Marc-André Hamelin make guest ­appearances with the OM later in the month, the former on July 26, the latter two days later.
Among other prominent names are fortepianists Kristian Bezuidenhout, violinist ­Christian Tetzlaff, even Kent Nagano, who will direct the OSM on Aug 3 at 8 p.m. with Karen Cargill as soloist in Mahler's Symphony No. 3.
MISQA
Aug. 11 to 24
The McGill ­International String Quartet Academy (MISQA) launches its summer festival series at 7 p.m. on Aug. 11 at Pollack Hall with the Pacifica Quartet from Indiana. In its 25 years of activity, this foursome has built a solid reputation for its explorations of Soviet repertoire, including Shostakovich, whose music they will play that night.
Among headliners are the Vera, Simply, ­Vivano and Barbican String Quartets, who will cover a wide range of repertoire. In the second week (Aug. 17 to 24), there will be a host of distinguished teachers imparting their ­wisdom in masterclasses, and a focus on rising talents in the field.
The closing event, Aug. 24 at 7 p.m., will showcase the Noga Quartet with guest violist Mathieu Herzog. Hailing from France, Israel and Germany, the four members have forged a truly personal sound and playing approach for themselves.
Concerts Ahuntsic en fugue
Aug. 11 to 24
While the Ahuntsic en fugue concert series had not unveiled the full program of its sixth annual edition at this writing, founder ­Clément Canac-Marquis, has announced the return of the Orchestre des Berges d'Ahunstsic-Cartierville for its hit free outdoor show of a year ago. As a neighbourhood event, the ­festival has devised its program with regard to the district.
OSM Virée classique
Aug 7 to 11
For its eighth edition, the OSM's Virée ­classique opens with Verdi's grandiose ­Requiem. This free outdoor event will occur on the Esplanade of the Olympic Park on Aug. 7 at 8 p.m. Conductor Kent Nagano will lead his charges while Andrew Megill will prepare the chorus of 300. Soloists ­include soprano Leslie-Ann Bradley and tenor Mario Bagh.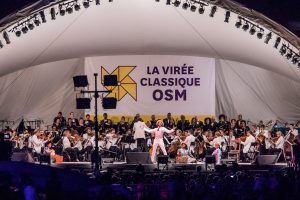 All told there will be 31 indoor concerts, including some with no admission charge. From classics to jazz and some folk, there is much variety to spice up the life of this event. Tenor Marc Hervieux, violinist Vadim Repin and the Canadian Brass are but a few of the headliners.
The closing concert, entitled Delirium ­Vivaldi, takes place on Aug. 11, 2 p.m., at the Maison symphonique. Kent Nagano leads the ensemble la Virée through The Four Seasons, with OSM concertmaster ­Andrew Wan in the spotlight.
Translation by Marc Chénard
This page is also available in / Cette page est également disponible en:

Francais (French)