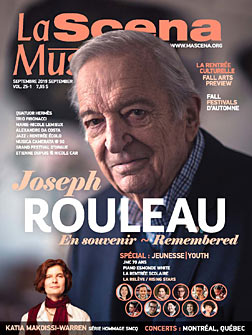 This page is also available in / Cette page est également disponible en:

Francais (French)
Since man has become man, art has been his hallmark and he has never ceased being a creator of art," says D'Arcy Hayman in Le Courrier de l'UNESCO (1961). Artistic practice is innate in ­humans, who have always sought to express themselves as well as to represent their world. Essential in educational programs, the arts continually demonstrate advantages in the intellectual, social and personal developments.
Intellectual Development
Interviews with teachers at the primary to university level (Camille Laventure, CBC, 2018) have established that the development of artistic and critical thinking encourages students to "become more than just executors of assignments." The arts awaken and stimulate ­creativity besides calling on young people to exercise their judgment. "Participating in something bigger than yourself," in orchestras, for ­example, establishes guidelines to their representation of the "beautiful." Students enrich their cultural background and demonstrate ­sensitivity and imagination, which in turn broadens their understanding of the world and their ability to solve problems. Rena Upitis, professor of arts education at Queen's University, mentions in a statement released by the Literature and Numeracy Secretariat (2011), that some art practices "may even help develop a more complex neural ­network in the brain."
Let's think about music. Playing an instrument involves the interaction of our two cerebral hemispheres and improves our attention and memory. The benefits of the arts are also reflected in better ­academic achievement, particularly in languages and mathematics. In fact, a high school in London, Ontario, has combined the arts and ­mathematics in what is called The Art of Math project (Radio-Canada, 2017). Laura Briscoe, director of the visual arts department at the school, says that "in the real world, nothing happens in isolation." ­Encouraging students to make connections has been a positive experience, both in terms of student achievement and student motivation.
Social Development
The arts are often practiced in groups at school. As a result, a "family spirit" is created as students learn to collaborate and work as a team. In a common project, young people ­develop the values of commitment and social responsibility. In the orchestra, for example, "the whole orchestra depends on each member of the team" (Guy Lefrançois, Musique et réussite scolaire, 1999). "Music is a universal language that facilitates contact and tends to reduce the barrier between social classes" (Nicole Malenfant, Presses de Laval University, 2008). In fact, peer collaboration, emotional involvement, and the application of the knowledge learned in art classes encourage student interest and motivates classroom participation. "Several students have testified that they did not drop out of school because of music class. Art, which ­encourages authenticity and where difference is a force, ­allows you to express yourself in an inclusive atmosphere. Students learn to qualify their remarks and express their thoughts non-verbally" (Upitis, 2011).
Moreover, practicing an art exposes the individual to the general public and the judgment of others. "During concerts and shows, students learn to receive and accept criticism, which is an important aspect of socialization" (Comment l'art peut-il aider les élèves en difficulté? Clementine Courouble, 2015). This "openness to differences" and the call to tolerance are complementary to certain behaviors encouraged by artistic practices: it has been shown to young children that the arts promote mutual help, ­sharing and empathy (Les multiples bénéfices des arts chez les ­enfants, Lucie Barriault, 2016).
Personal Development
"Creating a piece of art is a highly personal experience, as students draw on their own resources to produce a result" (Center for Educational Studies and Pedagogical Development). Indeed, it encourages young people to experience sensations and feelings influenced by their past,, their personal vision of beauty and their desires: "Art gives an opportunity to get to know and to recognize oneself" (Courouble, 2015). ­Artistic practices also encourage reflection on what perfection is. Flexibility and judgment become a new way to achieve one's goals (Upitis, 2011). "Just holding a brush will enable you to understand that in the art world, there is a gap between what you would like to accomplish…and the result. A formative experience," writes Isabelle Audet in La Presse (2018). What is perfection? What is beauty? The answer does not exist. In the same vein, the arts contribute to the construction of reflection on oneself and on what surrounds us: "When a student is active, he improves his outlook on things, he flourishes" (Courouble, 2015). The arts also promote self-esteem and self-confidence. It happens that a student finds his self-worth in the arts while he has difficulties in other basic subjects (Laventure, CBC, 2018). For example,, the practice of the performing arts encourages the individual to ­express himself in public. It is in such experiences that the student learns to control his emotions, to trust himself and to recognize his good and bad efforts through retrospection.
In fact, the arts are important in educational programs. There is a question of complementarity between the basic subjects. The arts bring, through their sensitivity, the possibility of expressing what words cannot describe.
Translated by: Traduction CMP Translation
This page is also available in / Cette page est également disponible en:

Francais (French)