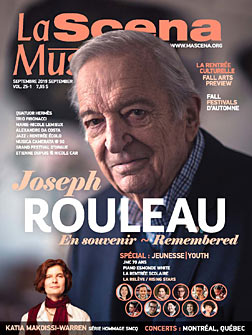 This page is also available in / Cette page est également disponible en:

Francais (French)
American violinist Hao Zhou took First Prize last May at the Concours musical international de Montréal (CMIM). His performance of the Violin Concerto No. 1 of Dimitri Shostakovich accompanied by the OSM and guest conductor Alexander Shelley was such a hit that he was selected by the audience as the winner of the Radio-Canada Prize. Hao Zhou is currently studying with Canadian violinist Martin Beaver at the Colburn Conservatory in Los Angeles. Beaver, it must be noted, encouraged his student to take part in this year's competition on the basis of his own experience with the event.
Playing the work of that Russian composer with full orchestral accompaniment for the first time was enriching for Zhou. "I very much like the way Shelley works," the violinist says. "His conducting never flagged." He confides that the concerto spoke to him from the time he first heard it. What so impressed him was its so uncharacteristic sound in relation to the bulk of the repertoire. "It was different," Zhou continues, "and I have a certain weakness for pieces that fall in the cracks, if you will, those composed between the romantic and contemporary eras." There is also a palpable intensity to this work, its rich contrasts and mood changes demanding much thought and technical know-how. Zhou's inquisitive nature and sustained sense of focus are assets he applies on occasion to another area of interest: retro-engineering.
Like all good performers, Zhou wants to give the best of himself at every occasion. "I love playing concerts," he readily admits. "Audiences must find enjoyment in these as well." Listeners have to be touched by the music in some way and if so, that seals the deal. Yet, the playing of this concerto is very demanding. To be up to the task, the performer has to be very focused mentally and physically fit. But how does one manage to sustain both over the course of a long-lasting piece? "A good night's sleep is a first good step," he claims. "and eating well is also important. And when I step out on stage, I have to be on my toes all the time and anticipate each new turn in the music."
Zhou made a return visit this summer to take part in the McGill International String Quartet Academy. During that event, he reunited with the Viano Quartet, an ensemble with whom he has had the pleasure of playing since its debut four years ago.
For the future, the awarding-winning violinist has his sights set on improving his skills as a soloist and would like to delve more deeply into a repertoire of staple works spanning the eras of Mendelssohn to Sibelius. Last but not least, his CMIM performance has opened yet another door, this one allowing him a residency at the Banff Centre for Arts and Creativity.
Translation by Marc Chénard
This page is also available in / Cette page est également disponible en:

Francais (French)