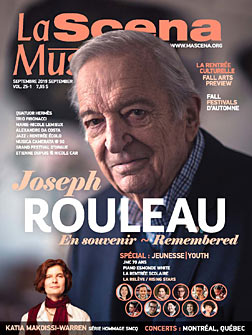 This page is also available in / Cette page est également disponible en:

Francais (French)
In May 29, Hannah Tam's performance at the CMIM (Concours musical international de Montréal) earned her top honours in a newly created event showcasing rising stars called Mini Violini. This 13-year older was selected by the audience as the winner of its Coup de cœur du public prize. Above and beyond such recognition, this bright new talent collected a handsome 10 grand for her efforts. Those in attendance were deeply impressed by her playing as well as her charismatic stage presence, imbued by a very probing mindset. "The violin is such an expressive instrument," Tam says. "From one piece to the next, it can sound totally different." Her eyes flicker when asked about the greats who inspire her, but when pressed, two come to mind: Hillary Hahn and Itzhak Perlman.
Tam claims she started to play violin because of her brother who was into before her. Now barely into her teens, she has collected several first prizes at international competitions while being admitted as the youngest student ever at the Curtis Institute in Philadelphia, where she is now under the wing of Ida Kavafian. Precocious as she is, she leads the life of an average teen in her spare time. Apart from being an avid reader and a swimmer, she loves to play with her dog. In Montreal, she has established another connection by lending her brain for some scientific research conducted at the Montreal Brain Research Laboratory (BRAMS). Tam is convinced that her appearance at Mini Violini has been a valuable learning experience, thus making her more grateful for her stay.
On stage, Tam grabs attention when she melds with her instrument, a vintage Italien make circa 1826. In fact, she has performed with the Virtuoso Italiani chamber orchestra and as far afield as guest soloist with the Hong Kong Symphony. In conversation, she reveals her secret to maintain focus at all times: "To keep my concentration, I hear all the notes coming in my head, that way I block out everything and everyone around me. It's as if I were projecting myself into the hall and telling myself I am the only spectator there."
Tam's playing demonstrates how emotionally engaged she is. "My feelings depend very much on the nature of the music at hand. If it is sad, so am I, but if it is angry, I will think of something to put me in that frame of mind." Her uncanny ability to feel music in her gut is what she wants to impress on audiences. Like all true artists, her ultimate goal is to touch people, which for her will be a lifetime pursuit, regardless of whether she becomes a soloist or a section player. Whatever her future calling will be, her aspirations are laudable in that they embody what no musician should ever loose track of: the shere pleasure of playing!
Translation by Marc Chénard
This page is also available in / Cette page est également disponible en:

Francais (French)