This page is also available in / Cette page est également disponible en:

Francais (French)
Royal rebel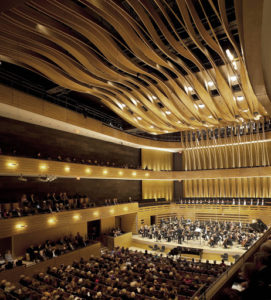 Amid the avalanche of COVID-19-related cancellations, a few concert presenters persist in believing that the show can, and should, go on. The Royal Conservatory of Music in Toronto has scheduled a 2020-21 season, including ensemble concerts in its flagship facility, Koerner Hall. On Oct. 2 the RCM Orchestra under Trevor Pinnock performs Mozart's Symphony No. 39 and Beethoven's Piano Concerto No. 5 ("Emperor") with soloist Sae Yoon Chon. Some events, such as violinist Pamela Frank with pianist Emanuel Ax on Dec. 2, are already listed as "at capacity" owing to the RCM policy of selling a maximum of 400 seats in the 1,135-seat hall (the understanding being that more will be made available should conditions permit less social distancing). Meanwhile, the Montreal Bach Festival promises a festival between Nov. 19 and Dec. 6 without disclosing whether it will be live or virtual or both. "We feel that our work is now more essential than ever," said founding artistic director Alexandra Scheibler in a statement. Either way, the fest plans to launch a new website. The Ladies' Morning Musical Club is still thinking positive. Its season is unchanged. See p. 20.
OM and MSO: Is no news good news?
Another Montreal presenter was holding the fort at press time: the Orchestre Métropolitain, which has shown more enterprise than most ensembles by recording Beethoven in Bourgie Hall under Yannick Nézet-Séguin this summer for online broadcast. The first 2020-2021 concert in the Maison symphonique remains posted as happening on Sept. 20. This YNS-led program includes Mahler's Sixth Symphony – not an easy piece to perform while keeping your social distance. "We may need to make minor or major changes to the programming announced in March," advises the online ticketing page. "Our artistic director and principal conductor, Yannick Nézet-Séguin, will be present at the concerts he was scheduled to conduct during this time." The Opéra de Montréal promises the chamber double bill of La voix humaine and L'hiver attend beaucoup sometime, someplace in the fall of 2020. There is no word at press time on the content, virtual or otherwise, of the Montreal Symphony Orchestra's 2020-21 season. This ensemble cancelled its March launch and thus has no previously announced season to modify.
Montreal looms large in Classical Junos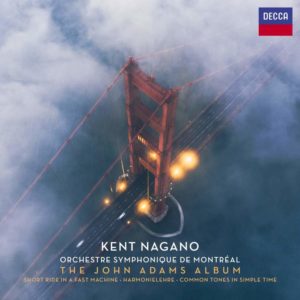 Three of four classical Junos in 2020 have Montreal connections. Classical Album of the Year (Large Ensemble) goes to the John Adams Album, a Decca recording of the American minimalist's Common Tones in Simple Time, Harmonielehre and Short Ride in a Fast Machine by the MSO and a notable Adams exponent, Kent Nagano. Winners in other classical categories are detach, an album of contemporary works on the indie Redshift label produced by the Toronto harpist Angela Schwarzkopf; Handel's Dixit Dominus/Bach and Schütz Motets as recorded on Montreal's ATMA label by the Ottawa Bach Choir conducted by Lisette Canton; and Evta by Ana Sokolović, named composition of the year, also on ATMA, performed by violinist Andréa Tyniec and the Ensemble contemporain de Montréal under Véronique Lacroix. Evta marks the second consecutive Juno win for the Serbian-born Montreal composer. Last year she won for "Golden Slumbers Kiss Your Eyes…", a cycle for countertenor, chorus and orchestra commissioned by the NAC Orchestra under Alexander Shelley and recorded on Analekta.
Who's got the mic?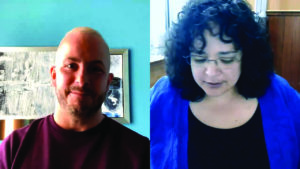 We are used to seeing Deborah Voigt and Joyce DiDonato schmooze with their colleagues during Met in HD intermissions. Now conductors, starved for both work and exposure, have got into the act. In June the Live With Carnegie Hall online outreach series had Yannick Nézet-Séguin playing host in what was essentially a remote talk show with composer Missy Mazzoli, sopranos Angel Blue and Ailyn Pérez, Metropolitan Opera chorus master Donald Palumbo and director of music administration Thomas Lausmann. Vasily Petrenko, whom readers might recognize as the Russian-born future music director of the Royal Philharmonic and a sometimes-rumoured candidate for the MSO post, has been using his downtime to conduct Facebook "lockdown talks" with various individuals, including, on June 19, Xavier Roy, the incoming general director of the Lanaudière Festival. The affable Boris Brott was the host of a series of interviews described by the Brott Music Festival as a "Johnny Carson type of informal event." Alexander Shelley of the National Arts Centre Orchestra has been keeping busy with his Musically Speaking series. Not that maestri have a monopoly on the yak circuit. Emanuel Ax interviewed his fellow pianist Daniil Trifonov in a subsequent episode of the Carnegie series. Trifonov, in a studio rather than on the main stage, was wearing a mask while playing Scriabin, presumably to protect whoever was operating the camera. Whatever happened to the notion of a professional host?
DG takes the Stage
Deutsche Grammophon is known to all as a venerable producer of recordings and videos. It is adding the role of streaming impresario to its repertoire with the launch of DG Stage, which offers "a broad range of classical concert streams" featuring DG artists in performances "exclusively produced live on tape or premiered on DG Stage." Artists range from respectable popsters like Ludovico Einaudi and John Williams (the latter with the Vienna Philharmonic) to purely classical figures like French tenor Benjamin Bernheim (a studio recital on July 19) and Russian soprano Anna Netrebko (an outdoor Tosca on July 30 from Naples). Tickets cost from €4.90 to €12.90, depending on the size and scope of the event. www.dg-premium.com/dg-stage
Victor Feldbrill, 1924-2020
The Canadian conductor and perfect gentleman died on June 17 at age 96 in his hometown, Toronto. Feldbrill received some of his early training in England, where he was stationed as a musician during the Second World War for the Royal Canadian Navy. Back in Canada he started as a section violinist with the Toronto Symphony Orchestra, served as music director of the Winnipeg Symphony Orchestra from 1958 to 1968, and returned to the TSO as resident conductor from 1973 to 1978, during which time he founded the Toronto Symphony Youth Orchestra. Feldbrill's dedication to young musicians was apparent also in his appointments to the University of Toronto and Tokyo National University of Art and Music. But his most notable passion was for Canadian music. In 1967 he conducted the premiere of Harry Somers's Louis Riel. As recently as 2017 he led the TSO in the suite from John Weinzweig's Red Ear of Corn – 68 years after having participated, as a violinist, in the premiere of this ballet. From my review: "With his upright stance, steady beat and close observance of the score, the snowy-haired veteran was a throwback to a day when doing your job was paramount, and looking good while doing it was a natural byproduct."
Easy on the free stuff
Karlin Lillington in the Irish Times (www.bit.ly/38vS4zt) wonders whether all of the internet largesse is working in the best interest of classical music culture: "…[W]hile generous, the Metropolitan Opera's free nightly opera recording stream is overwhelming. It's a firehose of free. I love opera, I love these artists and performances. But because there's a constant free supply, I don't value setting aside the time to watch, because there's more free content along tomorrow night." Interesting. The author of the present column asks in an essay for Classical Voice North America (www.bit.ly/2NWGjIP) whether the expense and inconvenience of concert attendance are, in fact, two of its unheralded virtues.
Boosey & Hawkes offers repertoire solutions
Keeping up with the times, the British publisher Boosey & Hawkes has created a dedicated Distanced Repertoire website featuring chamber operas, monodramas and concert works for up to 50 players. Contemporary B & H client composers (such as Chin, Dean, Lindberg, MacMillan and Turnage) are naturally represented, but there are also 20th-century classics by Copland, Prokofiev and Stravinsky and reductions of large-scale standards, both orchestral and operatic. Among the economical options is an arrangement of Tchaikovsky's Eugene Onegin calling for 10 instrumentalists. www.boosey.com
Green light in Barcelona
Clever messaging or stunt of the summer? The Gran Teatre del Liceu in Barcelona reopened on June 22 to a live audience of 2,292 plants. They sat quietly for a performance of Puccini's Crisantemi (Chrysanthemums) by the in-house the UceLi Quartet, whose members managed to keep straight faces. The plants were made to "applaud" by shaking – presumably through the
agency of fans, although the exact mechanism was unclear. The famous house will open its doors to human listeners on Sept. 27 for a concert featuring tenor Piotr Beczała and soprano Sondra Radvanovsky. Opera starts on Oct. 22 with Mozart's Don Giovanni. Somewhat more enterprising is the Teatro Real in Madrid, which on July 1 opened a semi-staging of Verdi's La Traviata that took social distancing as a dramatic point of departure. Spain has bounced back from one of Europe's worst COVID-19 outbreaks.
Rebound across the pond
Much of Europe is in musical comeback mode. The Czech Philharmonic under Semyon Bychkov on June 24 gave an outdoor concert on the grounds of Sychrov Castle outside Prague in which no social distancing was required of the musicians or approximately 500 spectators. The program of Mendelssohn (Overture and Scherzo to A Midsummer Night's Dream), Haydn (Trumpet Concerto with Stanislav Masaryk) and Beethoven (Fifth Symphony) was intended as a tribute to health workers, who made up part of the audience. Czech culture minister Lubomír Zaorálek was in attendance. There are other such initiatives. The Salzburg Festival toggles Strauss's Elektra and Mozart's Così fan tutte through August and presents several concerts by the Vienna Philharmonic and other orchestras, including the Berlin Philharmonic. On Aug. 14 Kent Nagano leads the Vienna Radio Symphony Orchestra and mezzo-soprano Tanja Ariane Baumgartner and tenor Piotr Beczała in Mahler's Lied von der Erde. There are signs of a resurgence also in Australasia and Asia. Meanwhile in Canada we settle for drive-ins.
The bright side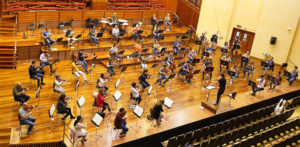 The health crisis has occasioned some creative use of language. My personal nomination for the Classical Bright Side Communiqué Prize: "The Kitchener-Waterloo Symphony Reimagines 75th Anniversary Season, Announces Plans for Next Two Seasons." As it turns out, this venerable Canadian ensemble is "reimagining" 2020-21 by cancelling it. Or, to be very precise, pushing it forward a year, which I suppose means that 2021-22 is the truly cancelled season. Like many presenters, the KWSO is promising livestreams and holding out some hope of "possible ways to present a modified in-person concert experience" should restrictions be relaxed. Meanwhile, the Summer Baroque Choral Academy at the Victoria Conservatory of Music offers "live, in-person choral workshops" and "live full-choir rehearsals" that are clearly online. And it takes an eye for detail to understand the latest dispatch from the Montreal Symphony Orchestra. "Whether in the parks, at the foot of emblematic monuments or in the Greater Montreal's long term care institutions," runs the communiqué, "musicians of the OSM will meet every week to form small ensembles, offering the public impromptu musical performances with the aim of bringing Montreal back to life while serving the better good." Very nice, but these performances (none of them orchestral) are "impromptu" in the sense that they will not be announced in advance for fear of attracting more listeners than can be accommodated in the COVID-19 era.
TSO cancels season
The Toronto Symphony Orchestra, which was to open its 99th season on Sept. 23 with Mahler's First Symphony as led by incoming music director Gustavo Gimeno, has scrapped 2020-21 as previously announced. Among the artists Torontonians will not be hearing as scheduled: Nicola Benedetti, Yefim Bronfman, James Ehnes, Karina Gauvin, Sheku Kanneh-Mason, Víkingur Ólafsson and Daniil Trifonov. We are told nothing of the fate of [email protected] programming, although the TSO website assures subscribers that Star Wars concert screenings have been rescheduled. Yo-Yo Ma is also confirmed for 2021-22. As for 2020-2021, the orchestra will manifest itself as "smaller ensembles across the GTA, including at our home, Roy Thomson Hall, for audience sizes aligned with health regulations." There is a suggestion in the communiqué of a wish to "expand our activities outside our traditional concert venue and to listen to our community." The TSO pays rent at Roy Thomson Hall. On matters financial: "Federal support through the Canada Emergency Wage Subsidy and emergency funding provided by the Canada Council for the Arts, as well as the support from all levels of public funders, has helped the organization operate in the short term." More ominously: "The TSO is reviewing financial scenarios for the coming year, which will include the significant reduction of expenses and new fundraising initiatives." The decision raises questions about the viability of maintaining the spirit and sound of an orchestra in the absence of true symphonic programming. To say nothing of audience interest.
This page is also available in / Cette page est également disponible en:

Francais (French)