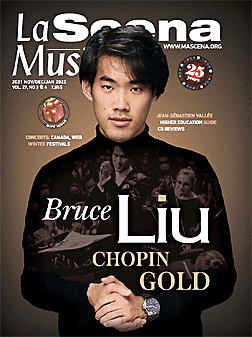 This page is also available in / Cette page est également disponible en:

Francais (French)
Aaron Tan, a doctoral organ student at the Eastman School of Music with a PhD in engineering from the University of Michigan, has won the $25,000 first prize of the Canadian International Organ Competition.
The multitalented Canadian – who also holds diplomas in piano and violin performance from the Royal Conservatory of Music in Toronto – was the third of five finalists to play in a marathon session Friday at Montreal's Maison symphonique.
Winner of the second prize was Ben Bloor (U.K.). Bryan Anderson (United States) and Tyler Boehmer (Canada) shared third prize. Anastasia Stahl of Russia, the other finalist, took the video-based quarter-final round audience prize.
First prize includes a recording on the ATMA Classique label and three years of concert management. Other special prizes will be announced at a gala concert Sunday evening in honour of CIOC co-founder Noël Spinelli, who died last October. This concert at the Saint-Anges de Lachine Church starts at 7 p.m.
Tan, 35, offered a recital of varied colours and moods, ranging from the dramatic (the Allegro deciso from Marcel Dupré's Évocation, Op. 37) to the light-hearted (Jeanne Demessieux's Notes répétées), the solemn (Ave Maria from Sigfrid Karg-Elert's Cathedral Windows), the mystical (François Morel's Prière pour orgue) and even the pops-oriented (selections from Tchaikovsky's The Nutcracker). He showed more enterprise than other players in expanding the palette of the sometimes generic-sounding Grand Orgue Pierre-Béique.
Normally the maximum age of a CIOC contestant is 34. Tan was nevertheless admitted this year because he would have qualified in 2020, when the competition was originally scheduled to take place.
Much of the emphasis in the final round was on 20th-century French (and sometimes Canadian) music known mainly to organists. One of four pieces by Marcel Dupré (1886-1971) was mandatory – a requirement no doubt aligned with the priorities of the CIOC's French-born artistic director, Jean-Willy Kunz.
Bach and other German baroque composers were the focus of an earlier round on Oct. 14 and 15 at the Immaculée-Conception Church.
All finalists played on stage at the electrical console. Lighting was dramatic and a standing sculpture of the letters CIOC added visual interest. A large screen offered closeups of fingers and feet (and, sometimes, page turners).
Adjustable acoustic panels in the Maison symphonique were raised high, meaning that for once the hall's distinctive pipe array (highlighted by blue light) could be seen clearly. An interesting question is whether this setting magnified volume in the hall with a small crowd. In the interest of full disclosure, I should report that I found the initial recital of Bryan Anderson intolerably loud at climaxes and headed home for the relative safety of internet transmission.
The competition schedule included many recitals given by jury members and others. For videos and information on the gala concert go to: https://ciocm.org. For information on Aaron Tan go to: http://aarontan.org.
This page is also available in / Cette page est également disponible en:

Francais (French)