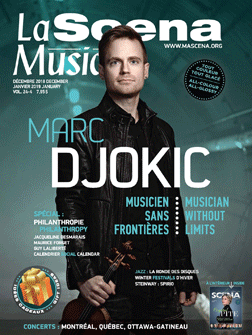 This page is also available in / Cette page est également disponible en:

Francais (French)
Premiered two years ago in Paris, études (hérésies 1-7), a dance project co-authored by performer and choreographer Antonija Livingstone and scenographer Nadia Lauro, will make its Montreal debut early next year. Performances run from March 8 to 12 at Montréal, arts interculturels (MAI).
"We are thrilled to have MAI and Danse-Cité as partners." says Demers. "It's interesting that opening night falls on International Women's Day. Both Nadia and I will be on stage to dance. The show is an opportunity for us to express femininity in several ways. "Also, Montreal is like an old flame of mine, a past lover I am always willing to give something back to." Livingstone, it must be noted, left the city in 2002 to settle in Europe. She now works for Meg Stuart and the Damaged Goods company.
Queer Methods Symposium
The études are a cross-disciplinary collaboration involving two visual artists, Stephen Thompson and Kennis Hawkins, and the Berlin-based composer Brendan Dougherty. At once visual and performative, this work can be described as a kind of sanctuary for the queer.
According to Demers, interpretation as performance of material created by others is not applicable in this case; no one in the company of heretics does that. "The general conception of interpretation and the role it plays is foreign to my own practice and way of thinking. We all share equal duties as caretakers of a live performance, and the audience joins us in our task. We, as artists, chisel out f1orms on stage, the end result being the choreography. There is no escape here, so everyone, including myself, has to take the plunge."
As a choreographer, Demers is quite prolific, maintaining a busy throughout Europe and particularly in France, where she has worked with such luminaries as Benoît Lachambre, Meg Stuart, Jennifer Lacey and visual artist Dominique Pétrin.
When it comes to her collaborators in the études, she only sings their praises. "Stephen is a Calgarian who settled in France 12 years ago. Being a dancer, performer and choreographer, he is the lynchpin of the show. He's involved on all levels of the creative process and understands very deeply my motivations."Kennis Hawkins is also a dancer. She's from New York and happens to be a doctor in Chinese medicine. Her presence is so virtuosic and elegant that I liken her to an Amazon queen."
At a Snail's Pace
Livingstone regularly integrates animals into her work, as exemplified by her use of pythons on stage, even chihuahuas and horses accompanied by their dressers. "At first, I had no idea why I did that," she confesses. "But animals are very attentive. So attentive that we humans should listen as deeply as they do, for the sake our own species." In études, one sees a giant snail. Its very presence is heretical by setting a pace on the storyline, as if some imaginary metronome were holding the whole stage installation to a strict tempo.
"Not only have we made up a library of imaginary beings for ourselves," Livingstone says, "we have also become its custodians. I find libraries filled with sacred books so fascinating, they are places to hang out. But places like that, where culture and literature meet, must be cared for, in my view, because of a looming threat to their future existence."
Specific acts, relations and objects are dealt with in the seven heresies, but none of the acts are meant to be committed against a religion or government. The intent rather is to foster an enhanced independence of mind – as passé as that concept may seem.
Demers further spells out her intentions: "It is a matter of sculpting gestures and movements. turning out sketches, in sum, making a series of elaborate studies that co-exist in an environment, as if it were vocal polyphony. Eros, logos and pathos are notions brought into play here, at times at ear's or finger's reach, elsewhere slowly unfolding in time or reflected upon. Our goal is really one of stating some heresies of our times in a more quiet way."
Into the Hot
Beyond the études (hérésies 1-7), Livingstone is very keen on what she calls "performance collections". At this writing, the wheels are turning and things are simmering in her head. "The creative juices are there", she affirms, "and I'm now in the process of putting together my next work, simply called Chaud, which will be part of my 2018-2020 collection. Livingstone has brought in a guest to work on this, Mitch Cota, a young artist from Montreal who performs and composes. With considerable support from commissioner Yoon Ha of the Darling Foundation and the Ménagerie de verre in Paris (where Livingstone is an associate artist), the collection will be presented in co-production with l'Agora de la danse. A preview performance is set for September 2020.
"Chaud is still on the drawing board," she remarks. "Nowhere close to any stage or gallery performances. For now, we have been working outdoors a lot, in gardens, castles, fields, even back alleys. And in various circumstances, too, everything from moonlit skies to rainbows, or strong odours of manure wafting around us. Details, maybe, but all of that is essential in giving vitality to the work and the creative powers behind it."
A nomad at heart, Livingstone lives her life that way and makes no excuses for it. "Sure, I travel a lot," she concedes, "but my work is deeply rooted. I am a nomad in the sense of sewing my ideas around and having them come to seed. This puts me in a state of all-embracing love."
études (hérésies 1-7) runs from March 8 to 12, 2019, at MAI (Montréal, arts interculturels)
Go to: www:m-a-i.qc.ca
Translated by Marc Chénard
This page is also available in / Cette page est également disponible en:

Francais (French)