This page is also available in / Cette page est également disponible en:

Francais (French)
There are at least three other composers name "Tchaikovsky" besides the famous one?
In addition to Piotr Ilyich there are Alexander (b. 1946), his uncle Boris (1925-1996), and André (1935-1982), who was Polish. None of them were related to Piotr Ilyich.
Saint-Saëns's Carnival of the animals was neither performed in public nor published during the composer's lifetime?
It went on to become one of the most popular works in the entire repertory of classical music, yet the composer himself forbade all performances beyond a single private one given for his friends during Carnival season (late winter) in 1886. (Saint-Saëns died in 1921.)
In Strauss's symphonic poem Symphonica domestica there are parts for a quartet of saxophones?
Yet these parts are totally superfluous, completely inaudible, and hence virtually never played. (Why bother?)
Beethoven Fifth Piano Concerto has no subtitle in German-speaking lands?
It's called the "Emperor" in English-speaking lands, "l'Empereur" in French, and "Imperatore" in Italian, but just "Konzert Nr. 5" in Germany and Austria!
To date there has still been no fully-staged, locally-produced ring cycle in Asia?
Audiences in many Asian countries, especially Japan, love Wagner, and there have been numerous imported and semi-staged productions, but only Bangkok Opera has attempted a fully-staged, locally produced cycle. "Attempted," but incomplete. It began in 2006 with Das Rheingold incorporating a unique Asian twist using Hindu and Buddhist concepts, and continued with Die Walküre in 2007, but when it came time for Siegfried it seems Alberich's curse had struck. Seventy-year-old Donald McIntyre had agreed to sing his final Wanderers if one of his protégés could sing the title role. Alas, the lad came down with some unspecified illness and the Bangkok Ring ended right there.
Arnold Schoenberg lived in fear of the number 13?
The medical term for this condition is triskaidekaphobia. Schoenberg spelled Aaron with one "a" for the title of his opera Moses und Aron to avoid a composite total of 13 letters, and he feared dying on the 13th of a month. But Fate had its way: he did die on the 13th of July, which happened to be a Friday as well. Schoenberg was also born on the 13th of a month: September in 1874 (this was a Sunday).
If you lived in Boston in 1963, you could have heard a concert by the visting Berlin Philharmonic for just $3?
The top-price seats cost all of $6.50. Or you could have heard recitals by six pianists – Rubinstein, Cliburn, Serkin, Janis, Hollander, and Fleisher – starting at $14 for the lot of them (or $28 for the best seats)! Ah, for the good old days!
There are 40 recordings of the Beethoven Violin concerto featuring Henryk Szeryng?
This information comes from a discography compiled by Tadaharu Tanomura of Osaka, Japan. The recordings were made between 1946 and 1988. Most are no longer available, are difficult to come by, are from radio broadcasts, or exist as tapes made by an audience member. A similar number exists for the Brahms concerto. Details at www.tanomura.com.
There are actually a few operas with no love story or love interest of any kind?
This slim list includes Macbeth (Verdi), Billy Budd (Britten), The Turn of the Screw (Britten), The Devil and Kate (Dvořák), The Consul (Menotti), Dialogues of the Carmelites (Poulenc), and Moses und Aron (Schoenberg).
The title of Johann Strauss's Kaiser-Walzer is deliberately ambiguous?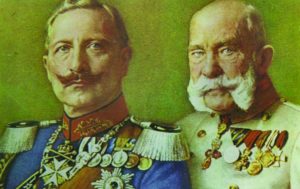 Both words, Kaiser and Walzer, are the same in both singular and plural form. So, is the correct English translation Emperor Waltz or Emperor Waltzes? And are we talking about one emperor or more than one? In writing this work, Strauss had the tricky assignment of honoring two Kaiser individually without offending either. The first was the popular Franz Josef of Austria, ever so much a symbol of Strauss's Vienna and in the fortieth year of his reign when Strauss composed his tribute (1888). The other Kaiser was the newly-elected Wilhelm II of Prussia. Furthermore, like many other works of its kind, Kaiser-Walzer is really a whole string of waltzes, not just one. So, in truth, the proper translation should probably be Emperors' Waltzes. Yet somehow it just doesn't sound right (too many sibilants?). Best to leave it in German!
Prokoviev wrote a concerto for turntables?
No, not Sergei; it was his grandson Gabriel, born in London in 1975. In fact, he has written two such works, one in 2006 and one in 2016. Watch a turntablist in action at www.youtube.com/watch?v=eJzVjN_KLZQ.
This page is also available in / Cette page est également disponible en:

Francais (French)