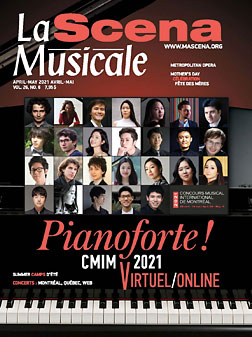 Advertisement / Publicité
This page is also available in / Cette page est également disponible en:

Francais (French)
… THERE WAS A COMPOSER NAMED JOHANN STRAUSS III?
Johann I founded the Strauss dynasty and sired three sons. One of them was Johann II (the "Waltz King"), and another was Eduard, who in turn sired another Johann. This latter Johann (III) pursued a career as an accountant in the education ­ministry and subsequently tried to carry on the family ­tradition as a composer and conductor. However, he had neither the flair nor the success of his ­predecessors. He lived from 1866 to 1939.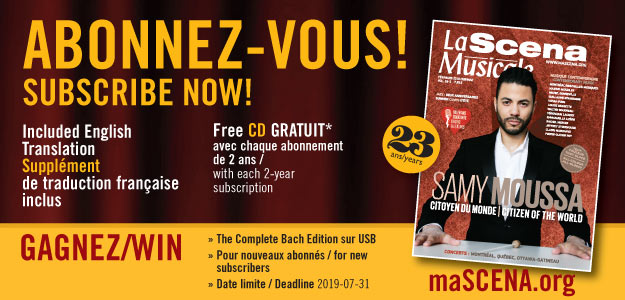 … DEBUSSY WROTE THREE COMPOSITIONS ENTITLED CLAIRE DE LUNE?
There's that enormously popular little piano piece, the third number of the Suite bergamasque. There are also two songs of the same title, both set to the same eponymous poem by Verlaine. The earlier of the two remains ­obscure, while the later one, one of the Fêtes galantes, is a repertory staple.
… THE FIRST USE OF THE PICCOLO, CONTRABASSOON AND TROMBONE IN A SYMPHONY was in Beethoven's Fifth?
These instruments had been used in opera orchestras, but never before in a symphony.
… SAINT-SAËNS WAS AN INVETERATE TRAVELER?
This Frenchman voyaged as far as San Francisco in one direction and as far as Singapore in the other. But where he most liked to go was North Africa, which he visited several times. He died in Algiers.
…TCHAIKOVSKY'S VIOLIN CONCERTO was pronounced unplayable by the foremost virtuoso of his time, Leopold Auer. Today teenagers play it flawlessly.
… WAGNER WAS NOT THE ONLY COMPOSER TO WRITE A STAGE WORK ABOUT THE NIBELUNGS?
Die lustigen Nibelungen (The Merry Nibelungs) was the first operetta (1904) by Oscar Straus, also composer of The Chocolate Soldier. In 1996, American composer Christopher Rouse created a purely ­orchestral work Der gerettete Alberich (Alberich Saved), based on the premise that the evil dwarf Alberich survives the catastrophe at the end of Wagner's Ring cycle.
… RACHMANINOFF GAVE THE WORLD PREMIERE OF HIS VARIATIONS ON A THEME OF CORELLI IN MONTREAL ON OCTOBER 12, 1931?
Well, most of it, anyway. Following performances elsewhere, the composer told his friend Nikolai Medtner that the number of variations (there are 20 in all) he would play in any given concert depended on how much coughing he heard from the audience. The fewest was in an unnamed small town: 10. The record was 18, in New York.
…HAYDN IS NOT THE RECORD-HOLDER FOR THE NUMBER OF SYMPHONIES HE COMPOSED? 
Precise numbers are impossible to determine, but beyond Haydn's 107 (104 numbered plus three discovered later) we have about 115 from Christoph Graupner, the same number from ­Johann Gottlieb Graun, more than 120 from Karl Ditters von Dittersdorf, and nearly 150 from Johann Molter – all 18th-century men. Yet even these numbers are dwarfed by the modern Finnish composer Leif Segerstam (b. 1944), who, in addition to a flourishing career as a ­conductor, has managed to turn out some 342 symphonies as of October 2020, every one with a name. No. 339 is subtitled "Coronavirus chaoticlies in prisonic moods." Does the man ever sleep?
… ROMAN TOTENBERG PROBABLY HAD A LONGER CAREER AS A TEACHER THAN ANY MUSICIAN IN HISTORY? 
Born in 1911, this renowned Polish-American violinist started giving lessons at the age of nine (his first student was eight). Ninety-two years later he was still teaching, right up to his last days in 2012 while on his deathbed in a Boston hospital.
… MANY FAMOUS ARTISTS WERE ALSO MUSICIANS? 
Georges Braque was a flutist and violinist. Wassily Kandinsky was a cellist and pianist. Adolf Hölzel, Odilon Redon, Eugène Delacroix, Paul Klee, and Henri Matisse were all violinists. Matisse practiced every day until he was fifty before going to his easel. And then there is the case of the Lithuanian Mikalojus Konstantinas ­Čiurlionis (1875-1911), who was equal parts ­composer and artist. He created about 300 paintings in addition to nearly 400 musical compositions, which included symphonic poems, choral works, and piano pieces.
… ABOUT 10% OF BAMBERG'S POPULATION OF 72,000 ARE COMMITTED SUBSCRIBERS TO THEIR CITY'S ORCHESTRA? 
Pro-rated, how many Montrealers would it take to match Bamberg's impressive commitment? ­Answer: more than 200,000.
… THE ORCHESTRE SYMPHONIQUE DE QUÉBEC IS THE OLDEST CONTINUOUSLY OPERATING ORCHESTRA IN CANADA? 
It is also one of the oldest in North America. Founded in 1902, though under a different name, it is older than the major orchestras of San Francisco (1911), Baltimore (1916), Cleveland (1918), and Los Angeles (1919), among others.
This page is also available in / Cette page est également disponible en:

Francais (French)